Two more sub-Antarctic islands have joined ACAP's "World Albatross Day Banner Challenge", both in the southern Indian Ocean. These are France's Possession Island in the Crozets group, and South Africa's Marion Island, the larger of the two in the Prince Edward Islands. Both islands are inhabited by teams from their national Antarctic programmes, TAAF and SANAP, and include marine ornithologists who are studying the islands' breeding seabirds, including ACAP-listed and globally threatened albatrosses.
Possession and Marion join three other sub-Antarctic islands which had already made and photographed their home-made World Albatross Day banners in the field; Bird (here) and Gough (here) Islands in the South Atlantic, and France's Amsterdam Island (here) in the southern Indian.
On Possession the island's ornithologist kindly organized the 'WAD Banner' and display. He writes to ACAP Latest News: "I'm Florent Lacoste, CEBC-CNRS of Chizé, program 109. I'm a VSC (Volontariat en Service civique) and I'm here to monitor different species of birds and marine mammals. We [are] monitoring 14 species in Crozet: albatrosses (x3), petrels (x3), penguins (x4), fur seal (x2), southern elephant seal, killer whale. We also study alimentary strategies and repartition [distribution] of these marine predators. My field job is to put GPS, to ring, to take pictures for photo-identification (killer whale), to count penguin colonies, etc. …". Florent is clearly busy with this work load so ACAP is especially grateful to him and to his colleagues for contributing to the banner challenge!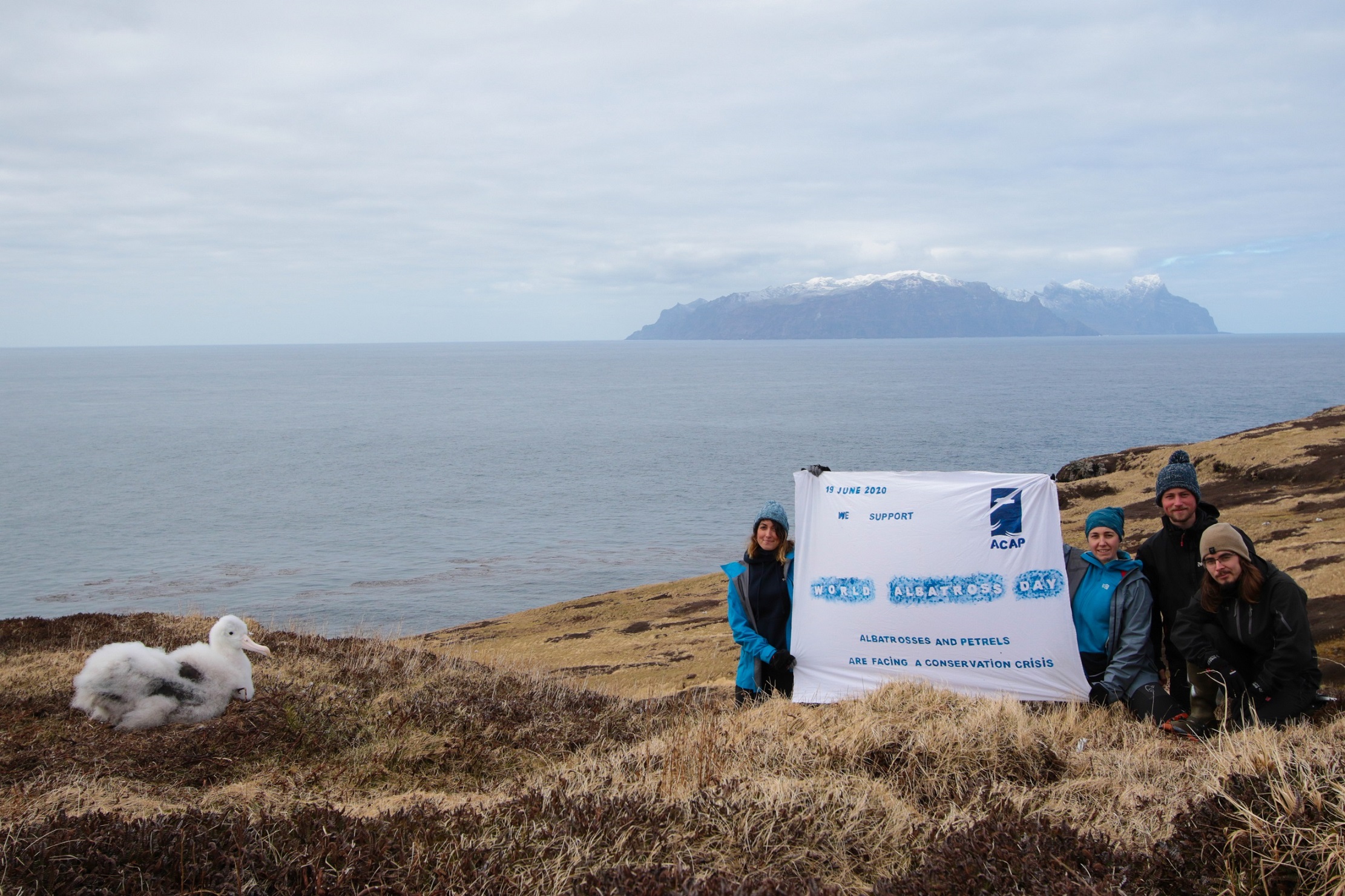 From left: Naïs Avargues (rat eradication and ornithologist), Claire Dumont (medical doctor), Florent Lacoste (ornithologist) & Florian Audon (informatician), all of mission 56, pose with a Wandering Albatross chick on Possession Island. East Island, part of the Crozet Group, is on the horizon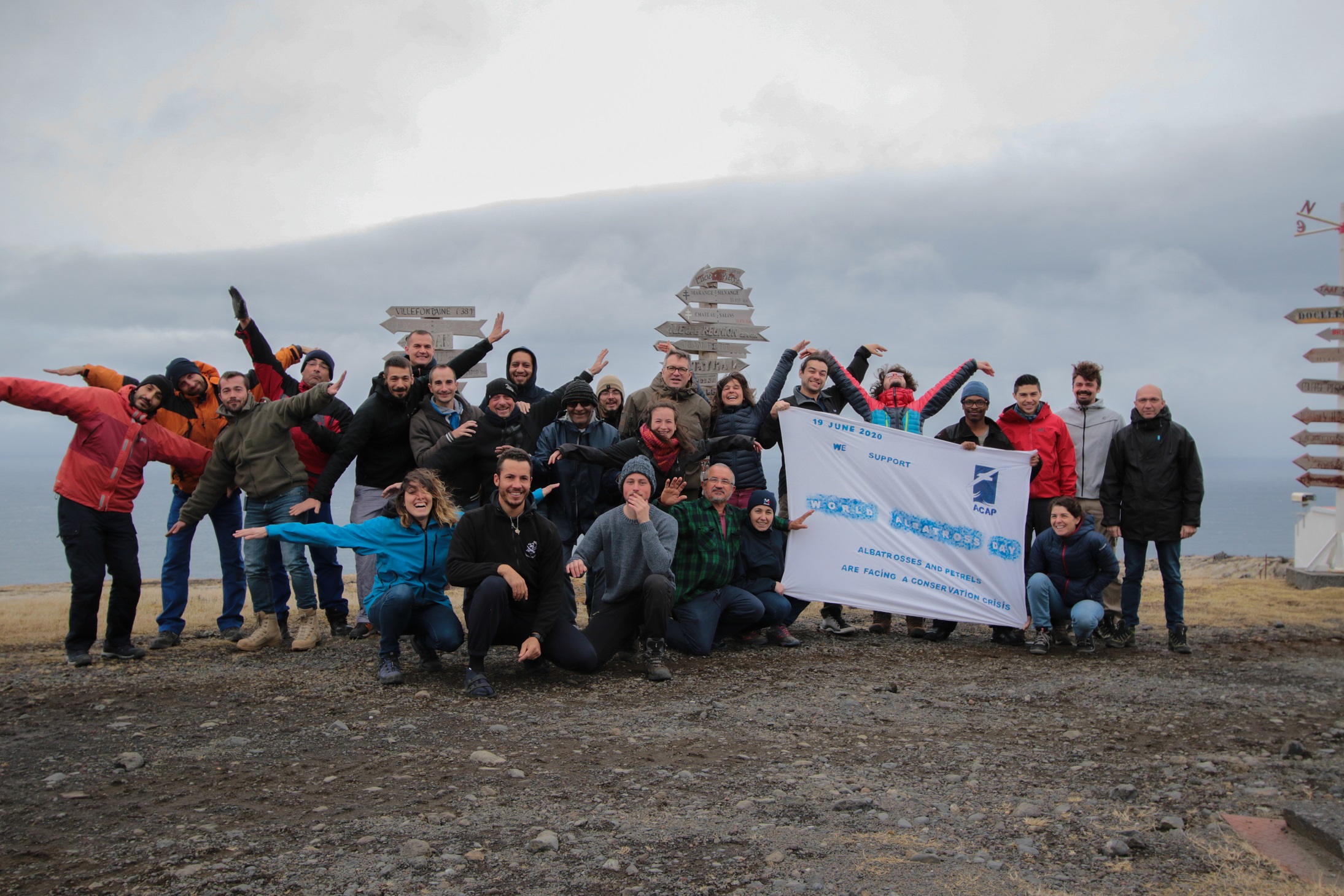 All the members of missions 56 & 57 outside the research station Alfred Faure on Possession Island
A thousand-odd kilometres to the west doctoral student Stefan Schoombie on Marion Island also gave up his time to make a banner with his colleagues. Short of a suitable cloth an old black-out blind was used instead to give a different look. Stefan shares his views on World Albatross Day:
"Albatrosses are seldom seen by most, but are all so important to our oceans, never mind being among the most majestic of birds. World Albatross Day is a great initiative to highlight the conservation crisis that these birds are facing." Stefan is in his third year on the island where he conducted his MSc research on population dynamics and distribution of Phoebastria albatrosses in 2013/14 (M70), and 2015/16 (M72). Now a member of the M76 Team, his Ph.D. research is entitled "Remotely sensing motion: the use of multiple technologies to detect fine-scale behaviour of breeding seabirds in a variable environment" through the FitzPatrick Institute of African Ornithology at South Africa's University of Cape Town. His field research is concentrating on Wandering Albatrosses Diomedea exulans this time.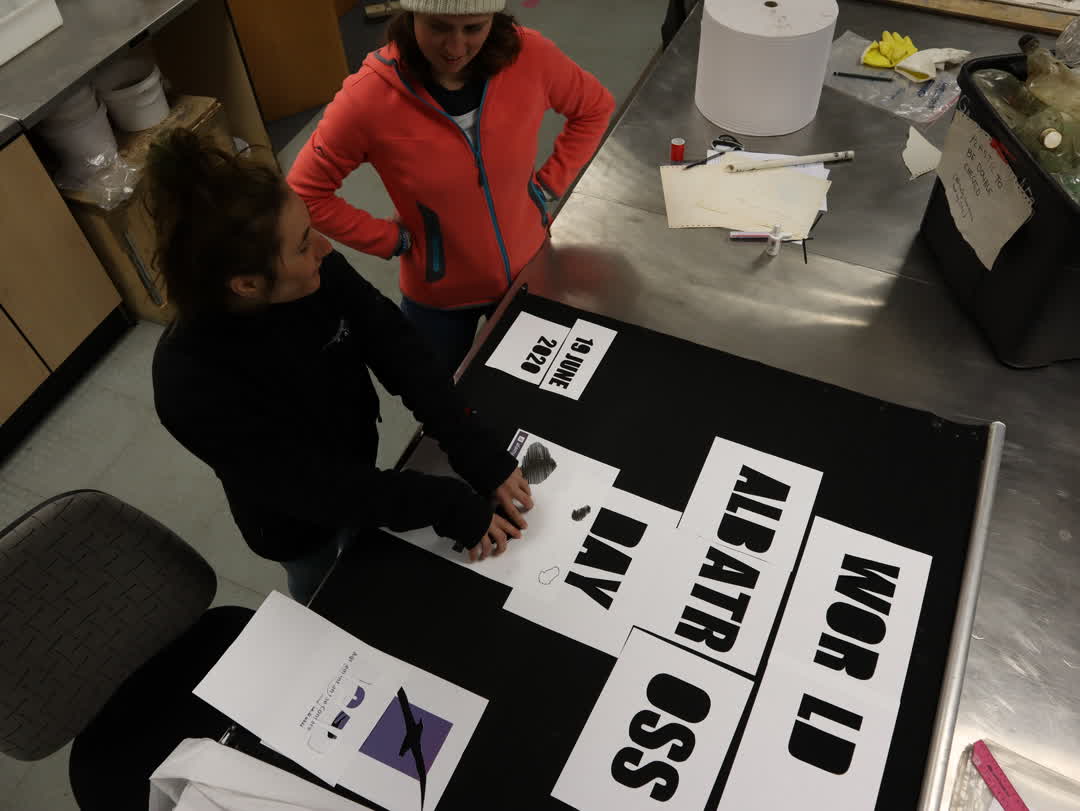 Elena Reljic & Melissa Schulze of M72 work on Marion's World Albatross Day Banner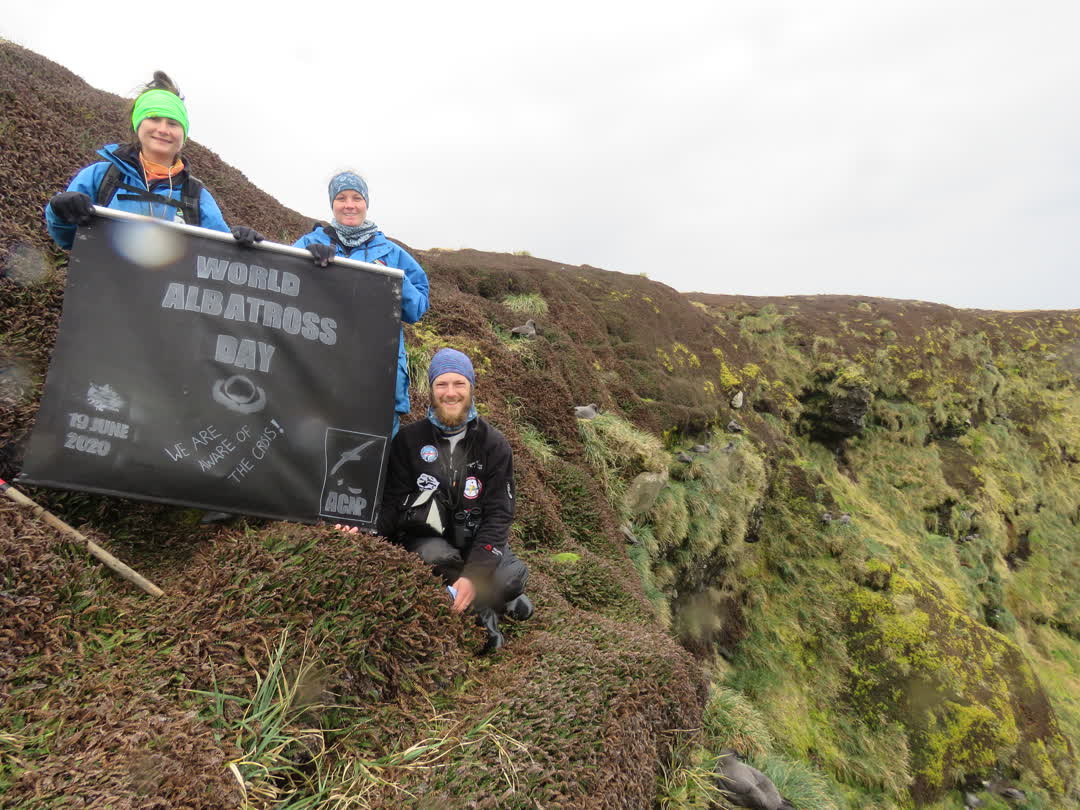 From left: Elena Reljic, Laurie Johnson & Stefan Schoombie pose near breeding Sooty Albatrosses on the cliffs of Ship's Cove on Marion Island
More southern island banner photographs are expected as the summer breeding seasons get underway. Following ACAP's outreach, promises have come from elsewhere in the Southern Ocean: Australia's Macquarie Island, for several New Zealand sub-Antarctic island groups, from France's Kerguelen and from researchers based in the Falkland Islands (Islas Malvinas)*. In the Northern Hemisphere it is hoped banners will be displayed on up to three of the USA's Hawaiian Islands and on two islands belonging to Japan. These banner displays in island breeding colonies around the world will all help raise awareness of what is intended to be an annual event: World Albatross Day on 19 June.
With thanks to Florian Lacoste and Stefan Schoombie for information and photographs.
John Cooper, ACAP Information Officer, 14 October 2019
*A dispute exists between the Governments of Argentina and the United Kingdom of Great Britain and Northern Ireland concerning sovereignty over the Falkland Islands (Islas Malvinas), South Georgia and the South Sandwich Islands (Islas Georgias del Sur y Islas Sandwich del Sur) and the surrounding maritime areas.