UPDATE: The petition now aims to collect 5000 signatures and to date has reached a total of 2804 (07 February 2014) and 4188 (08 March 2014).
The National Audubon Society, an NGO based in the USA, has initiated an on-line petition that requests US Congress members to support the ratification of ACAP. The petition aims to collect 2500 signatures and to date has collected 2439 (click here).
Three ACAP-listed species, the Black-footed Phoebastria nigripes, Laysan P. immutabilis and Short-tailed P. albatrus Albatrosses, breed within the USA, all on islands in the Hawaiian chain in the North Pacific.
The USA has been an active participant in the work of ACAP since its inception, sending observers to all the Sessions of the Meeting of Parties and of its Advisory Committee and working group meetings held to date. The USA also attended the second and final negotiation meetings for ACAP held in 2000 and 2001. However, it has yet to ratify the Agreement and become a Party to ACAP.
In September 2008 then USA President George W. Bush transmitted the Agreement to the United States Senate for approval (click here). In January 2009, the United States Departments of Commerce and of the Interior jointly forwarded to the U.S. Congress proposed legislation to implement the Agreement on the Conservation of Albatrosses and Petrels in the USA, entitled the Albatross and Petrel Conservation Act of 2009 (click here).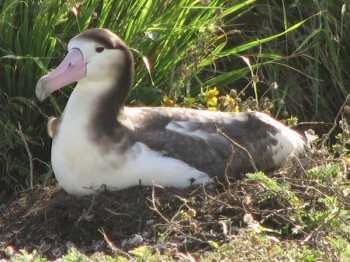 Short-tailed Albatross breeding on Midway Atoll, photograph by Sarah Gutowsky
The mission of the National Audubon Society is to "conserve and restore natural ecosystems, focusing on birds, other wildlife, and their habitats for the benefit of humanity and the earth's biological diversity."
ACAP came into force in February 2004 and currently has 13 member countries and covers 30 species of albatrosses, petrels and shearwaters.
John Cooper, ACAP Information Officer, 29 January 2014, updated 08 March 2014