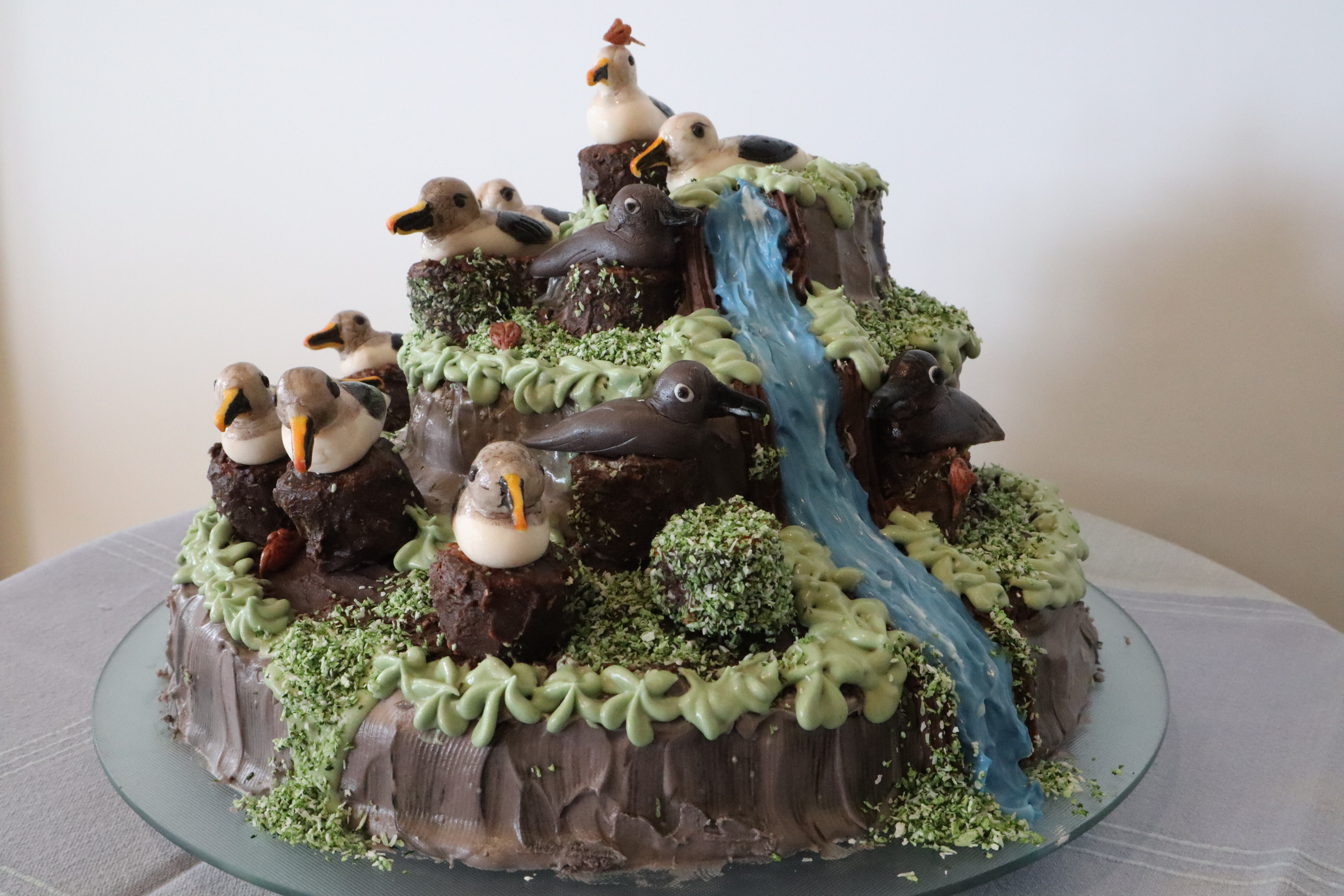 The winning cake," Grey-headed Albatross Ridge, Marion Island" by Janine Schoombie and Karen Versteegh, as chosen by ACAP's Facebook followers
Time-lapse video by Stefan Schoombie, Music by AshamaluevMusic

The Albatross and Petrel Agreement (ACAP) took the lead with the inauguration of World Albatross Day this year. As well as contacting environmental NGOs and other organisations in many countries to 'spread the word' and encourage their participation, the Agreement ran four competitions to raise awareness among the public of the threats faced by albatrosses.
Results of three of these competitions (the Banner Challenge, a Colouring-in Competition and a Photography Competition) have now been announced on these pages. It is now time to announce the results of the fourth competition, the Great Albicake Bake Off.
A total of 72 entries was received by the deadline, each made up of one or more images of the cake and a short description. A single image of each cake was posted to an album on ACAP's Facebook page and followers of the page were invited to vote for their favourite cake (or cakes) by liking images. A reasonable period of time was given to allow for the voting and the results are now in and the five most popular cakes are shown here, along with their descriptions.
The winning cake entitled "Grey-headed Albatross Ridge, Marion Island" with 216 'likes' is by Janine Schoombie, a former Marion field scientist, and her mother, Karen Versteegh. Janine describes their cake: "Our cake is inspired by the inland ridge on Marion Island where a large portion of the Grey-headed Albatrosses breed, aptly named Grey-headed Albatross Ridge. Visible from the nearest field hut is a Grey-headed Albatross long-term monitoring colony and a waterfall with a few breeding Sooty Albatrosses. Both these species are currently listed as Endangered on the IUCN Red List. We tried to capture the beautiful features of the birds as well as the terraced breeding colonies characteristic of the Ridge, complete with lush tussock grass overhanging the grey lava rock faces. It was also important for us to add the presence of mice around the colony of albatrosses to represent the current threat these birds are facing.
The bottom tier is a dark chocolate cake with two gluten-free banana cakes as the middle and top layers. The cake is covered with a smooth cream cheese icing for the grey lava and green tussock grass. The albatrosses and mice are made from home-made marshmallow fondant and sit atop cake cut-out nests covered with chocolate buttercream icing and green coloured coconut to represent peat used in building nests. The waterfall is made from coloured white chocolate ganache."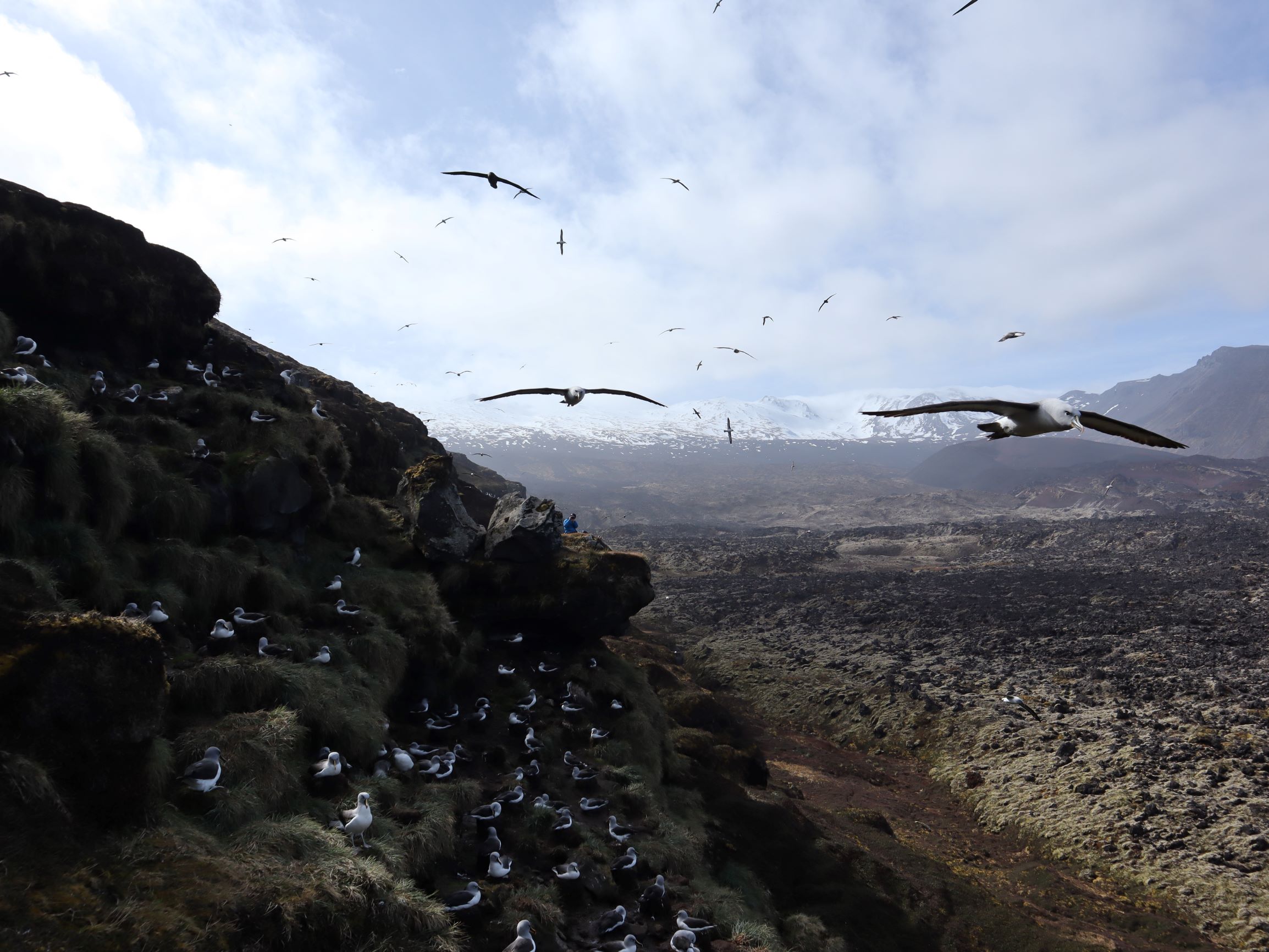 Grey-headed Albatross Ridge, Marion Island, photograph by Janine Schoombie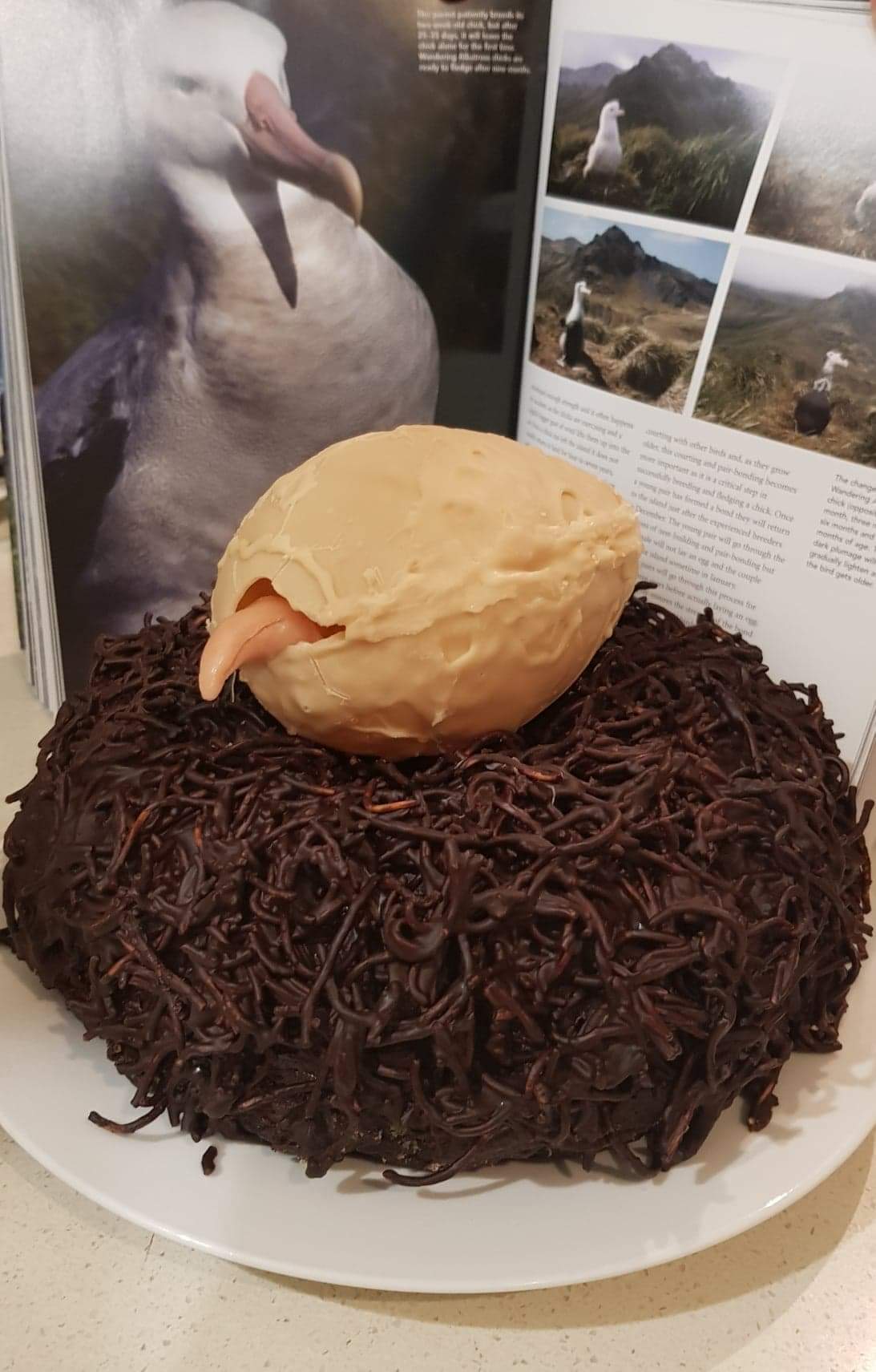 "Wandering Albatross Chick-hatching Cake" by Emily Mowat
Coming in second with 105 likes is "Wandering Albatross Chick-hatching Cake" by Emily Mowat, a former Macquarie Island albatross researcher. She writes "The creation is a Wandering Albatross chick hatching on its nest. The cake is all vegan chocolate cake with chocolate and peanut butter 'nesting material' and a white chocolate egg with a marzipan bill."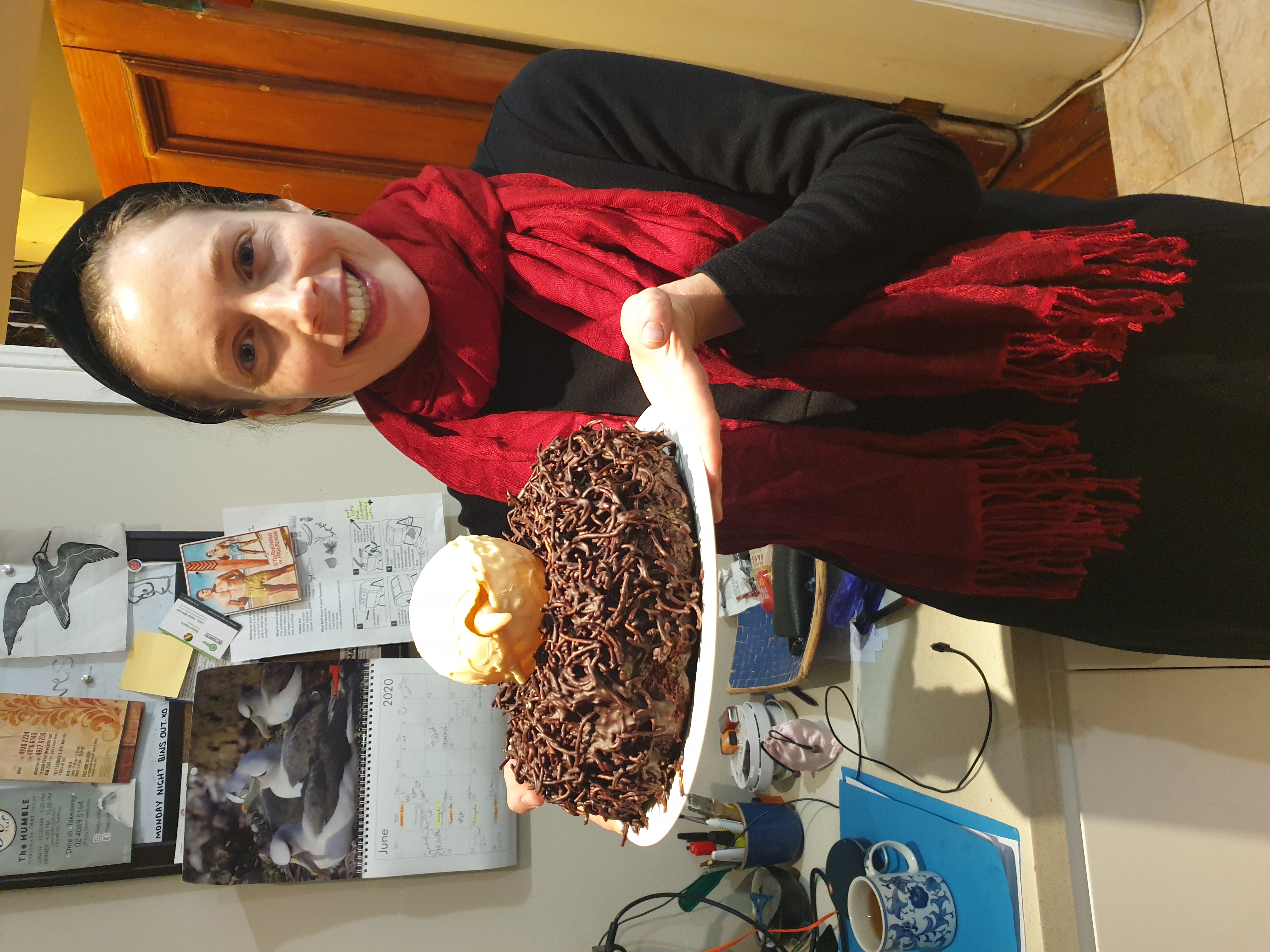 Emily Mowat proudly displays her cake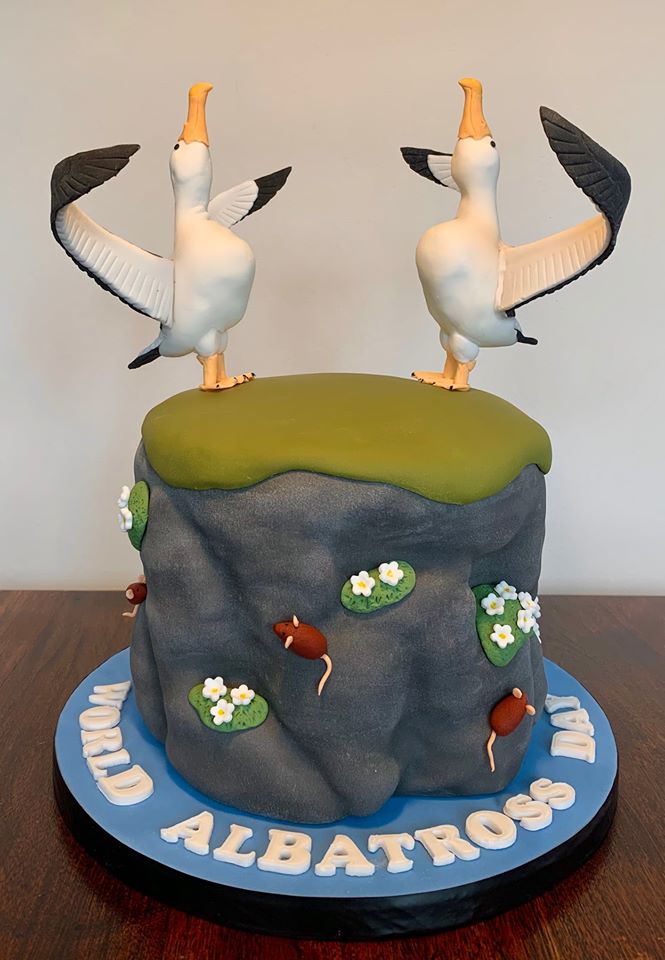 Third placed is by Adam Naylor, with 101 likes. Called "Gough in Miniature", Adam describes it as "adult Tristan Albatrosses displaying on the summit of a chocolate sponge Gough Island. On the cliffs below invasive mice and Sagina plants run rampant, showing the threats to this incredible place and the importance of restarting the Gough Island Restoration Programme".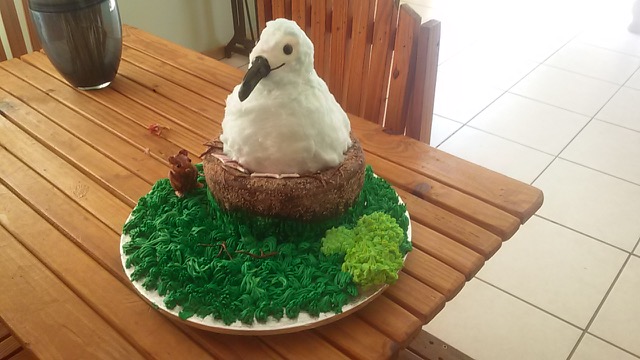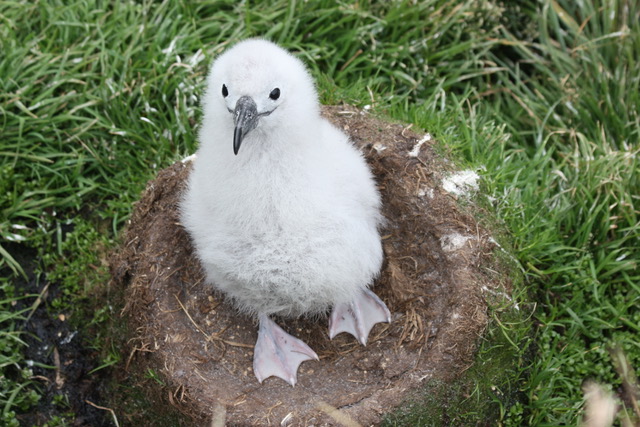 The fourth cake by 99 Facebook likes was submitted by Jean Purdon, another ex-Marion Island researcher. She writes "Here is a Grey-headed Albatross chick on Marion Island made out of vanilla cake with colour sprinkles inside. It is covered in fondant and the Albi is covered in candy floss. I modelled the cake on the attached photo [above] that I took after spending a year on the island working on the Marion Island Marine Mammal Programme. I added the Mus musculus to highlight the plight of Albi chicks on mouse-infested sub-Antarctic islands."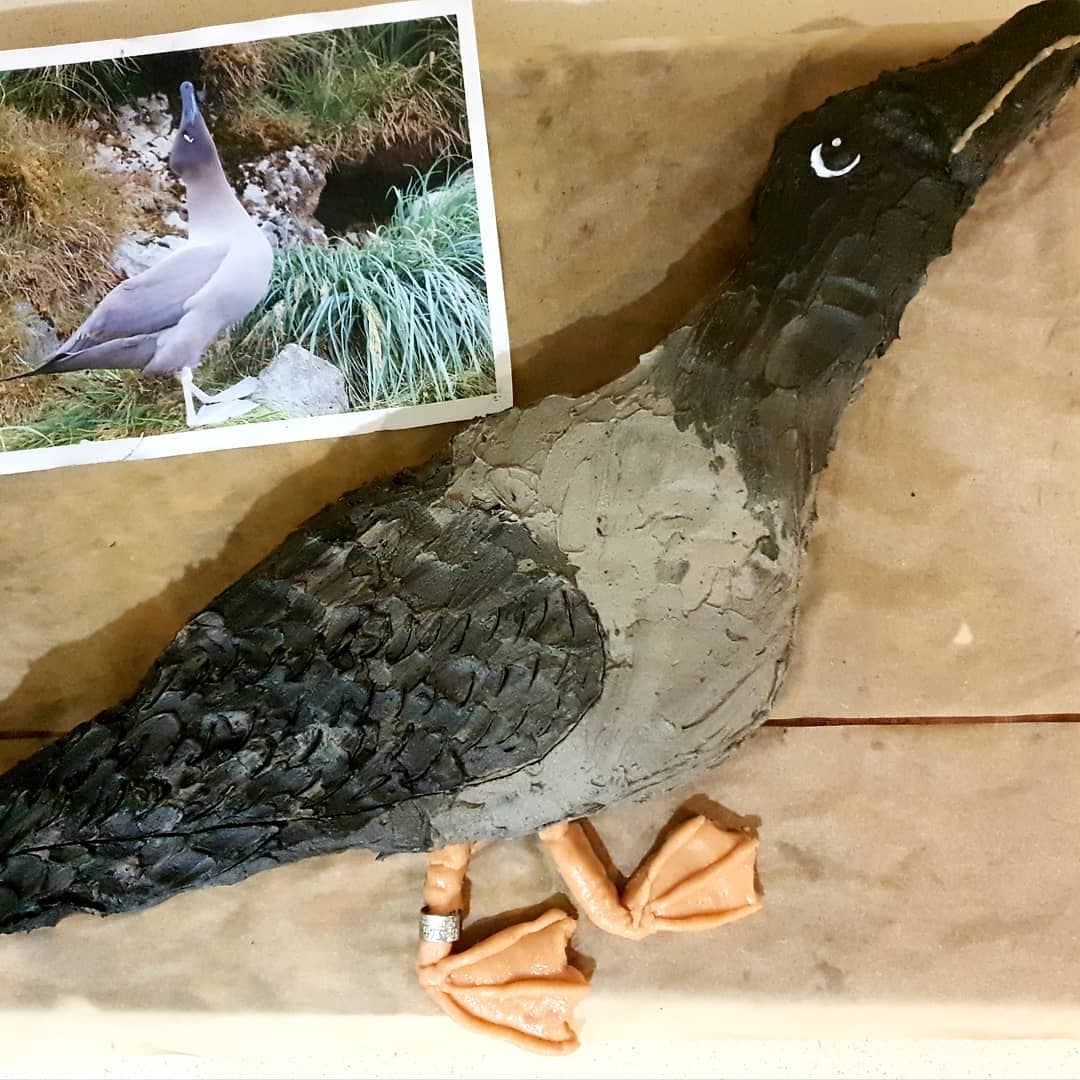 Rounding off the top five with 81 likes is the entry by Melanie Wells (another ex-Macquarie Island researcher). She describes her creation as "a Light mantled Albatross. The cake is basic chocolate with buttercream frosting (using activated charcoal for colouring) and marzipan to make feet, bill & eye - all vegan. The cake is inspired by my time working on Macquarie Island where 10% of the global population of this species breeds. Mark-recapture monitoring, primarily from chick banding, has been conducted on Macquarie Island since 1955. This highly charismatic species (seems to be everyone's fave alby who has had the pleasure of meeting one) is particularly memorable for its haunting "PEEE-AWWW" call (which the bird is doing in the image) ".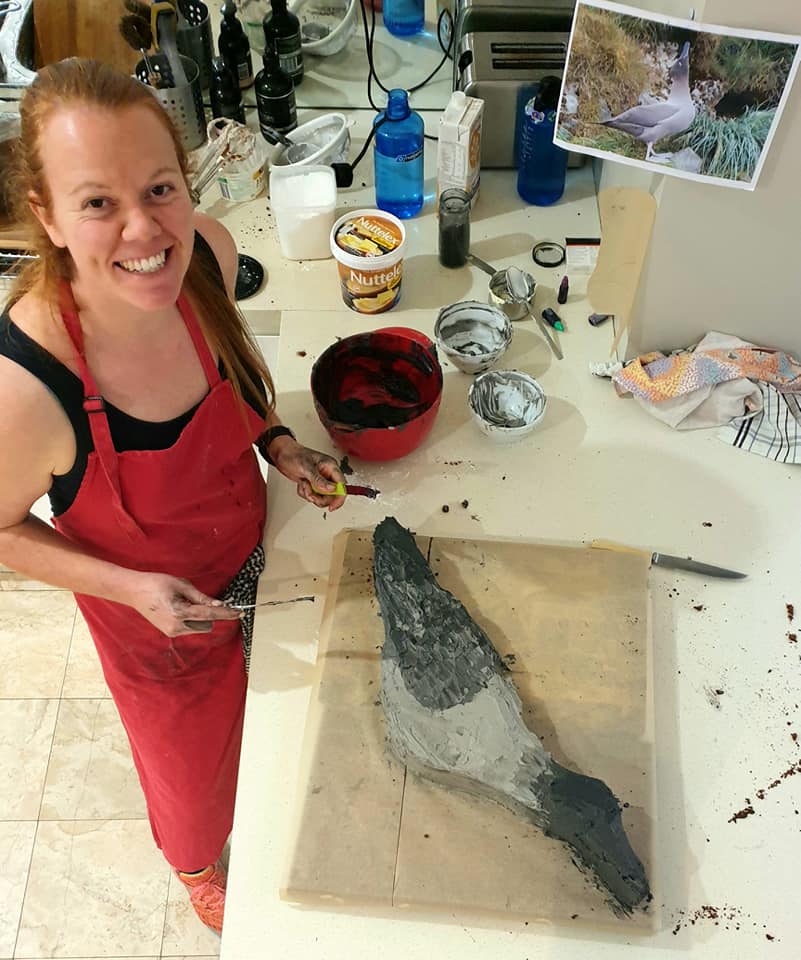 Legs still to come! Melanie Wells works on her cake
A later post to ACAP Latest News will feature the seven category-winning cakes as chosen by the judges.
With thanks to all those who submitted images of their albatross cakes to the World Albatross Day Great Albicake Bake Off. Giant petrel cakes for WAD2021?
John Cooper, ACAP Information Officer, 24 July 2020, updated 27 July 2020