Pacific Rim Conservation is a non-profit organization based on the Hawaiian island of Oahu. Founded in 2006, it undertakes and supports research-based management on native species, particularly birds. The PSG's mission is to maintain and restore native bird diversity, populations, and ecosystems in Hawaii and the Pacific Region. With a current staff of 10, the PSG is headed up by Lindsay Young (Executive Director) and Eric Vanderwerf (Director of Science). Husbandry work falls under the Director of Aviculture, Robbie Kohley, supported by a team that includes an annual intake of up to 10 interns.
"To stem the loss of nesting habitat for seabirds, whose primary nesting islands in the Northwestern Hawaiian Islands are being lost to sea level rise, we are creating new, safe nesting sites for them on high-islands by creating 'mainland islands'. Our two current flagship projects are the Nihoku Ecosystem Restoration Project at Kilauea Point National Wildlife Refuge on the island of Kaua'i and the Albatross Translocation Project at the James Campbell National Wildlife Refuge on Oahu. Both projects involve full-scale ecosystem restoration from predator proof fencing, to predator removal, habitat restoration and seabird translocation to restore the avifauna of the area." As part of the PRC's "No Net Loss" programme, chicks of seven procellariiform species have been or are being translocated, including two ACAP-listed and globally Near Threatened albatrosses, Black-footed Phoebastria nigripes and Laysan P. immutabilis to the James Campbell NWR.
Earlier in the year ACAP Latest News reached out to Pacific Rim Conservation with a request for it to support next month's inaugural World Albatross Day with a banner. Once again, COVID-19 restrictions have got in the way, requiring a change of plan from the communally designed and displayed 'WAD2020' banners that ALN has been featuring from other albatross breeding sites – such as on Midway Atoll. With no accommodation on site the aviculture team has been commuting daily to the national wildlife reserve to hand feed the translocated Black-footed Albatross chicks, as much as possible practicing social distancing in separate vehicles. Five of the 2020 intern cohort then continued the practice of keeping apart by posing for individual photographs holding up their artwork commemorating World Albatross Day - as illustrated here.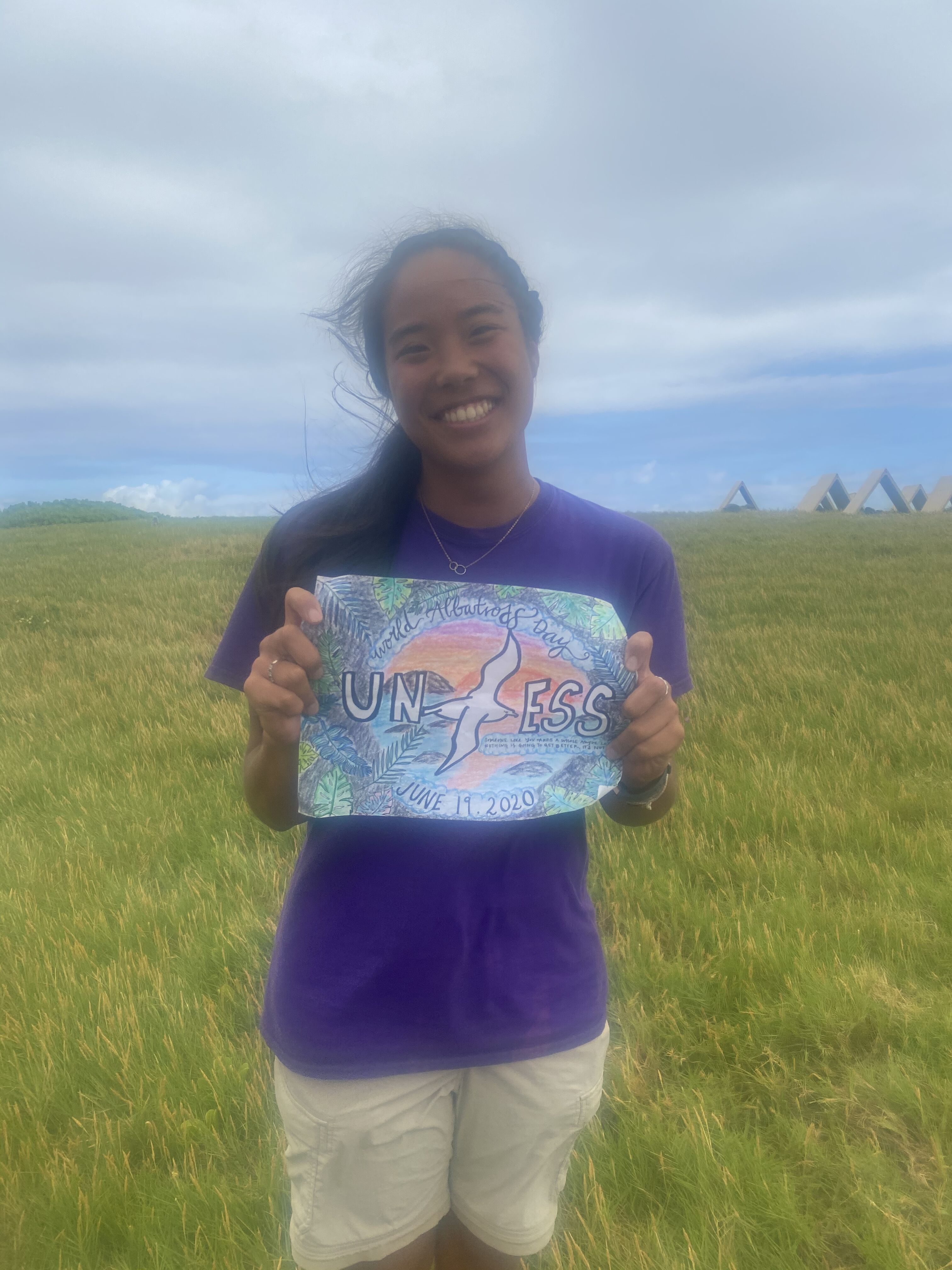 Carly Kano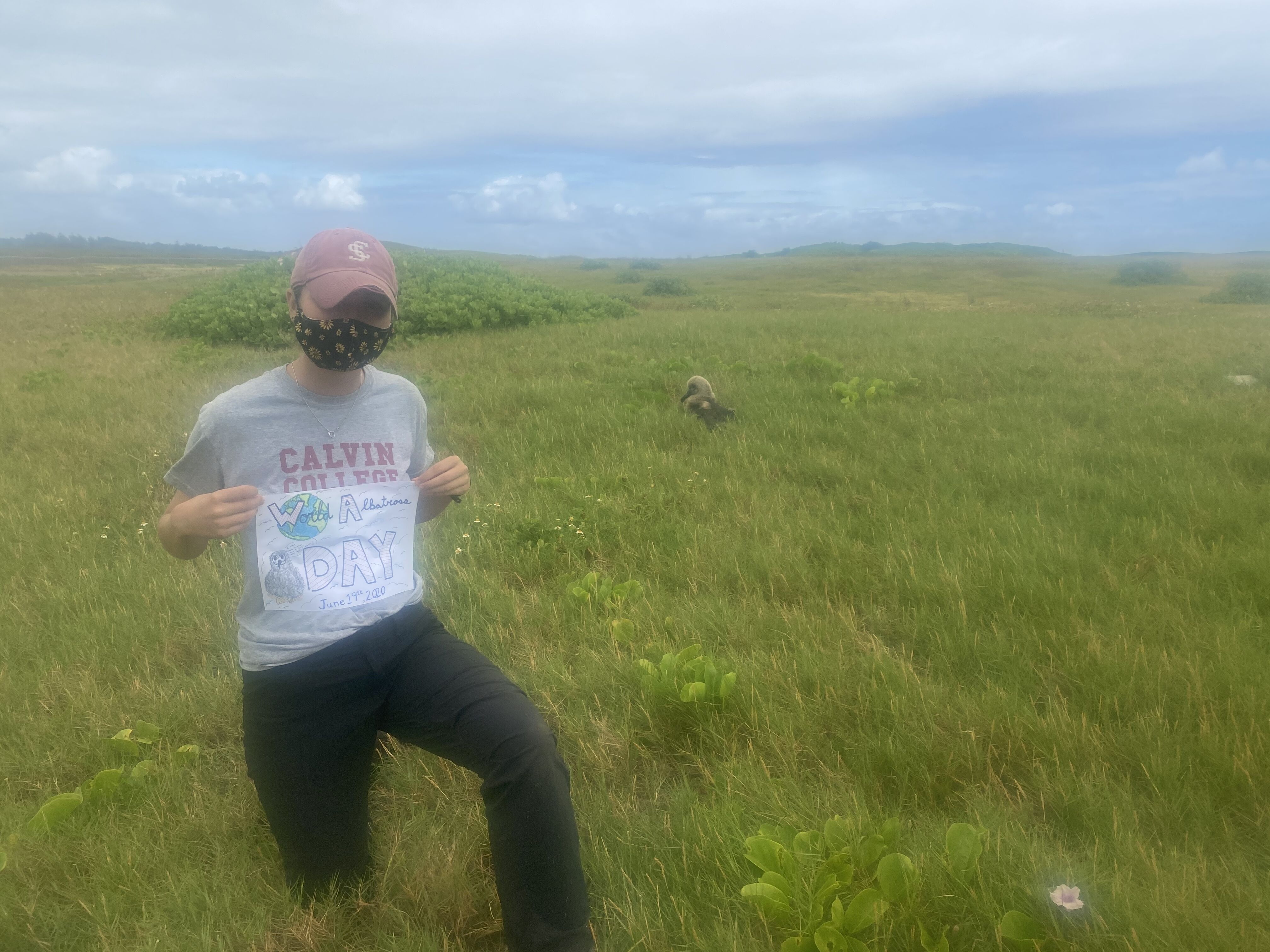 Emily Reichard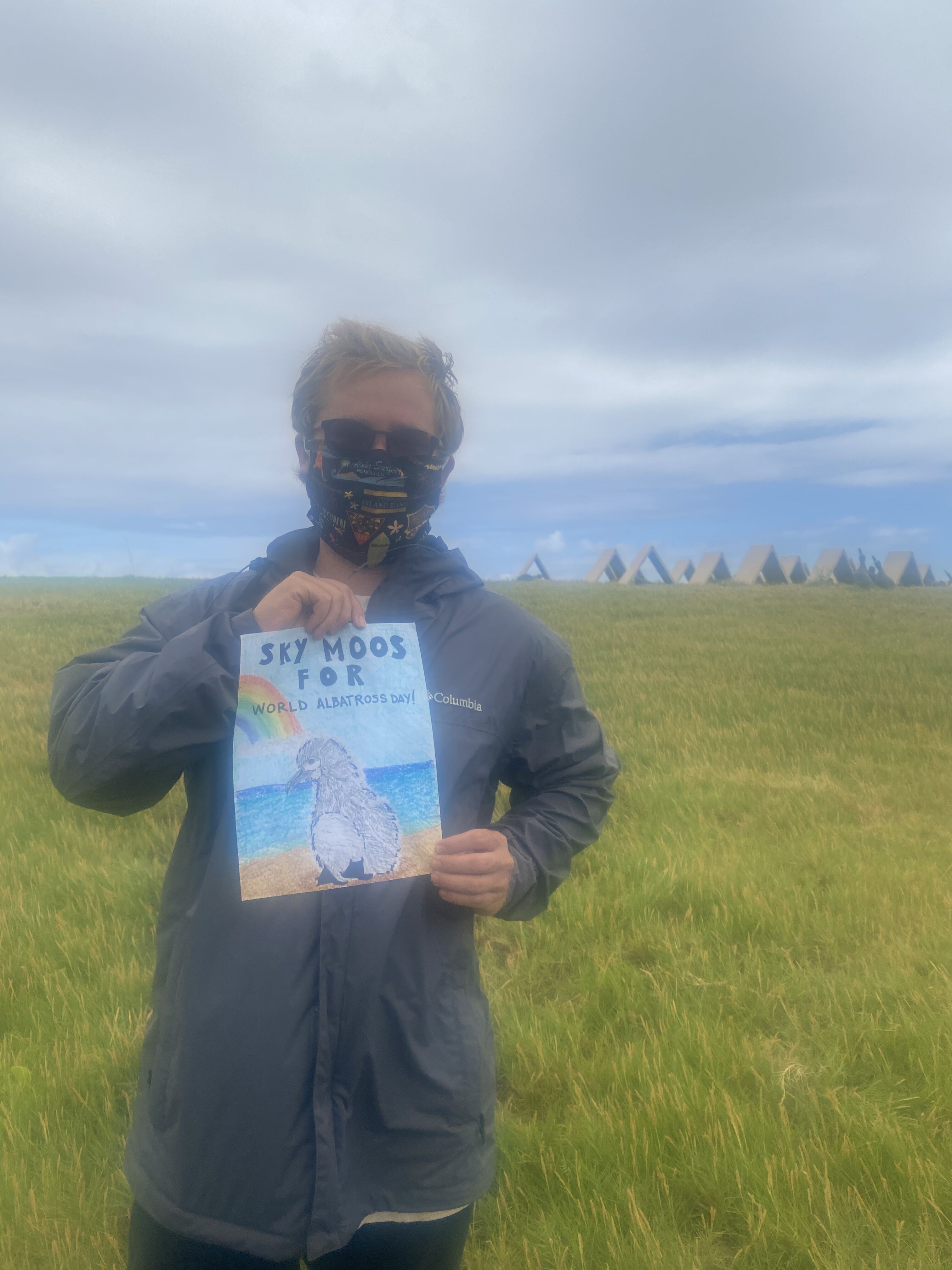 Glenn Meador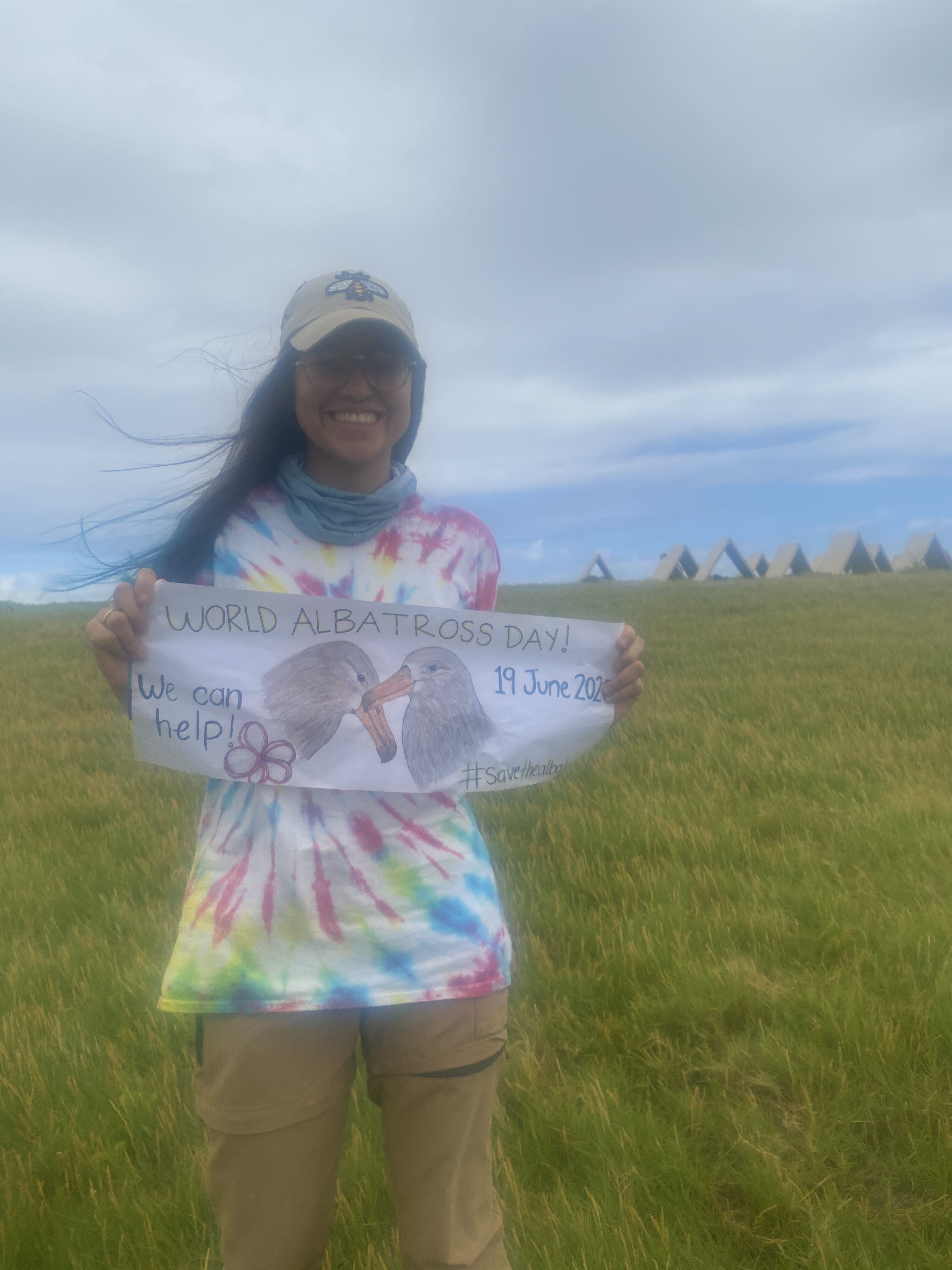 Liliana Tobar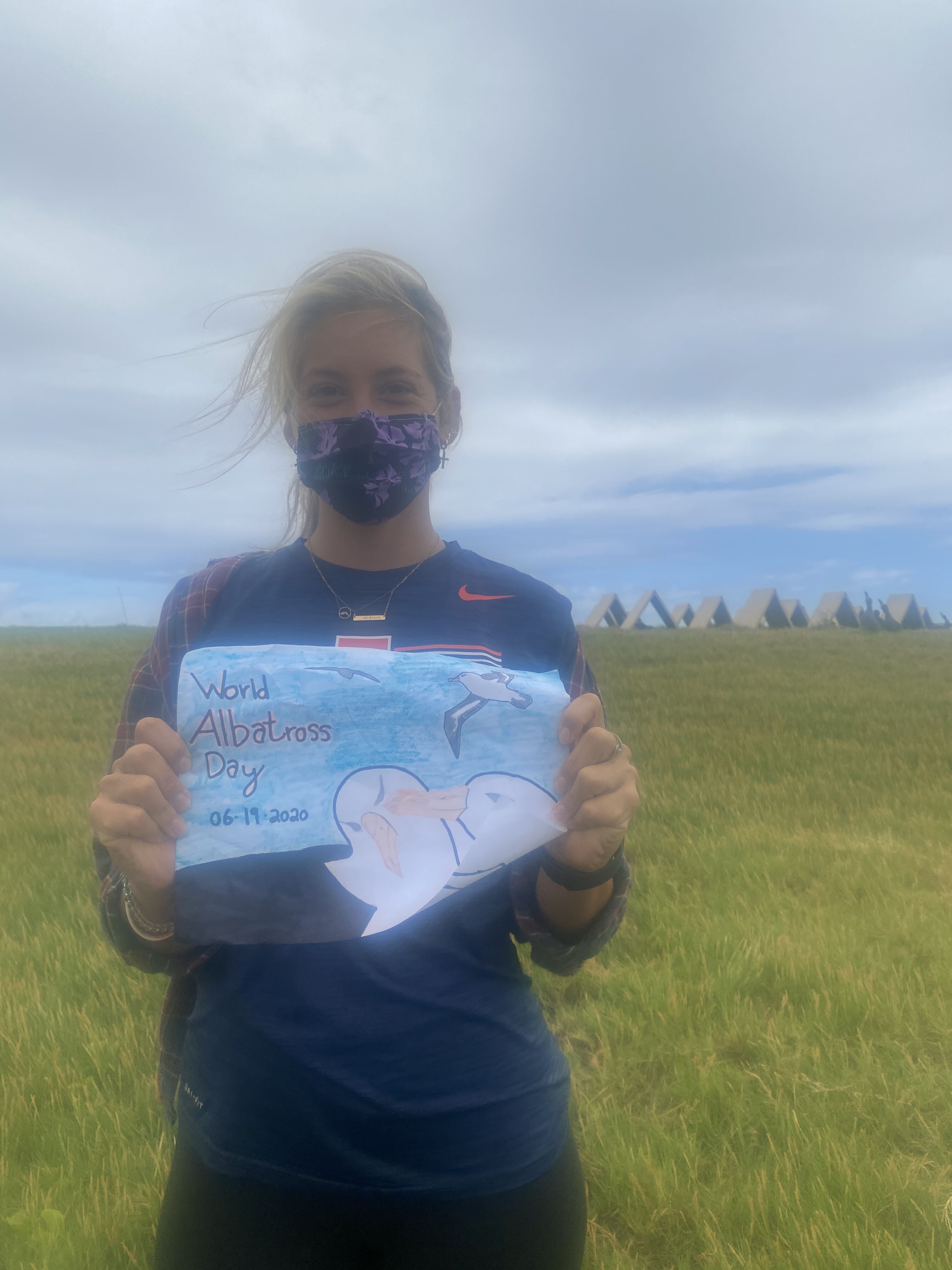 Madison O'Brien
With thanks to Lindsay Young, Pacific Rim Conservation.
John Cooper, ACAP Information Officer, 31 May 2020