j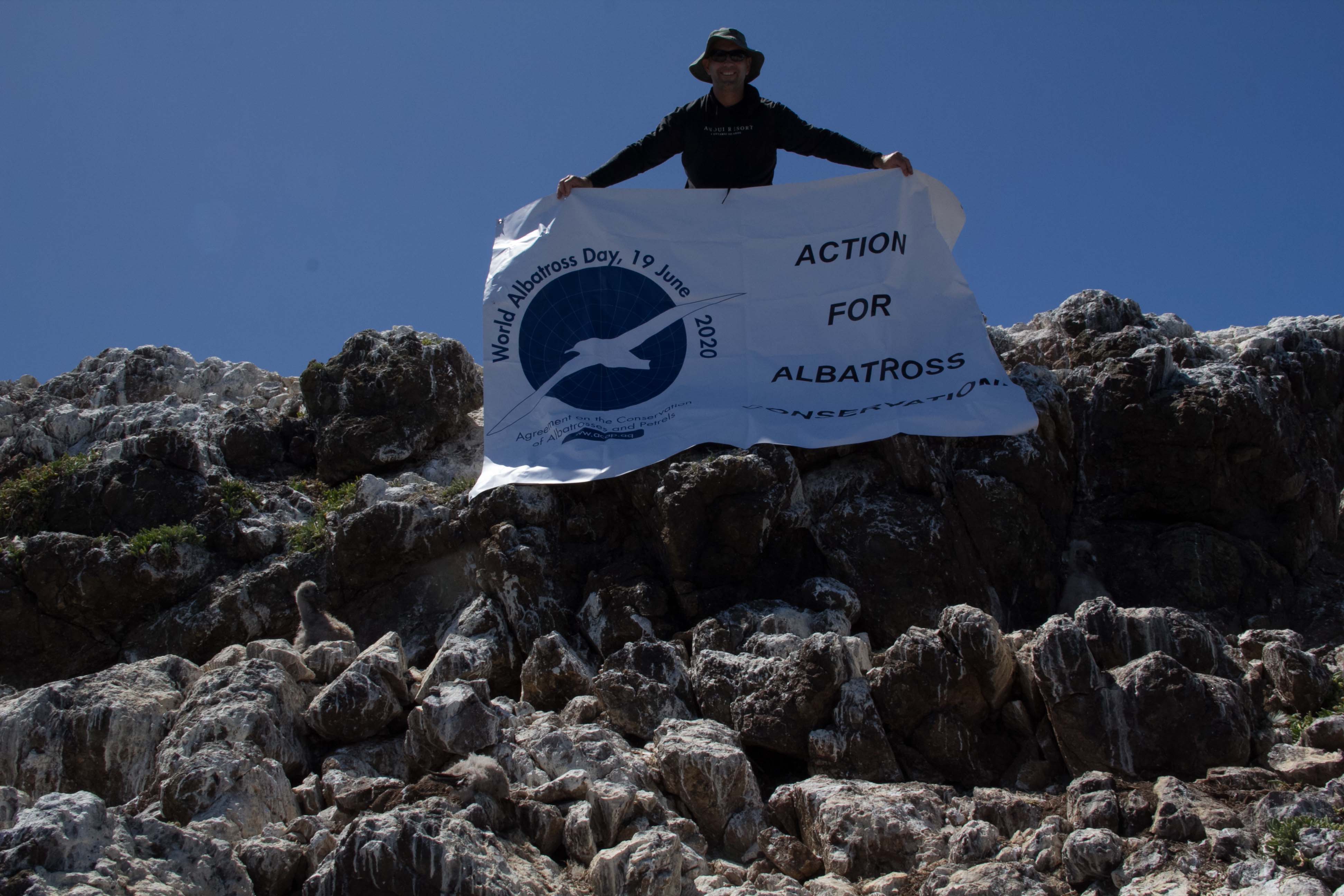 Matt Rayner holds up a 'WAD2020' banner on Rosemary Rock, Manawatāwhi/Three Kings Islands, with Northern Buller's Albatross chicks on both sides, photograph by Kevin Parker
After photographing a World Albatross Day banner on Campbell Island, site of New Zealand's southernmost albatross colonies, Kevin Parker of Parker Conservation was fortunate enough to take another banner photo on New Zealand's northernmost albatross colony on the Manawatāwhi/Three Kings Islands. Parker Conservation's other two staff members, Kalinka Rexer-Huber, with whom Kevin travelled to Campbell, and Graham Parker also recently took banner photos on New Zealand's Auckland and Bounty Islands.
Rosemary Rock, a small islet (170 x 40 m; 50 m high) in the Princes Chain of the Manawatāwhi/Three Kings Islands is situated 57 km north of New Zealand's North Island. It supports a small population of 15-35 pairs of the globally Near Threatened and nationally Naturally Uncommon Northern Buller's Albatross Thalassarche buller platei first discovered in 1983.
Along with Matt Rayner, Curator of Terrestrial Vertebrates, Jen Carol, photographer, both from the Auckland War Memorial Museum, and Trenton Neho and Thomas Hvid of local iwi Ngāti Kuri (the local Māori tribe), Kevin managed to get ashore in late February. He writes: "It was a very quick trip and a very difficult landing - we had to swim onto the island and contend with a chunky swell in scrambling up some very slippery rocks - it was all great fun though!" Seven adult Northern Buller's Albatrosses and four chicks were seen on the island. The Manawatāwhi/Three Kings Islands are mana by Ngati Kuri and the New Zealand Department of Conservation.
WAD2020 banner photos have also been taken at the Antipodes and Snares Islands, so in addition to the Three Kings, all five New Zealand's sub-Antarctic island groups have been covered.
With thanks to Kevin Parker, Matt Rayner, Trenton Neho, Thomas Hvid and Jen Carol.
References:
Frost, P. 2017. Sooty Tern: Three Kings Islands. BirdingNZ.net.
Wright, A.E. 1984. Buller's Mollymawks breeding at the Three Kings Islands. Notornis 31: 203–207.
McCallum, J., Brook, F. & Francis, M. 1985. Buller's Mollymawks on Rosemary Rock, Three Kings Islands, in 1985. Notornis 32: 257-259.
John Cooper, ACAP Information Officer, 25 April 2020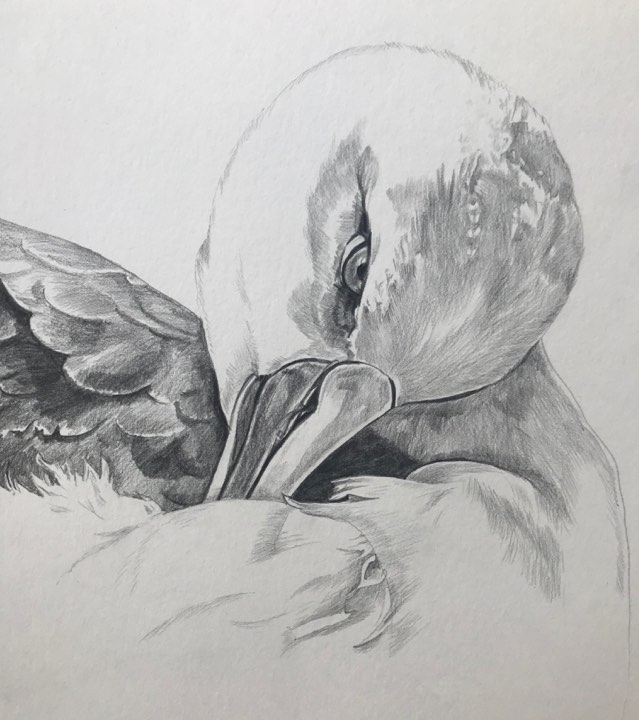 Buller's Albatross by ABUN artist Virginia Nicol, from a photograph by Laurie Smaglick Johnson