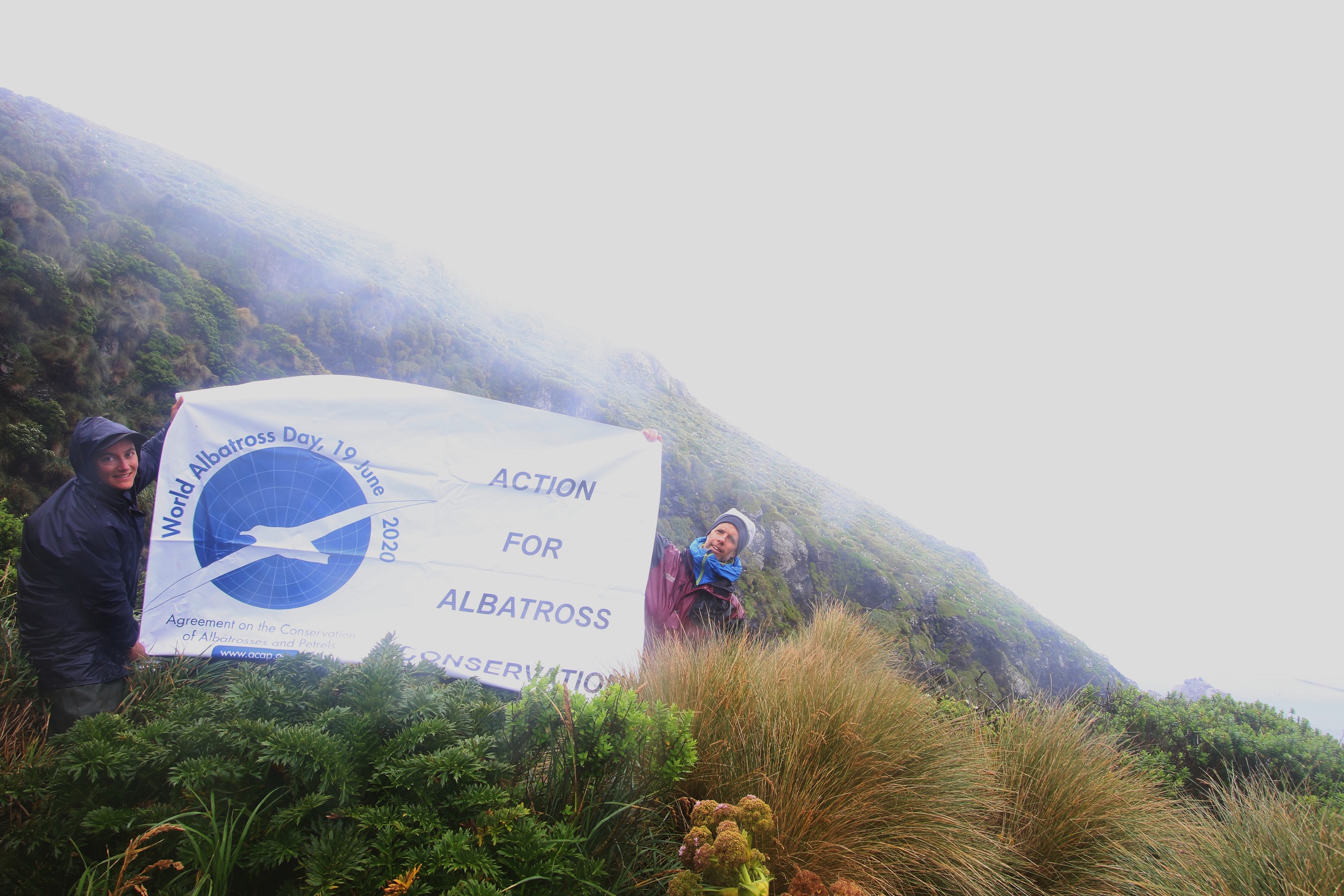 Kalinka Rexer-Huber (left) and Graham Parker on misty Disappointment Island (see text)
New Zealand continues to lead on photographing World Albatross Day banners on albatross breeding islands. Following displays on Bounty and Campbell Islands this austral summer, the intrepid team of Graham Parker and Kalinka Rexer-Huber of the environmental consultancy Parker Conservation returned last month from the Auckland Islands, where they found time among their monitoring research to get their banner out on both Adams and Disappointment Islands in the group.
Kalinka and Graham have written to ACAP Latest News describing the circumstances of each banner photo they've taken at the Aucklands.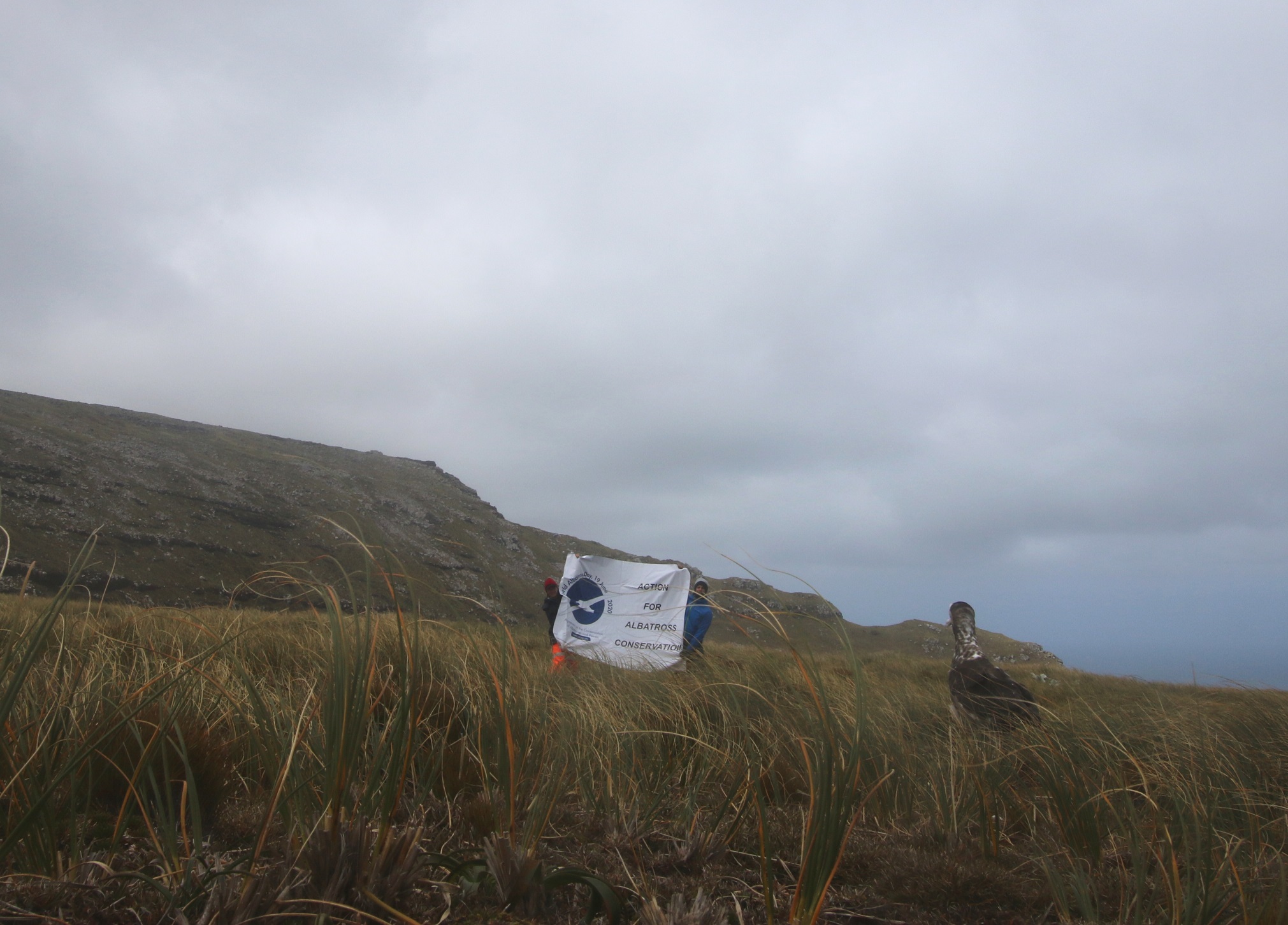 "The World Albatross Day banner in the study area of the Gibson's subspecies gibsoni of the globally Endangered Antipodean Albatross Diomedea antipodensis is being studied in turn by a chick close to fledging. We were there for the annual visit to continue the mark-recapture study on Gibson's Albatrosses that Kath Walker and Graeme Elliott started almost 30 years ago. We are in the Auckland Island group, on Adams Island, where the majority of the world's Gibson's breed. The flank of Mount Dick, the tallest mountain in the New Zealand sub-Antarctic, is in the background.'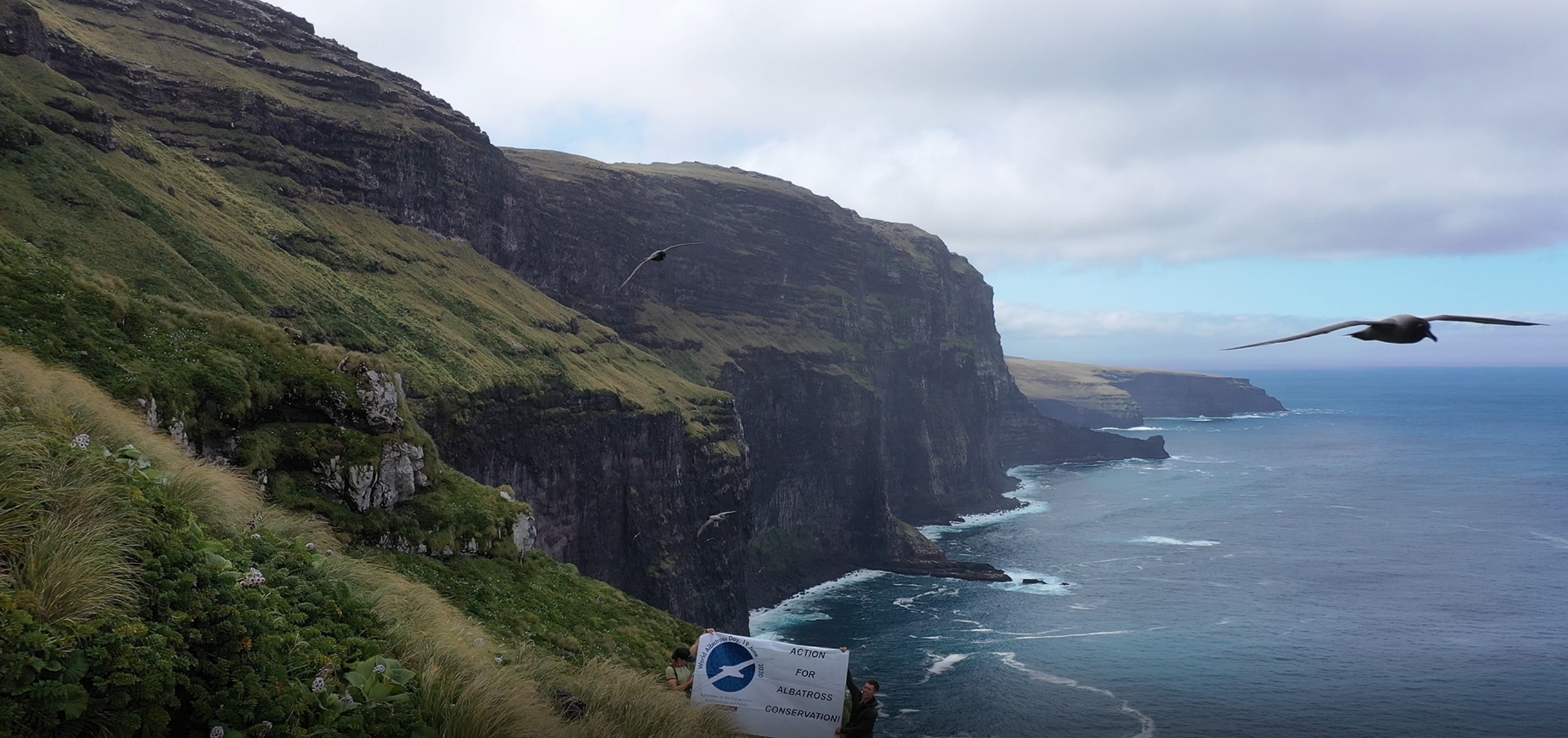 "Light-mantled Albatrosses Phoebetria palpebrata (Near Threatened) have a stronghold on Adams Island in the Auckland Islands. The high southern cliffs of Adams Island, in the feature photo here, are the focus of our efforts to start understanding more of how Light-mantled Albatrosses are doing in our region."
"Near Threatened White-capped Albatrosses Thalassarche steadi breed almost exclusively on Disappointment Island, a small 4-km² island off the western cliffs of the main Auckland Island. Since 2015 we have been building a mark-recapture study to understand better the population's trajectory. The White-capped Albatross study colony is on the steep cliff-top edge of Castaways Bay, above us in the feature photo."
And this is not to be the end of this now well-travelled WAD2020 banner! It has recently been taken to the Three Kings Islands, breeding site of Near Threatened Buller's Albatrosses T. bulleri of the northern subspecies platei. Soon it will be off with Paul Sagar to the Snares Islands where nominate Southern Buller's Albatrosses breed. ACAP Latest News will, of course, post on both these visits.
Graham and Kalinka flew into South Africa yesterday to sail for Gough Island later in the week to join the Gough Island Restoration Programme that aims to eradicate the island's House Mice later this year. No need for to take a WAD2020 banner with them this time: Gough's been sorted already!
With thanks to Graham Parker and Kalinka Rexer-Huber. Research on Auckland Islands' albatrosses is undertaken on behalf of the New Zealand Department of Conservation.
John Cooper, ACAP Information Officer, 10 March 2020