Following its first deployment on Proclamation Island in the Bounty Island group by Graham Parker and Kalinka Rexer-Huber of the environmental consultancy Parker Conservation in October, New Zealand's World Albatross Day (WAD2020) banner travelled to Campbell Island last month with Kalinka and Kevin Parker as part of ACAP's "banner challenge".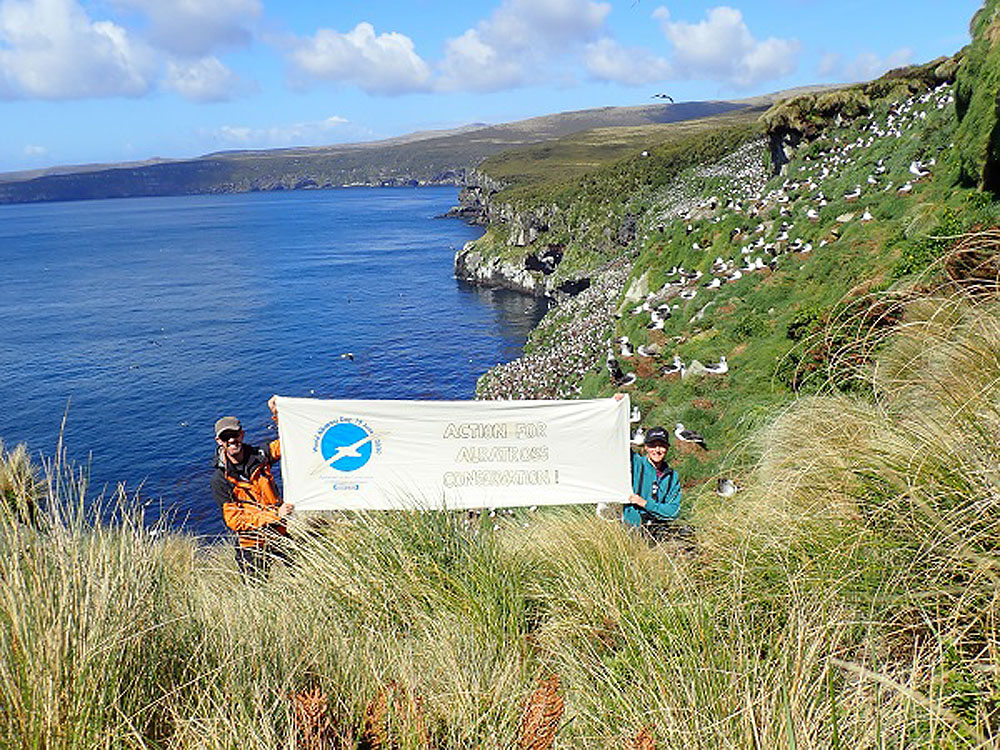 Kevin Parker (left) and Kalinka Rexer-Huber with their well-travelled WAD2020 banner "Action for Albatross Conservation!" on Campbell Island
Safely back home, Kalinka has written to ACAP Latest News: "The photo was taken on November 20th by Kevin Parker. It features Kevin at left, myself and goodly numbers of Campbell Thalassarche impavida and Grey-headed T. chrysostoma Albatrosses. We were doing demographic and tracking work on albatrosses and Northern Giant Petrels Macronectes halli and recovering trackers (GLS) from Southern Royal Albatrosses Diomedea epomophora. The work was part of Operation Endurance, a collaboration between our New Zealand Department of Conservation [DOC], MetService and the [Royal New Zealand] Navy that was supported by HMNZS Canterbury.
Kalinka explains: "Unfortunately this was the last sighting of the banner. It is currently marooned on Campbell in a helicopter crate, with rescue unlikely anytime soon". Fortunately, Parker Conservation will make a "shiny new replacement" that will first be photographed on Adams Island in the Auckland Island group in the New Year by Kalinka and Graham Parker, and then will then travel with Paul Sagar to the Snares Islands in March.
Kevin has also been in contact over his experience heading south: "The sight of an albatross cruising the high seas always makes me think of surfing and wishing I could also ride waves with such grace, power and simplicity. Standing next to an albatross colony is a profoundly moving experience and visiting Campbell for the first time was such a privilege. The high latitudes get under one's skin and stay there forever."
The expedition was not without its drama. A DOC conservation dog searching the island for any signs of rodents (a Jack Russell/Fox Terrier cross named Flint) had to be left behind on the island after being scared by a group of subadult male Hooker's Sea Lions Phocarctos hookeri and running away. Despite searches it could not be found before the ship made the decision to sail for home due to impending bad weather. The story ends well though with Flint being found on the island and rescued via helicopter a few days later. It is now reunited with its handler (click here).
With thanks to Kalinka Rexer-Huber.
John Cooper, ACAP Information Officer, 25 December 2019