The inaugural World Albatross Day (WAD 2020) will be held on 19 June next year to help raise awareness of the continuing conservation crisis facing the world's albatrosses and petrels. The Agreement on the Conservation of Albatrosses and Petrels (ACAP) has been reaching out to conservation bodies in countries that support albatross breeding populations to enlist their support for the day. The latest NGO to respond is the New Zealand-based Southern Seabird Solutions Trust (SSST).
The charitable trust, an alliance since 2002 between government, environmental and seafood industry organisations, works with commercial and recreational fishers, associated agencies and industry to reduce harm to New Zealand seabirds from fishing in both domestic and international waters. "We deliver projects that contribute to reducing the effects of fishing on seabirds in fisheries in the Southern Hemisphere" (click here).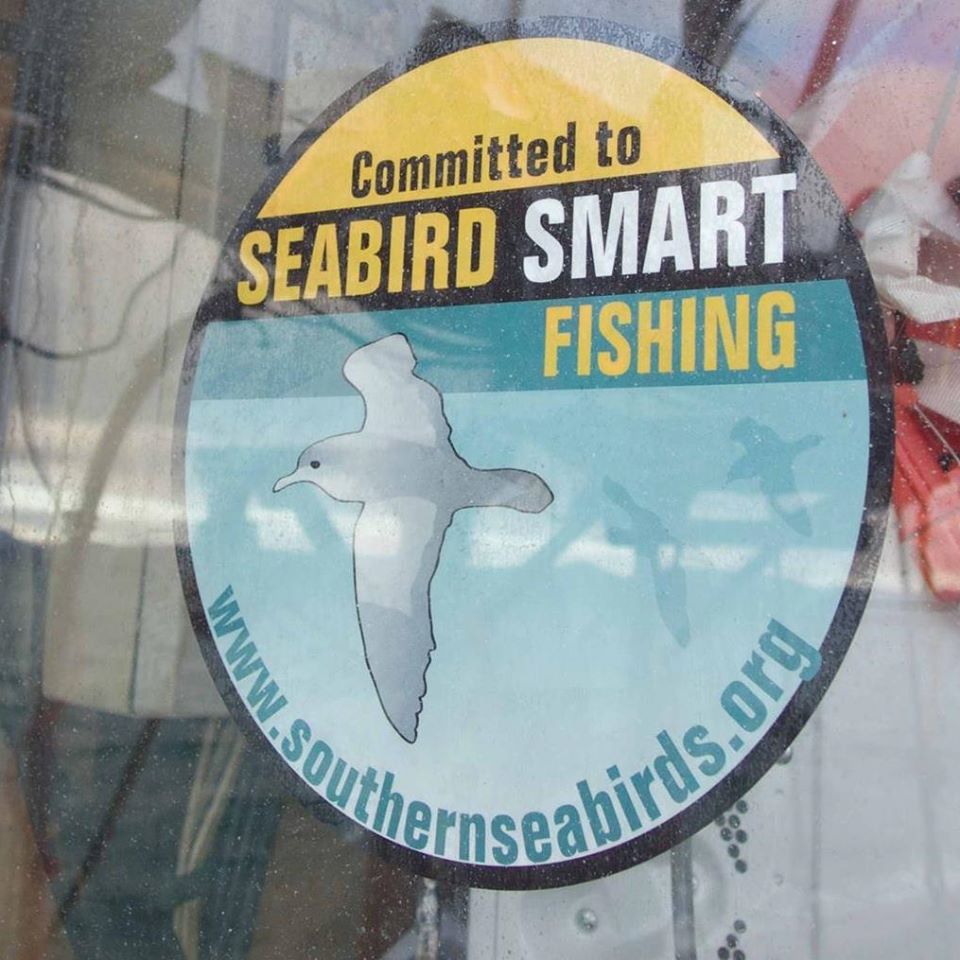 The SSST's Management Committee has written to ACAP Latest News:
"Many New Zealanders are fortunate to be able to earn their living, or spend their leisure time, on the water amongst the world's most incredible diversity of seabirds. Bird enthusiasts dream of visiting our shores. With this privilege comes a responsibility for all New Zealanders. We aspire to take care of these birds and ensure they thrive; and to lead the way to help other countries follow suit, as well as learn from them. We are very pleased to support World Albatross Day as a way of connecting the global community to these special creatures."
The founder and Convenor of the Trust, and member of its Management Committee, is Janice Molloy, who has been active in working to reduce seabird bycatch in especially longline fisheries since the early days late last century when news of albatrosses drowning on hooks first reached the international stage. Janice (then with New Zealand's Department of Conservation) and I attended and contributed to meetings of CCAMLR's then Ad Hoc Working Group on Incidental Mortality Arising from Longline Fishing (WG-IMALF) in the mid 1990s and met again in Tokyo, Japan as members of a technical working group to finalize the text of FAO's International Plan of Action for Reducing Incidental Catch of Seabirds in Longline Fisheries (IPOA-Seabirds) in 1998.
Since then Janice and the SSST have continued to work towards reducing seabird bycatch in varied ways. Most recently the Trust is helping address the high levels of at-sea mortality that are causing a drastic population decline of the nominate subspecies of the Endangered Antipodean Albatross Diomedea antipodensis that breeds only on New Zealand's Antipodes Island – but forages on the High Seas in the Pacific Ocean and Tasman Sea outside the breeding season (click here). The SSST is partnering with Peter Burling and Blair Tuke, two Olympic gold and silver medallists and world sailing champions, to raise funds for GPS trackers to follow Antipodean Albatrosses at sea. Peter and Blair have recently established a marine conservation foundation called the Live Ocean Charitable Trust and this is their first project. At its 10th Meeting held in New Zealand in 2017 ACAP's Advisory Committee endorsed the inclusion of Antipodean Albatrosses breeding on Antipodes Island as a Priority Population for conservation management.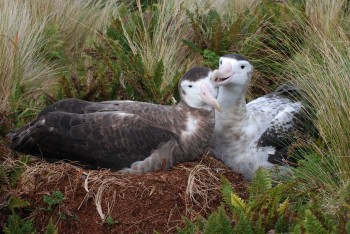 An Antipodean Albatross pair on Antipodes Island, photograph by Erica Sommer
With thanks to Janice Molloy.
John Cooper, ACAP Information Officer, 20 December 2019