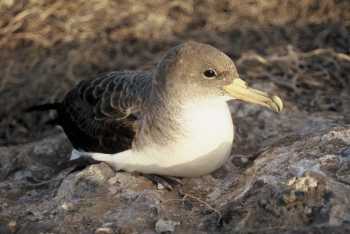 Cory's Shearwater, photograph by Paulo Catry
Alberto Navarro (Marine Ecophysiology Group, Universidad de Las Palmas de Gran Canaria, Canary Islands, Spain) and colleagues have published in the Marine Pollution Bulletin on ingestion of plastics (mainly derived from fishing gear) by Cory's Shearwaters Calonectris borealis and other seabirds.
The paper's abstract follows:
"Plastic pollution constitutes an environmental problem in the Canary Islands nowadays. Nevertheless, studies evaluating the impact of plastics on its avifauna are still scarce. Gastrointestinal tracts of 88 birds belonging to 14 species were studied for the presence of plastics. Moreover, their livers were analyzed for the determination of bromodiphenyl ethers (BDEs), polychlorinated biphenyls (PCBs), polycyclic aromatic hydrocarbons (PAHs) and organochlorine pesticides (OCPs). Among Cory's shearwaters (n = 45), the frequency of occurrence of plastic ingestion was considerably high (88.89 %). This species had the highest mean value of items (7.22 ± 5.66) and most of them were compatible with lines derived from fishing gear. PCBs and PAHs were detected in all of the samples and OCPs in the great majority of them (98.86 %). Our results highlight the problems that plastic debris (mainly for seabirds) and organic pollutants pose to these species."
Reference:
Navarro A., Perez Luzardo, O., Gomez, M., Acosta-Dacal, A., Martínez, I., de la Rosa, J.G., Macia-Montes, A., Suarez-Perez, A. & Herrera, A. 2023. Microplastics ingestion and chemical pollutants in seabirds of Gran Canaria (Canary Islands, Spain). Marine Pollution Bulletin 186. doi.org/10.1016/j.marpolbul.2022.114434.