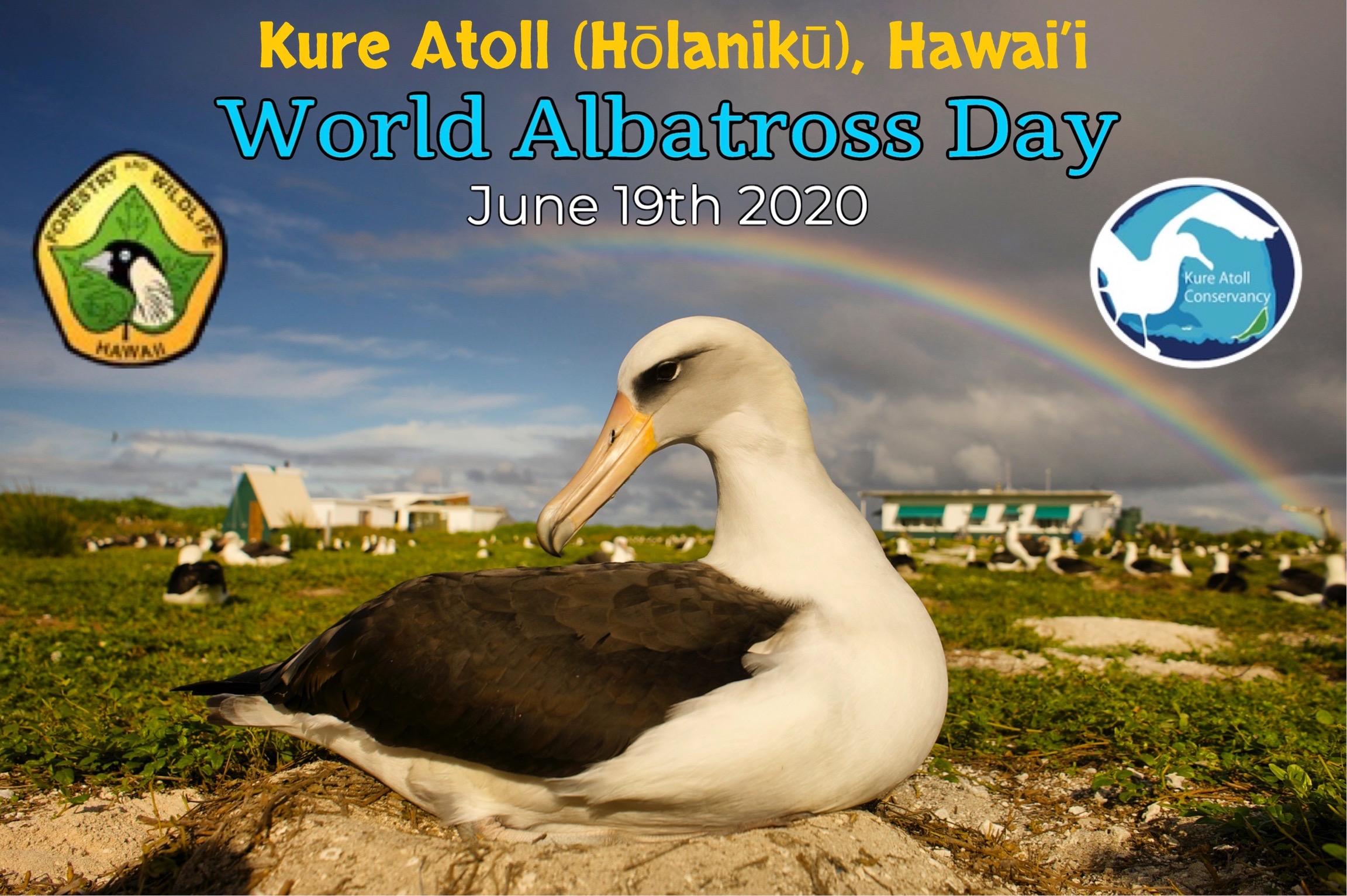 Photograph and design of a 'virtual' WAD2020 banner, by Andrew Sullivan-Haskins
Andrew Sullivan-Haskins is the Field Leader for the Kure Atoll Wildlife Sanctuary within the State of Hawaii's Division of Forestry and Wildlife, Department of Land and Natural Resources. Following an approach from ACAP Latest News he has replied in support of World Albatross Day with a 'virtual banner'. Andrew writes: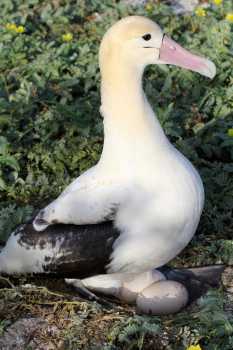 One of the female-female pair of Short-tailed Albatrosses on Kure Atoll - with their two infertile eggs, photograph from Kure Atoll Conservancy
"Kure Atoll is considered one of the most remote spots on the planet and lies approximately 2250 km north-west of Honolulu on the Hawaiian island of Oahu. Due to its extremely remote location, and our limited communication options, we are unable to send pictures via the internet. Field teams are generally switched out twice per year and are typically deployed for field seasons ranging from five to eight months, sometimes without a re-supply.
In addition to the Critically Endangered Laysan Duck Anas layensis and Hawaiian Monk Seal Neomonachus schauinslandi, Kure is home to 18 species of seabirds, including the Laysan Albatross, Black-footed Albatross and the Vulnerable Short-tailed Albatross. Our mission is to support the State of Hawaii's ongoing habitat restoration and other wildlife management programs that enhance the biological diversity, ecosystem health and cultural resources of Kure Atoll in the North-western Hawaiian Archipelago.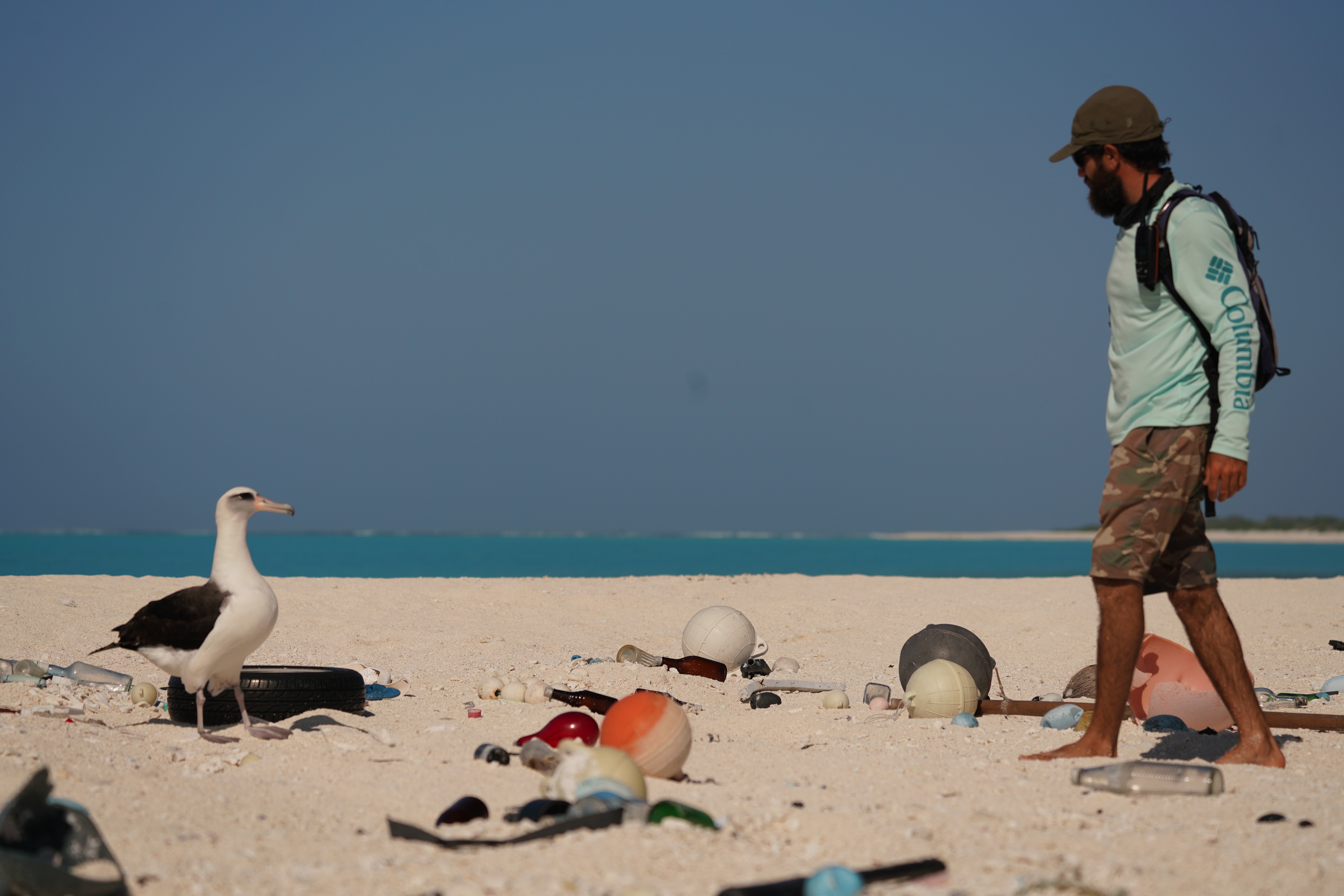 Andrew Sullivan-Haskins on Kure with a Laysan Albatross – and beached litter, photograph by Saxony Charlot
"For anyone who has seen or spent time near an albatross, and taken the time to observe their powerful yet graceful flight, their loving and nurturing nature, their intricate dance routines, and their remarkable ability to make you laugh and to make you cry they are humbling. Persistent with their dedication to their own species, despite humankind's best efforts to impede these great travellers, they remain resilient. Throughout their potentially long-lived lives, albatross battle the harshest conditions that both humankind and nature can throw at them, from Tiger Sharks Galeocerdo cuvier to long lines, flooding and disease, plastic ingestion, entanglements, and habitat loss. World Albatross Day can help to illuminate the beauty and struggle of these seabirds, as well as many of the plants and animals around the world that are at risk due to man-made climate change, unsustainable human practices, loss of critical habitat, forces of nature, and a myriad of other challenges that inevitably lie ahead. How each and every human being decides to live their life will impact the future of all remaining species."
Environmental management on Kure Atoll is supported by volunteers from the Kure Atoll Conservancy, which has offered its own support for 'WAD2020'.
With thanks to Ilana Nimz and Cynthia Vanderlip, Kure Atoll Conservancy.
Andrew Sullivan-Haskins, Field Leader, Kure Atoll Wildlife Sanctuary, Papahānaumokuākea Marine National Monument, with John Cooper, ACAP Information Officer, 01 June 2020