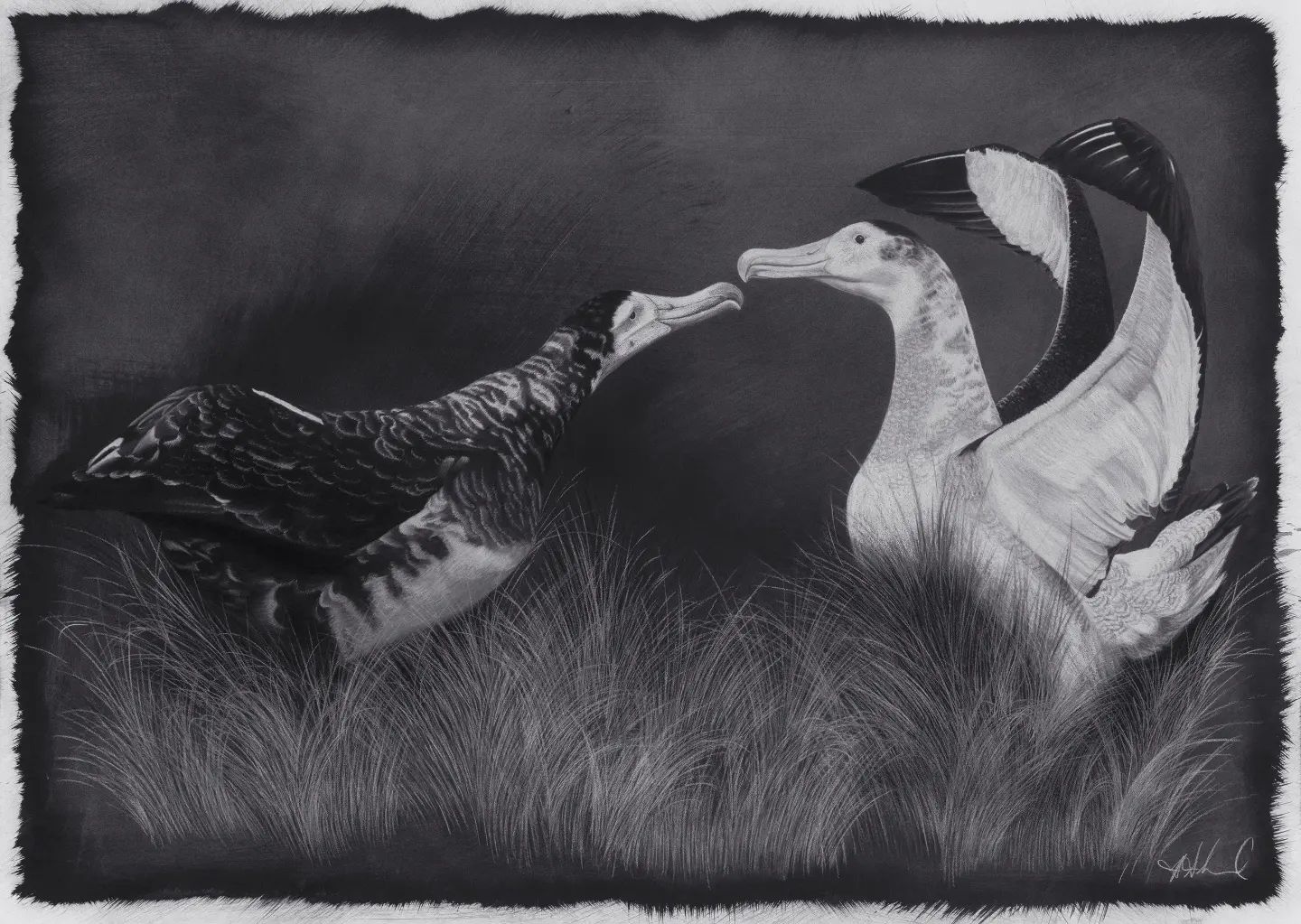 "Welcome Home" by New Zealand artist Hannah Shand, after a photograph by Mark Fraser
A booked-out evening fundraiser hosted by the New Zealand Nature Fund in Auckland earlier this month raised NZ$170 000 towards the conservation of New Zealand's endemic Antipodean Albatross Diomedea antipodensis. The funds raised will be distributed by the Nature Fund and the Live Ocean Foundation to the Southern Seabird Trust. "Our goal was to raise $170,000 – one dollar for every kilometre this endangered bird flies, tragically, often to its death. We were thrilled to achieve this with the help of our generous benefactors and we look forward seeing this critical work intensified in the coming months."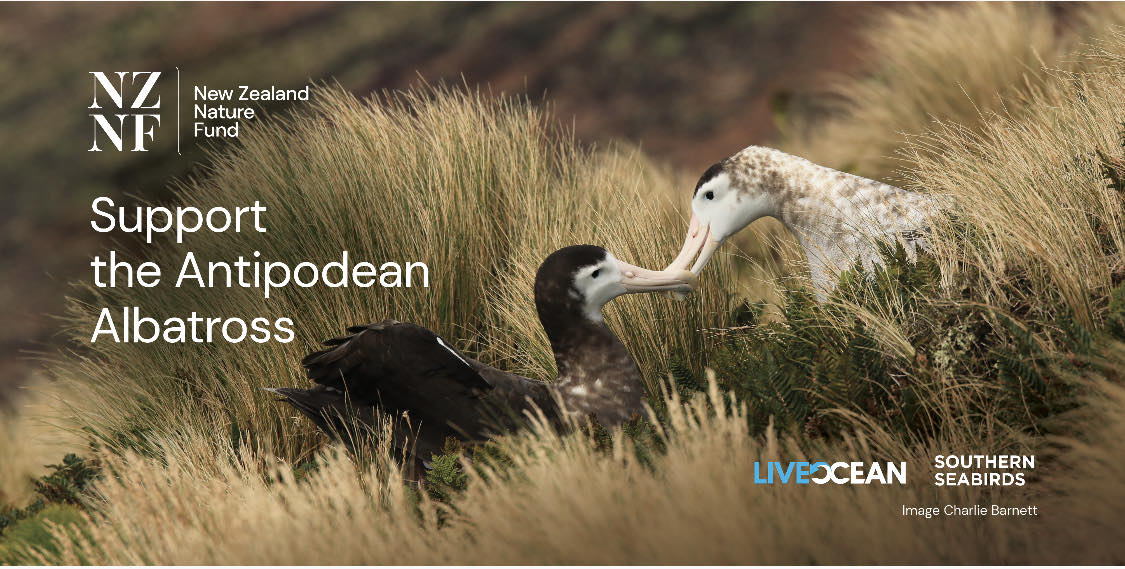 At the event, Hannah Shand's original of a pair of displaying Antipodean Albatrosses entitled "Welcome Home" was auctioned for NZ$12 000, with 100% of the proceeds being donated.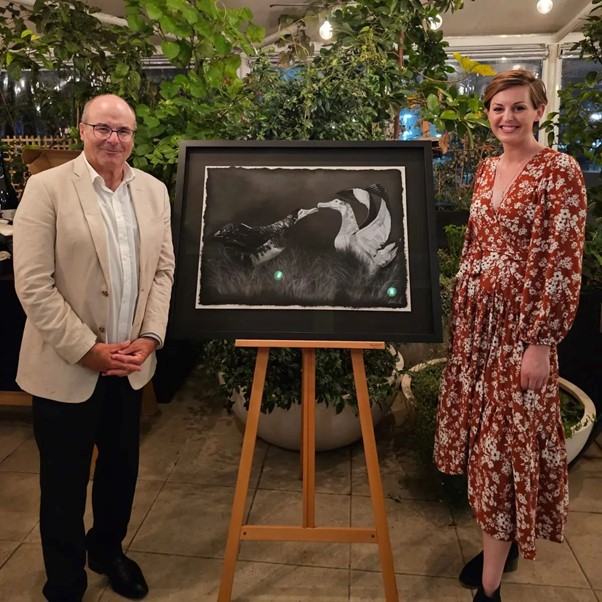 All smiles: Hannah Shand (right) poses with her artwork at the fundraiser event, with New Zealand Nature Fund Trustee and former Department of Conservation Director General Lou Sanson
Hannah, who describes herself as a Native New Zealand bird artist specialising in realistic pen drawings, has written on her Facebook page the day after the event: "What a fantastic night. 'Welcome Home' sold for $12,000! I am so happy with this result and so proud of this money raised for the Antipodean Albatross". In addition, Hannah has informed ACAP Latest News that an A1-sized and framed limited edition print of her "Subantarctic Soaring" sold for NZ$2265 at the event.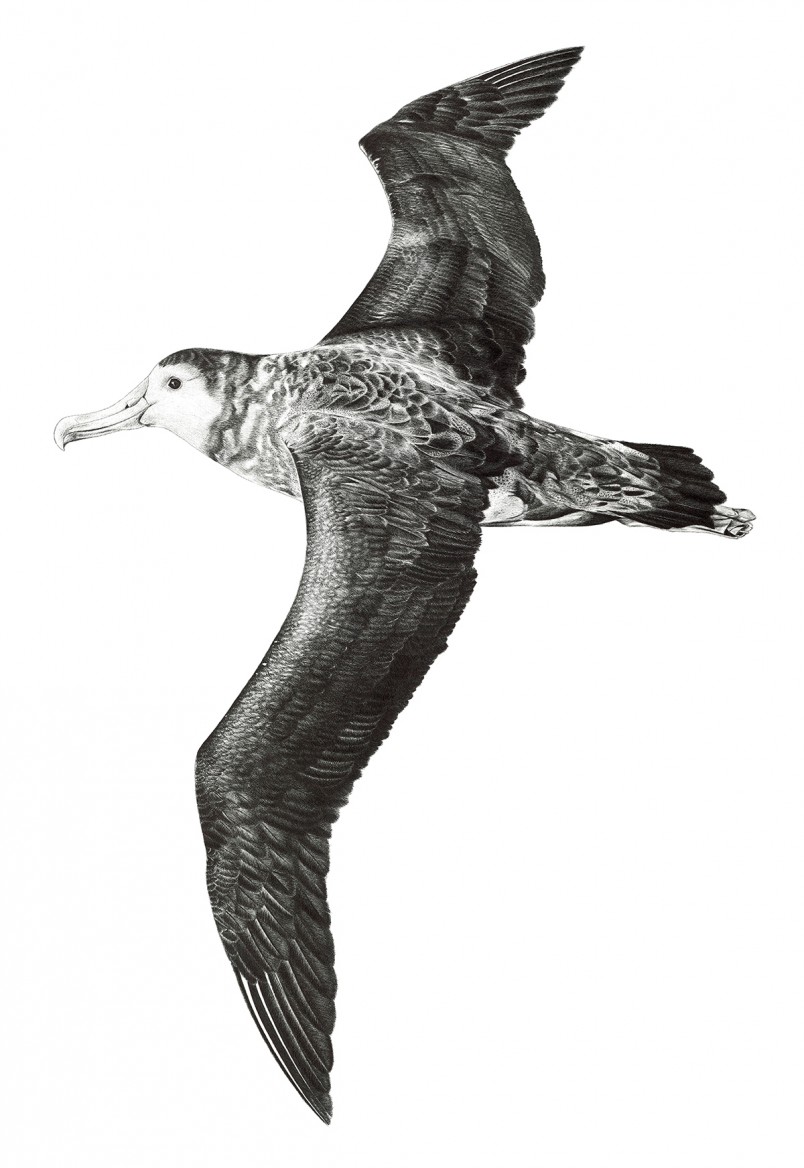 "Subantarctic Soaring". An Antipodean Albatross in flight by Hannah Shand, after a photograph by Jordan Shand
This is not the first time Hannah has raised funds for the globally Endangered and Nationally Critical Antipodean Albatross as previously reported in ACAP Latest News. In 2022 she raised NZ$4230 partnering with Forest & Bird (BirdLife International's National Partner in New Zealand) in its efforts towards improving fishing regulations which will make the seas safer for albatrosses and other seabirds. On a cruise she took to New Zealand's sub-Antarctic Islands with Heritage Expeditions she was inspired to draw an Antipodean Albatross in "to share its beauty, but more importantly to spread awareness about their plight". Her donation came from the sale of prints of her artwork "Subantarctic Soaring" (click here), as featured in the Autumn 2022 issue of Forest & Bird's Magazine.
Heritage Expeditions contributed to the total by raising NZ$37 000 with the donation of a cabin on an expedition to New Zealand's sub-Antarctic islands (click here). Listen to an audio clip of Lou Sanson being interviewed on the fund raiser.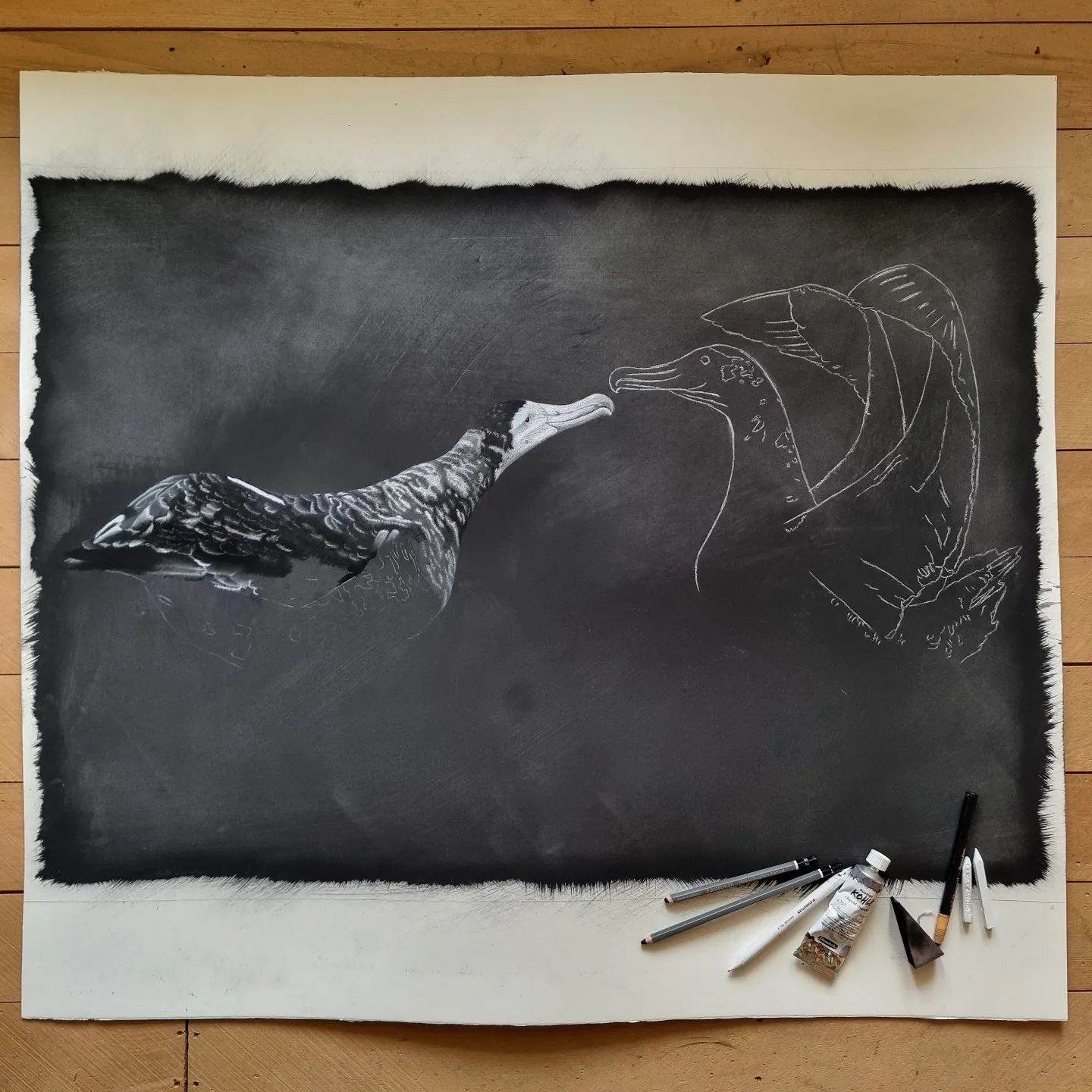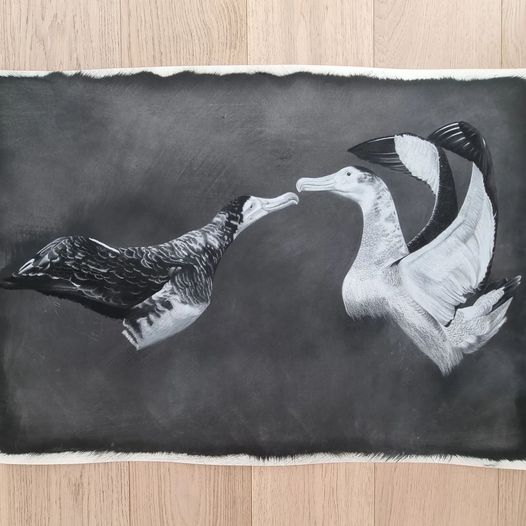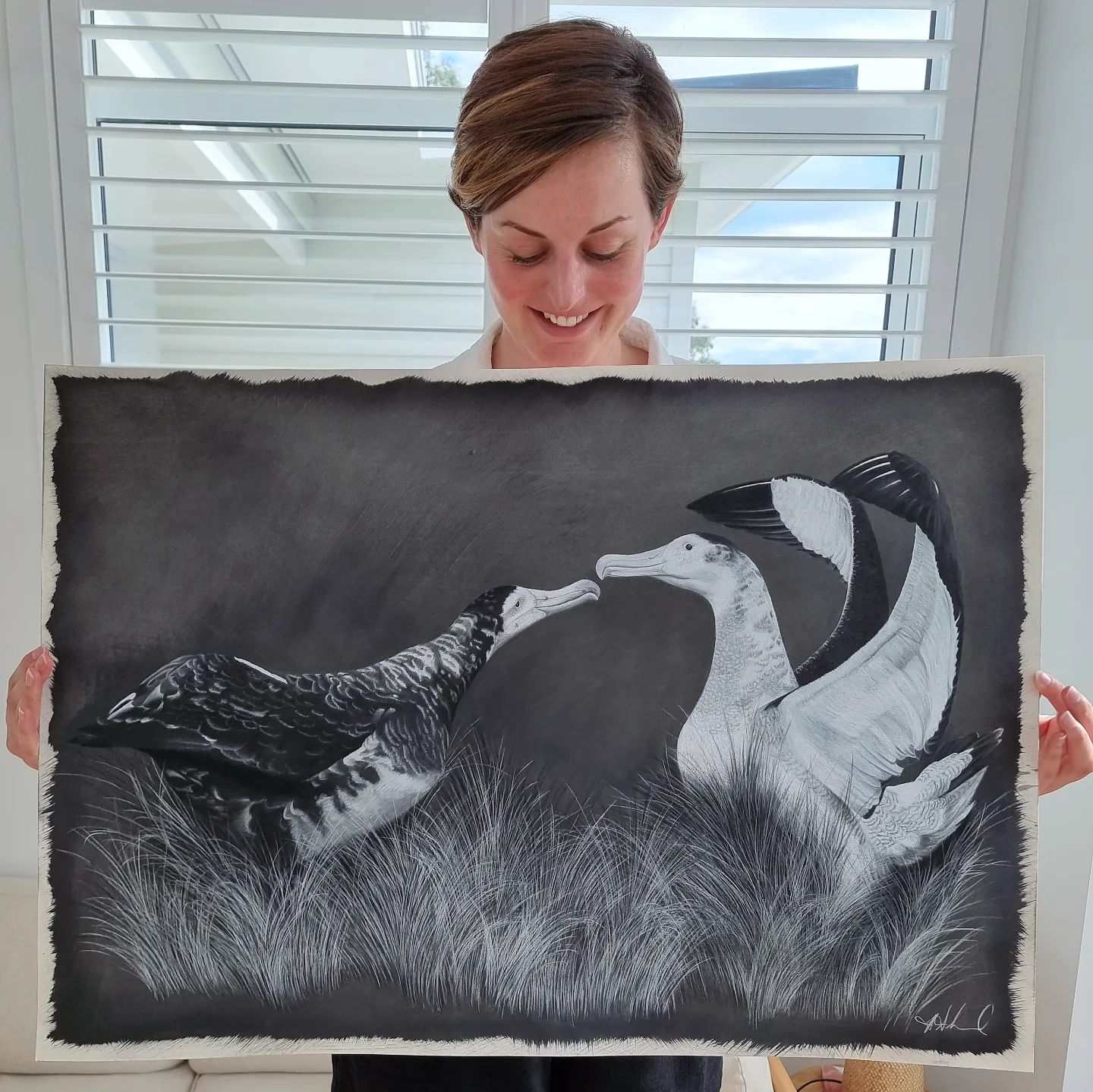 Steps along the way. Watch a video clip of its production in pencil and liquid charcoal, after a photograph by Mark Fraser
John Cooper, Emeritus Information Officer, Agreement on the Conservation of Albatrosses and Petrels, 28 March 2023