Terres australes antarctiques françaises (TAAF) submitted France's nomination for the inscription of its sub-Antarctic islands (Amsterdam, Crozets, Kerguelen and Saint-Paul) on the List of Natural Sites of UNESCO's World Heritage Convention (WHC) in February 2018. Following review, the World Heritage Committee at its 43rd Session meeting in Baku, Republic of Azerbaijan this month has now inscribed France's sub-Antarctic islands on UNESCO's World Heritage List.
"The French Austral Lands and Seas comprise the largest of the rare emerged land masses in the southern Indian Ocean: the Crozet Archipelago, the Kerguelen Islands, Saint-Paul and Amsterdam Islands as well as 60 small sub-Antarctic islands. This "oasis" in the middle of the Southern Ocean covers an area of more than 67 million ha and supports one of the highest concentrations of birds and marine mammals in the world. In particular, it has the largest population of King Penguins and [Indian] Yellow-nosed albatrosses in the world. The remoteness of these islands from centres of human activity makes them extremely well-preserved showcases of biological evolution and a unique terrain for scientific research." (click here).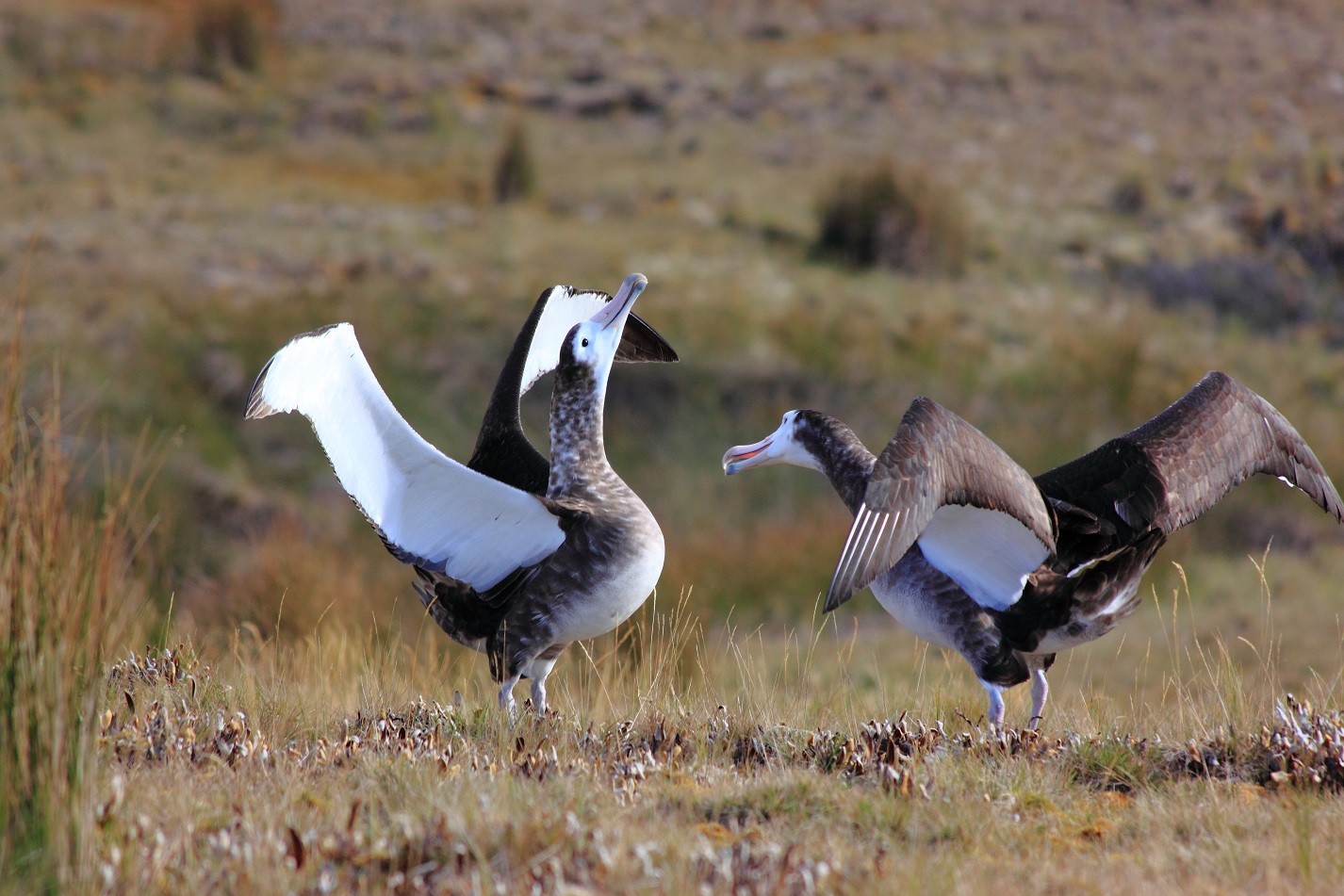 Endangered Amsterdam Albatrosses Diomedea amsterdamensis display on Amsterdam Island: a species endemic to the new World Heritage site
Photograph by Romain Buenadicha
South Africa's Prince Edward Islands (Marion and Prince Edward) are now the only islands in the southern Indian Ocean that are not a World Heritage Site. Overall, only South Georgia (Islas Georgias del Sur)* also does not have World Heritage status, All the other islands commonly accepted as falling within the sub-Antarctic Region are World Heritage Natural Sites: Gough, Heard, Macquarie and the five New Zealand sub-Antarctic island groups.
Following South Africa's withdrawal of its nomination of the Prince Edwards after an unfavourable evaluation by the International Union for Conservation of Nature (IUCN), South Africa removed its sub-Antarctic islands from its Tentative List (originally listed in 2004). Such a listing would be a prerequisite for any re-nomination of the Prince Edwards for Word Heritage status.
Read earlier ACAP Latest News postings on the successful French nomination here.
John Cooper, ACAP Information Officer, 09 July 2019
*A dispute exists between the Governments of Argentina and the United Kingdom of Great Britain and Northern Ireland concerning sovereignty over the Falkland Islands (Islas Malvinas), South Georgia and the South Sandwich Islands (Islas Georgias del Sur y Islas Sandwich del Sur) and the surrounding maritime areas.