Jérémy Dechartre, CNRS-CEBC ornithologist and marine mammologist currently based on France's Amsterdam Island in the southern Indian Ocean with the 70th Mission on the project "Birds and Marine Mammals, Sentinels of Global Changes in the Southern Ocean", has joined ACAP's 'Banner Challenge' that aims to increase awareness of the inauguration of an annual World Albatross Day ('WAD') on 19 June next year.
Along with two colleagues, Jérémy climbed to the World Heritage island's Plateau des Tourbières (Important Bird Area TF006) at its centre from its base Martin de Viviès to the sole breeding site of the endemic and Endangered Amsterdam Albatross Diomedea amsterdamensis, where they displayed the posters they had made.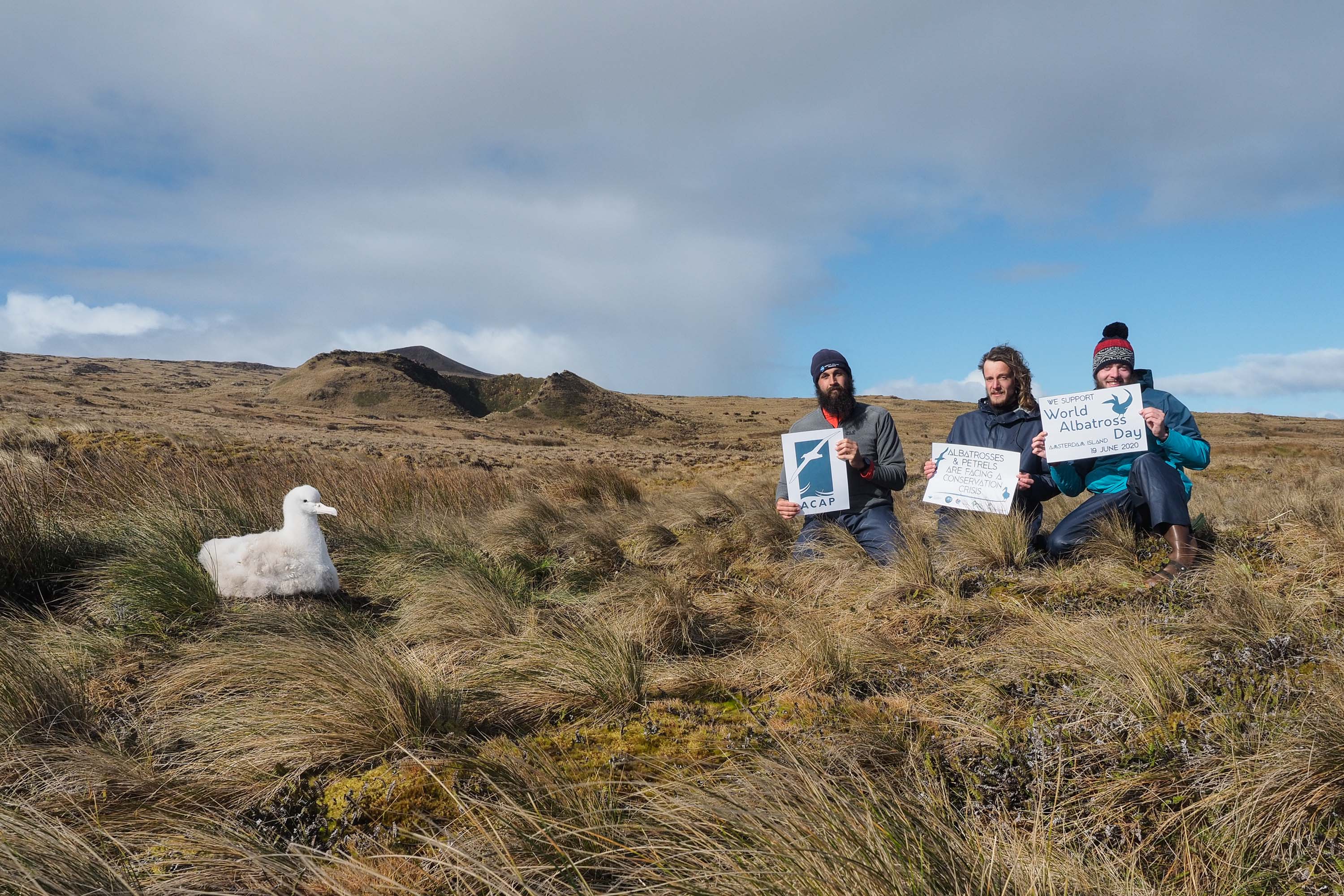 From left: Jérémy Dechartre, Augustin Clessin (ornithologist working on eco-epidemiology) and Édouard Blandin (atmospheric chemist working on greenhouse gases) display their World Albatross Day posters a safe distance from a downy Amsterdam Albatross chick on 26 August
Photograph by Édouard Blandin, Institut Polaire Français
Jérémy writes to Michelle Risi of ACAP's World Albatross Day Intersessional Working Group who is coordinating the banner challenge: "We started taking pictures for the WAD. We will take the next photos in October with Indian Yellow-nosed Albatrosses [Thalassarche carteri] and Sooty Albatrosses [Phoebetria fusca]".
Background
At its most recent Advisory Committee meeting ACAP decided to inaugurate a World Albatross Day, to be held on 19 June each year - the date the Agreement was signed in Canberra in 2001. ACAP will be spending the period until 19 June next year advertising World Albatross Day via social media and in other ways, so that come the day interested communities around the world can start to become involved with activities, events, media releases and the like.
As part of publicizing World Albatross Day prior to its inauguration, field teams working with albatrosses at breeding localities have been requested to make a suitably-worded banner or poster advertising the 19 June event to draw attention to the birds' conservation crisis. The banner would then be photographed with the field workers in a suitable setting in the vicinity of breeding albatrosses (but not too close as to disturb them). Gough and Bird Islands in the South Atlantic were the first to rise to the challenge, now joined by France's Amsterdam. Banner photographs from more albatross islands are expected as breeding seasons get underway.
With thanks to Jérémy Dechartre (Centre d'Etudes Biologiques de Chizé coordinated and supported by the Institut Polaire Français Paul-Emile Victor) and Michelle Risi, Gough Island.
John Cooper, ACAP Information Officer, 17 September 2019