Three sub-Antarctic island groups in the southern Indian Ocean belong to France, a Party to the Agreement on the Conservation of Albatrosses and Petrels. These are the Crozets, Amsterdam and St Paul, and Kerguelen, all administered by the French Southern and Antarctic Territories (Terres Australes et Antarctiques Françaises - TAAF). France supports research stations on Possession Island in the Crozet group, on Amsterdam and on Kerguelen. At each researchers undertake monitoring and other studies of the islands' breeding seabirds, including on a number of ACAP-listed albatrosses and petrels.
ACAP has reached out to marine ornithologists at the three research stations with requests that they make banners and photograph them in the field that emphasize the conservation crisis facing the world's albatrosses and also draw attention to next year's inaugural World Albatross Day. ACAP Latest News has previously posted on banners from Amsterdam and Possession Islands, and is now pleased to announce a French hat-trick with photographs of a banner taken at two localities by Kerguelen's ornithologists. Aude Schreiber and Tobie Getti (Mission 69) undertake long-time monitoring of several bird and mammal species, including the ACAP-listed Black-browed Thalassarche melanophris and Wandering Diomedea exulans Albatrosses and Grey Petrel Procellaria cinerea, as well as several other species of burrowing petrels on Kerguelen.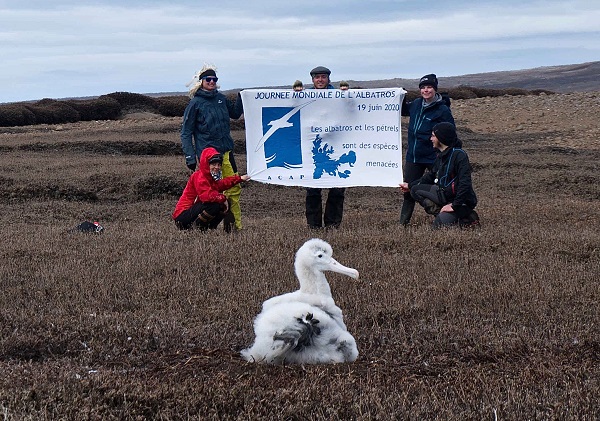 From left: Anne Bontemps (bottom), Léa Dillard, David Gallien (centre), Aude Schreiber (top) and Tobie Getti display their banner behind a Wandering Albatross chick on the Prince de Galles Peninsula; photograph by Aude Schreiber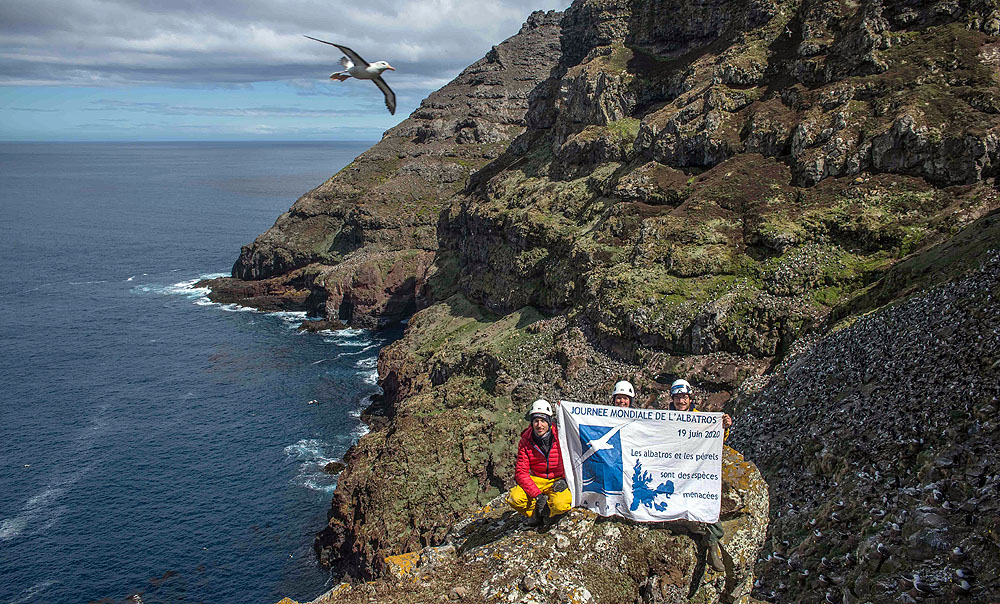 On the cliffs of the Canon des Sourcils noirs colony of Black-browed Albatrosses on the Jeanne d'Arc Peninsula. From left: Tobie Getti, Aude Schreiber and Baptiste Camus; photograph by Marc Le Pape
The three French banners join others displayed on New Zealand, South African and UK islands in the Southern Ocean. More are expected as albatross breeding seasons get underway. It is intended to make a selection of these banner photographs to create a freely-downloadable A3 poster to mark World Albatross Day on 19 June 2020.
With thanks to Aude Schreiber and Tobie Getti.
John Cooper, ACAP Information Officer, 07 December 2019