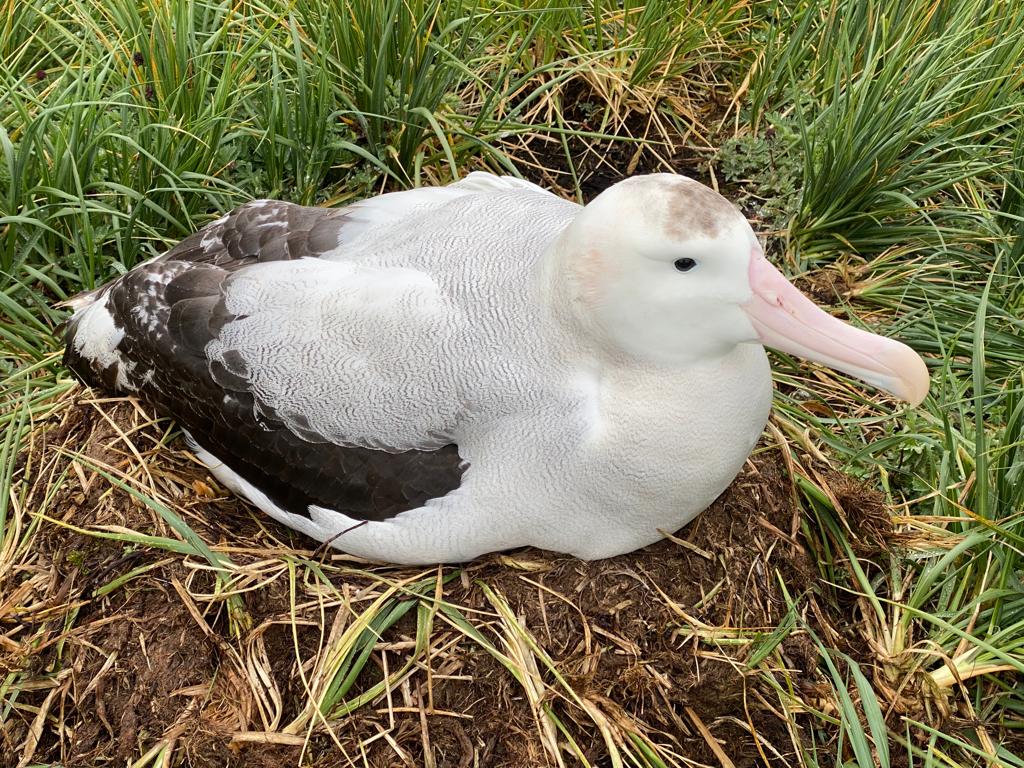 BS29908 is found incubating on Bird Island, photograph by Mark Whiffin
A Vulnerable Wandering Albatross Diomedea exulans that fledged from the Crozet Islands in the southern Indian Ocean has been found breeding at Bird Island in the South Atlantic. This is the first record of a Wanderer banded at another island group breeding on the island. The bird bearing a French metal band "Museum Paris BS29908" was discovered during an all-island census of incubating birds on 31 January this year by British Antarctic Survey (BAS) field assistants working on the island, Erin Taylor and Rosie Hall.
.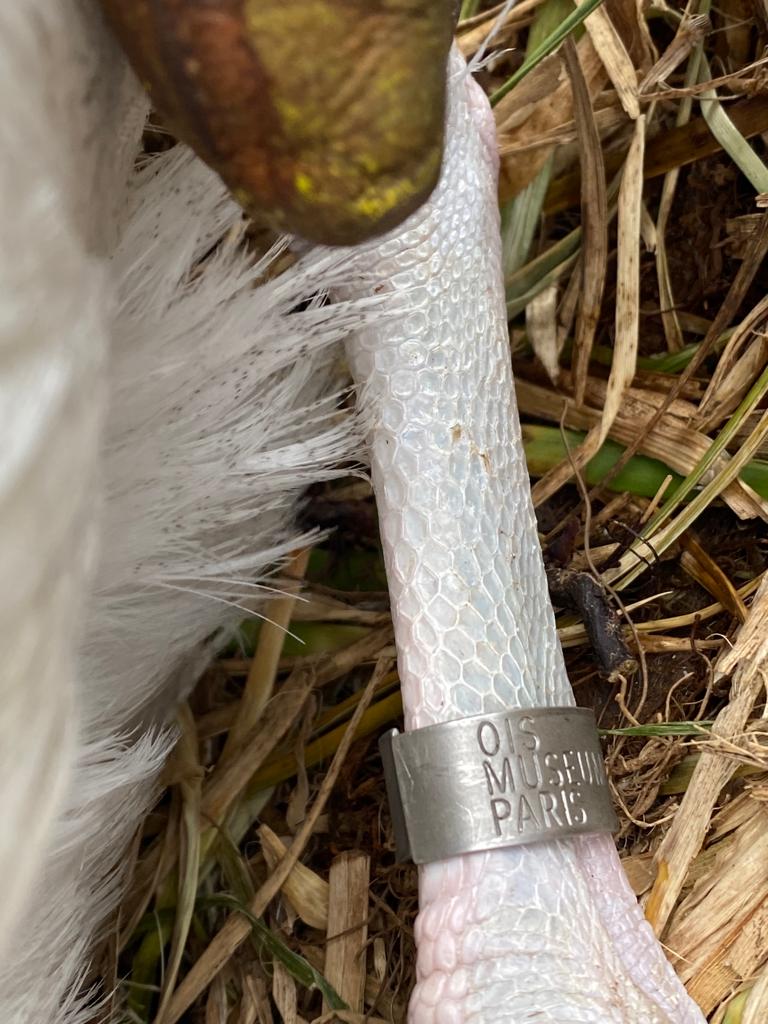 The Museum Paris band, photograph by Mark Whiffin
An enquiry by BAS to Karine Delord of France's Centre d'Etudes Biologiques de Chizé (CEBC) revealed that the bird was banded in the Baie du Marin Nord colony on Possession Island in the Crozet Island group on 28 September 2011 and was a female from molecular sexing. Since fledging it has not been resighted back on its natal island. The bird is part of the Wandering Albatross monitoring colony on Possession Island, which forms part of the project "Seabirds and Marine Mammals as Sentinels of Global Change in the Southern Ocean" (Project:109 ORNITHOECO), supported by the French Polar Institute Paul Emile Victor (IPF). Further news from Bird Island is that the French bird was partnered with a male banded on the island as no. 5187145 in 1998. This bird had previously been recorded breeding successfully five times since 2005 with two different partners.
Although this is the first record of a Wandering Albatross fledging from any southern Indian Ocean island being found breeding in the South Atlantic, there have been a few movements in both directions of banded birds between Bird and Possession Islands. Farther away to the east of Crozet a Bird Island fledgling was seen courting as a 12-year-old on Kerguelen Island (click here). In contrast, breeding movements between the Crozets and Prince Edward Islands, one thousand kilometres apart within the southern Indian Ocean have been regularly recorded.
With thanks to Richard Phillips, British Antarctic Survey for alerting ACAP Latest News to this interesting record, and to Karine Delord and Andy Wood for details of the French bird.
Reference:
Cooper, J. & Weimerskirch, H. 2003. Exchange of Wandering Albatrosses Diomedea exulans between the Prince Edward and Crozet Islands: implications for conservation. African Journal of Marine Science 25: 519-523.
John Cooper, Emeritus Information Officer, Agreement on the Conservation of Albatrosses and Petrels, 16 February 2023