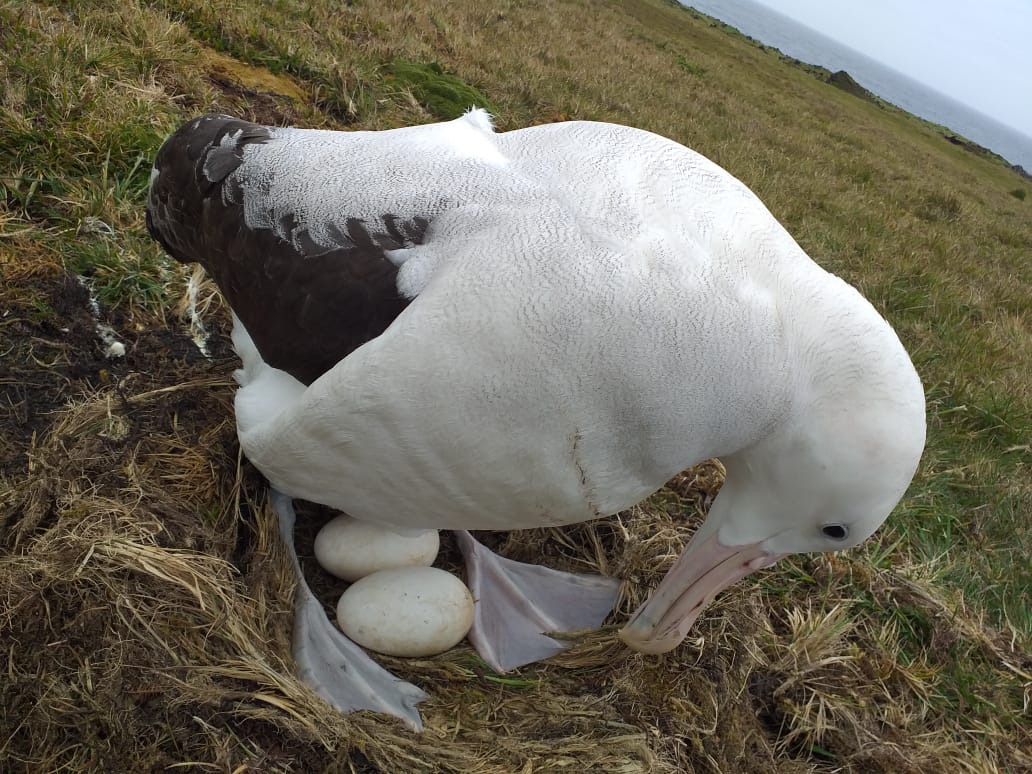 The female rises on a two-egg clutch on 23 January, photograph by Thando Cebekhulu
During a "Round Island" survey of breeding globally Vulnerable Wandering Albatrosses Diomedea exulans on Marion Island, a nest containing two eggs was found on the west coast close to Chess Castle Beach, between Kaalkoppie and Kampkoppie on 23 January 2022. A timeline of follow-up visits to the nest follows.
23 January 2022 - female incubating two eggs
6 February 2022- male incubating two eggs
26 February 2022 - female incubating one egg with a few small pieces of dry eggshell around the nest
29 April 2022 - downy chick with male next to the nest
Late October 2022 - chick reported as "doing well"
20 December 2022 - chick absent, presumed fledged
The genders of the attending adults were deduced from observation and photographs.

Tight fit? The male Wanderer incubating two eggs on 6 February, photograph by Eleanor Weideman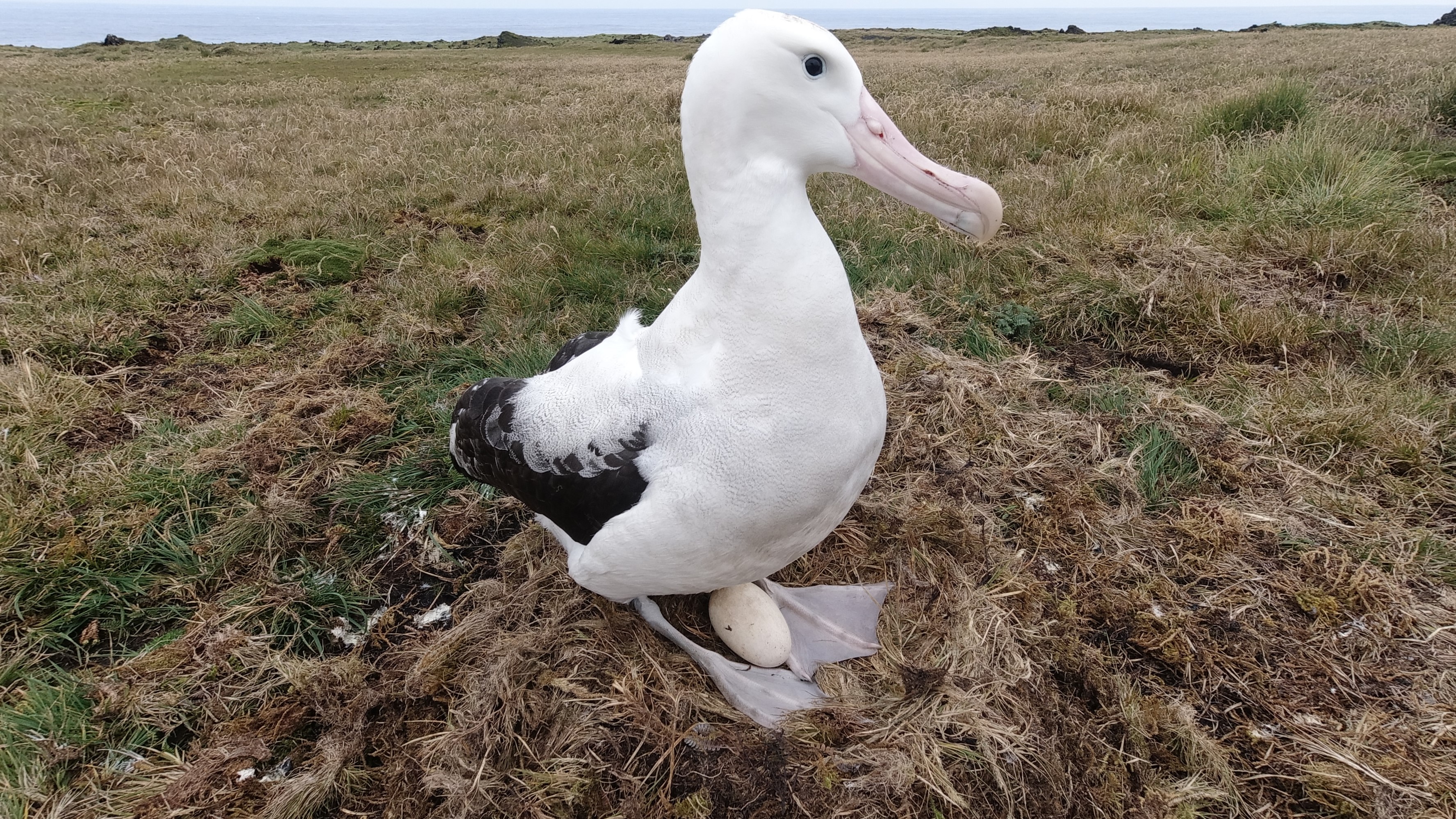 The female on a single egg with eggshell chips visible on 26 February 2022, photograph by Eleanor Weideman
Two-egg clutches in Wandering Albatrosses have been very rarely recorded (<0.02%) on Bird Island in the South Atlantic, but not previously on Marion Island, despite now over 10 000 breeding attempts having been checked over the years, according to a 2007 scientific publication by Peter Ryan and others (see reference below). The double- clutch record described here is thus a first for the island. The authors consider that all double-clutch nests in albatrosses are due to laying by two females, never by a single bird laying two eggs. Photographs of the adult birds suggest only two were involved in incubation and chick rearing, although this cannot be confirmed as the birds were not banded.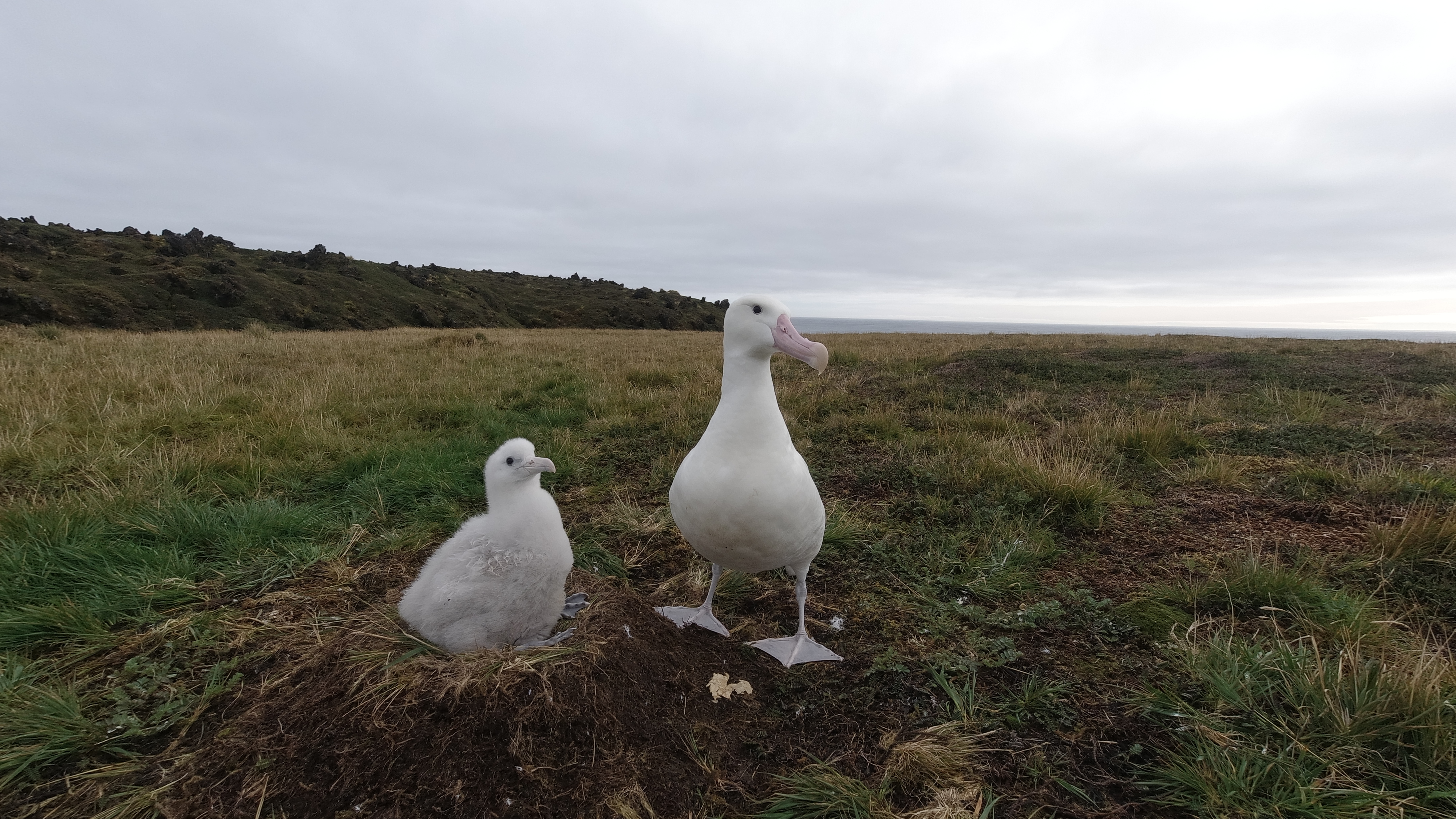 The male beside its chick on 29 April, with a large piece of eggshell visible, photograph by Eleanor Weideman
Read about a double clutch in an Atlantic Yellow-nosed Albatross Thalassarche chlororhynchos nest on Gough Island where both eggs hatched here.
With thanks to Thando Cebekhulu, Lucy Smyth and Eleanor Weideman for their observations and photographs, and to Maëlle Connan for facilitating communications with the island.
Reference:
Ryan, P.G., Cuthbert, R. & Cooper, J. 2007. Two-egg clutches among albatrosses. Emu 107: 210-213.
John Cooper, Emeritus Information Officer, Agreement on the Conservation of Albatrosses and Petrels, 31 January 2023, updated 02 February 2023