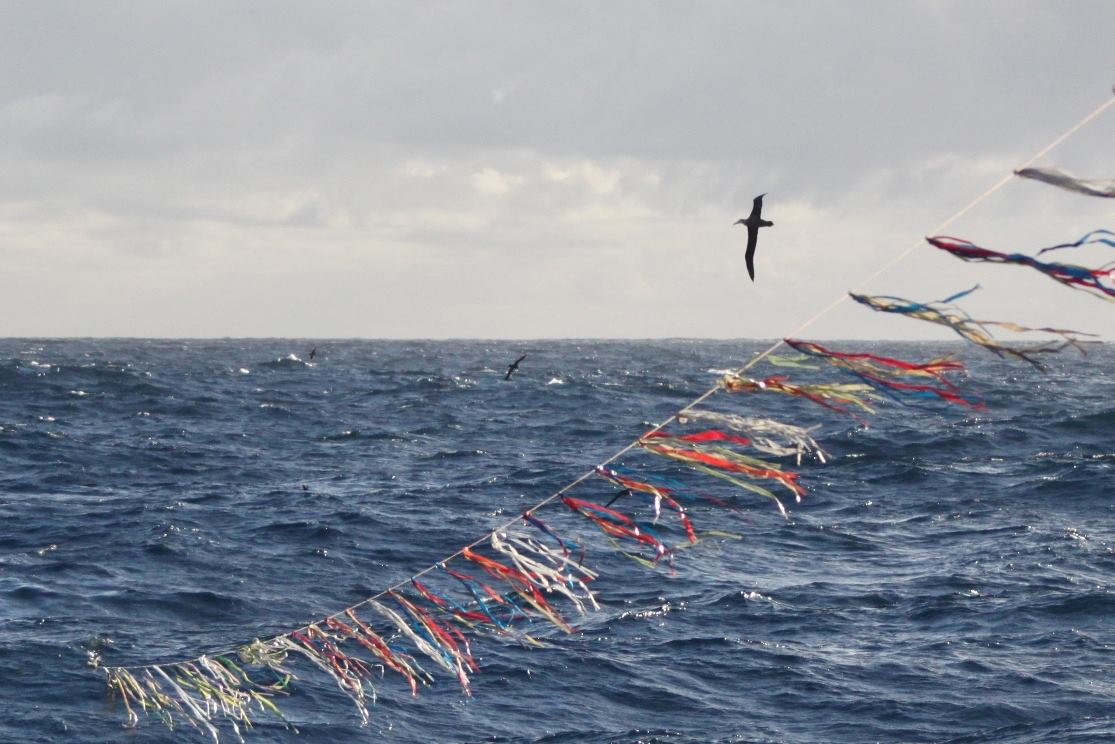 A deployed bird-scaring line flutters in the wind, photograph from Projeto Albatroz
The USA's National Marine Fisheries Service (NMFS) has proposed to modify seabird interaction mitigation measures to require federally permitted Hawaii deep-set longline vessels that target tuna by setting fishing gear from the stern to use a tori or bird scaring line in place of the currently required thawed, blue-dyed bait and strategic offal (fish, fish parts, or spent bait) discharge when fishing north of 23°N latitude. This action, now open for written comment, is expected to improve the overall efficacy and operational practicality of required seabird mitigation measures by reducing seabird bycatch and creating operational and administrative efficiency for fishers and NMFS (click here). The fishery is one that interacts with both Black-footed Phoebastria nigripes and Laysan P. immutabilis Albatrosses.
Deployment of bird-scaring (tori) lines is one of a suite of best-practice mitigation methods for pelagic longline fisheries recommended by the Albatross and Petrel Agreement (click here) and adopted by tuna Regional Fisheries Management Organizations (tRFMOs). The other two of a "triad" are night setting and line weighting, with best practice considered the adoption of all three. Additionally, use of approved hook-shielding devices is also considered best practice. For example, the relevant conservation measure of the Western and Central Pacific Fisheries Commission (WCPFC) calls for use of two of the three mitigation measures or use of hook-shielding devices south of 30°S. Use of blue-dyed bait is explicitly not recommended by ACAP, which states for this measure that there is "No experimental evidence of effectiveness in pelagic longline fisheries". For thawing bait it states that there is "No evidence that the thaw status of baits has any effect on the sink rate of baited hooks set on weighted lines".
Igoir Debski, Co-convenor of the ACAP Seabird Bycatch Working Group confirms: " "Bird-scaring lines (or tori lines) are one of the three primary best-practice seabird bycatch mitigation measures recommended by ACAP.  However, it is important to note that each measure has limitations when used alone. There is a period of time when hooks are accessible to birds even when branch lines are weighted. Night setting used alone is less effective at reducing seabird bycatch for nocturnally active birds and during bright moonlight conditions. Bird-scaring lines used alone can rarely protect baited hooks beyond the aerial extent of the line. Consequently, the simultaneous use of the three ACAP recommended seabird bycatch mitigation measures compensate for these limitations."
Eric Gilman, Pelagic Ecosystems Research Group and a past Senior Fellow at the Safina Center, writes to ACAP Latest News: "A 2021 experiment documented tori [bird-scaring] lines were a more effective seabird bycatch mitigation approach than blue-dyed fish bait in the Hawaii tuna longline fishery. In the late 1990s research was conducted on blue-dyed squid bait, which held some promise at mitigating albatross bycatch, but less so for dyeing blue fish bait darker blue. So, when tori lines are used as prescribed they should be a conservation benefit as a replacement for blue-dyed fish bait."
Read a "two-pager" that summarizes the proposed rule change here.  It includes a schematic and detailed specifications for the proposed bird-scaring line.
With thanks to Igor Debski, Eric Gilman, Mi Ae Kim and Andre Raine.
References:
Chaloupka, M., Gilman, E., Carnes, M., Ishizaki, A., Brady, C., Swimmer, Y., Wang, J., Ellgen, S. & Kingma, E. 2021. Could Tori Lines replace Blue-dyed Bait to reduce Seabird Bycatch Risk in the Hawaii Deep-set Longline Fishery?  Honolulu: Western Pacific Regional Fishery Management Council. 28 pp.
Gilman, E., Chaloupka, M., Ishizaki, A., Carnes, M., Naholowaa, H., Brady, C., Ellgen, S. & Kingma, E. 2021. Tori lines mitigate seabird bycatch in a pelagic longline fishery. Reviews in Fish Biology and Fisheries 31: 653-666. (click here).
John Cooper, Emeritus Information Officer, Agreement on the Conservation of Albatrosses and Petrels, 14 November 2023