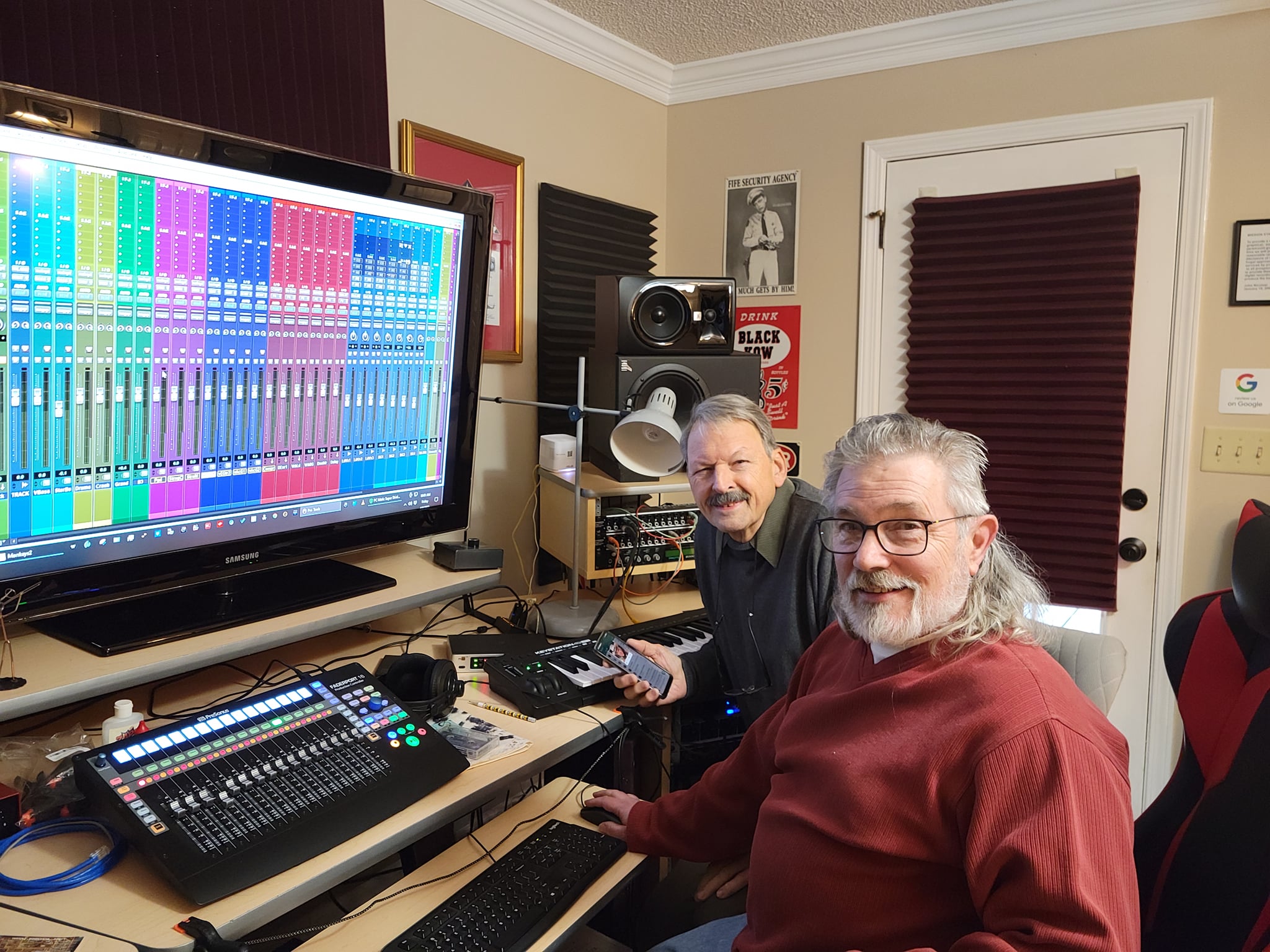 John Nicolosi, Niko Records Studio (front) and Christoph Hrdina, ABUN Co-founder, record the music for the ABUN video for World Albatross Day 2022
In 2020 and again last year ACAP collaborated with Artists and Biologists Unite for Nature (ABUN) to create portfolios of artworks for each of the 31 ACAP-listed albatrosses and petrels, all available for ACAP to use in the cause of conservation. In 2020 77 ABUN artists produced no less than 324 artworks featuring the world's 22 albatross species to promote the inaugural World Albatross Day on 19 June. In 2021 as part of a project entitled "Petrels in Peril" a further 106 works were created by 50 artists to illustrate the nine ACAP-listed petrels and shearwaters. ABUN co-founder Kitty Harvill worked with John Nicolosi of Niko Records Studio in Tennessee, USA in both 2020 and 2021 to produce music videos that featured the artworks produced, along with the photographs that inspired them. Additionally, in 2021 a third music video entitled "The Seabird Wanderers of ACAP" was produced by Kitty and John that featured photographs of all the 31 ACAP-listed species of albatrosses, petrels and shearwaters.
The music video for ABUN Project #39 "Climate Change"
For the third year ACAP and ABUN have collaborated to produce more artworks for World Albatross Day and its chosen theme for 2022 of Climate Change. ABUN's three-month long Project - #39 has resulted in 76 artworks by 38 artists, depicting Black-footed Phoebastria nigripes and the Laysan P. immutabilis Albatrosses. These two Northern Pacific species are at particular risk to sea level rise and storms. Once more, Kitty Harvill and John Nicolosi have worked together on a music video, their fourth together for ACAP. John has called the music he wrote, arranged and recorded "Life for the Albatross".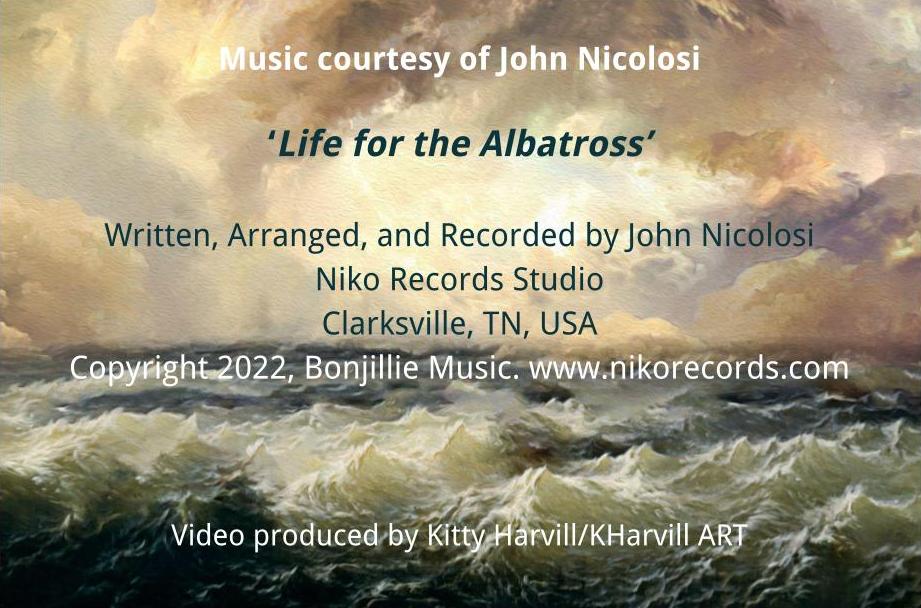 ACAP Latest News took the latest music video to Cape Town's Protea Heights Academy on Friday last week and gave it a preview in front of 127 Grade 10,11 and 12 learners from four schools as part of the academy's Oceans Awareness Celebration marking Earth Day. The video was well received by the audience. Kitty Harvill has written to ACAP Latest News "I have to say, it's one of my favourites. The music is so inspiring ... and the artwork is excellent and full of heart". ACAP agrees!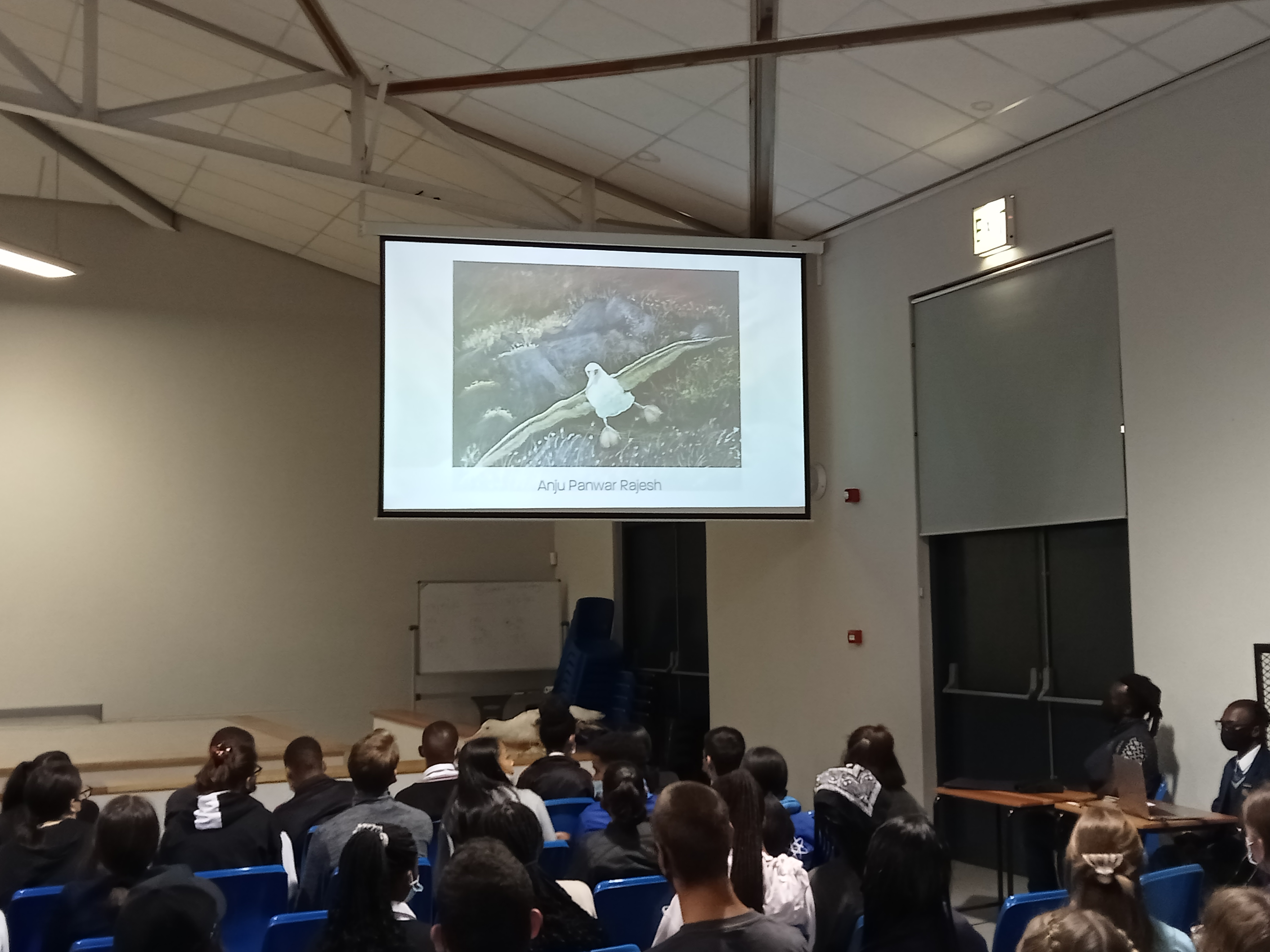 Protea Heights Academy learners watch a preview of the music video on Earth Day
View a poster created by ABUN for this year's World Albatross Day, depicting the 76 artworks. All these artworks may be viewed in an album on ACAP's Facebook page. Eight of them have been selected to create high-resolution 'WAD2022" posters, which it is expected will be available for free downloading next month.
With thanks to Kitty Harvill, John Nicolosi, Mariette Wheeler of Protea Heights Academy, and all the contributing artists and photographers.
John Cooper, ACAP information Officer, 26 April 2022