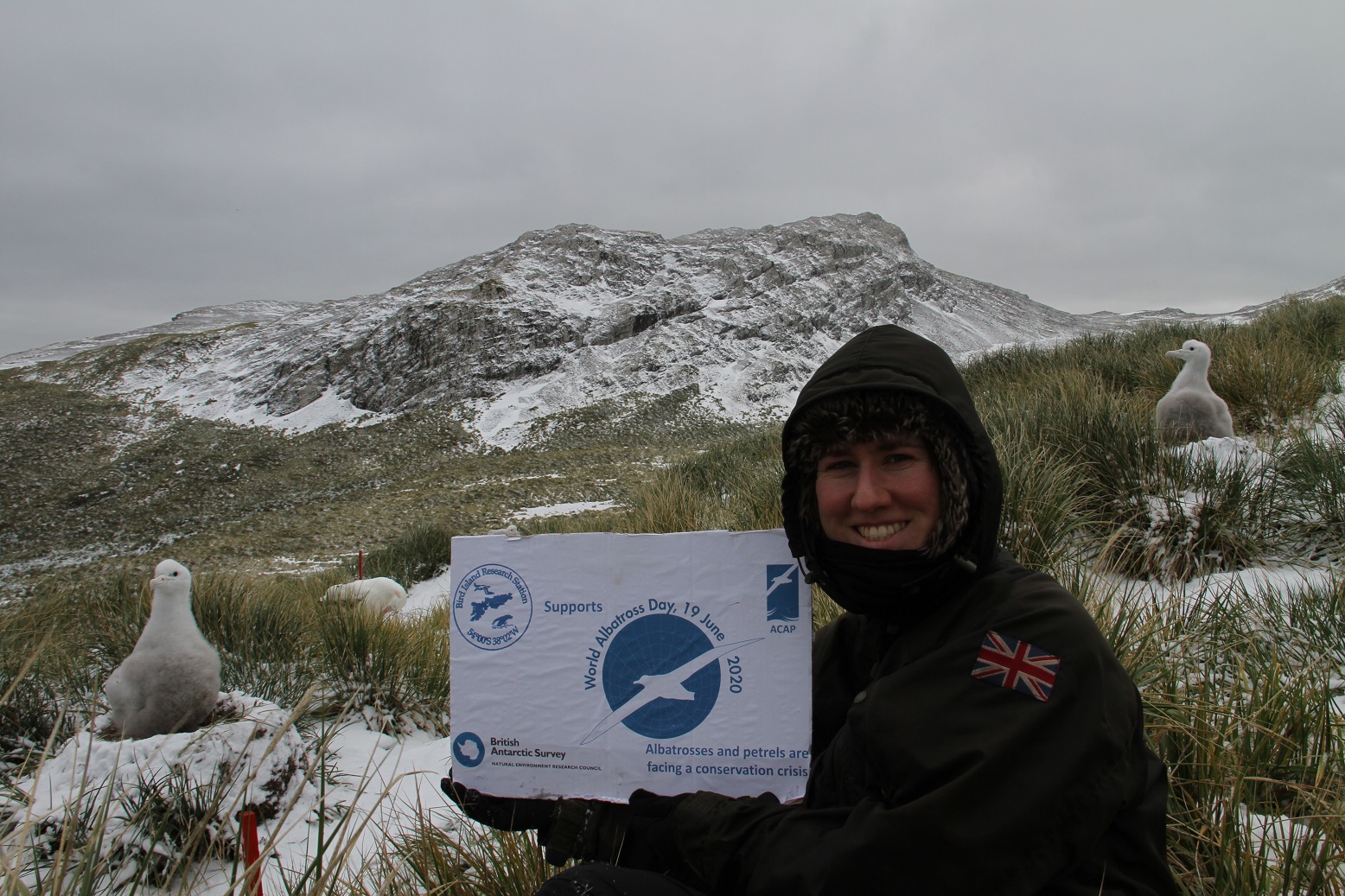 Aleks Dodds displays her 'WAD2020' banner in front of Wandering Albatross chicks on Bird Island
From Argentina to Antarctica field teams have risen to ACAP's "Banner Challenge" by making cloth banners and paper posters promoting this year's inaugural World Albatross Day and then displaying them adjacent to albatross breeding colonies on islands, on fishing vessels at sea, and, in the face of COVID-19 restrictions in other places and ways.
Banners have been photographed on 24 albatross breeding islands.  Nearly all Parties to the Agreement that support breeding albatrosses responded with banners as did the three non-Party countries (Japan, Mexico and the USA) with breeding birds.  In addition, all five field teams of the Albatross Task Force entered the challenge, taking two banners to sea.  The Antarctic Continent was not left out, with a contribution coming from a research station.
A total of 58 images of the displayed banners and posters in an album on ACAP's Facebook page has allowed viewers to vote for their favourite by 'liking'.  The results are now in and the winner and the two runners up can be announced.
With 142 "like' votes the clear winner is Alex Dodds, Zoological Field Assistant on Bird Island, South Georgia/Islas Georgias del Sur*, who ventured out to photograph herself and her banner against a snow-covered backdrop with Vulnerable Wandering Albatross Diomedea exulans chicks that she is monitoring (click here).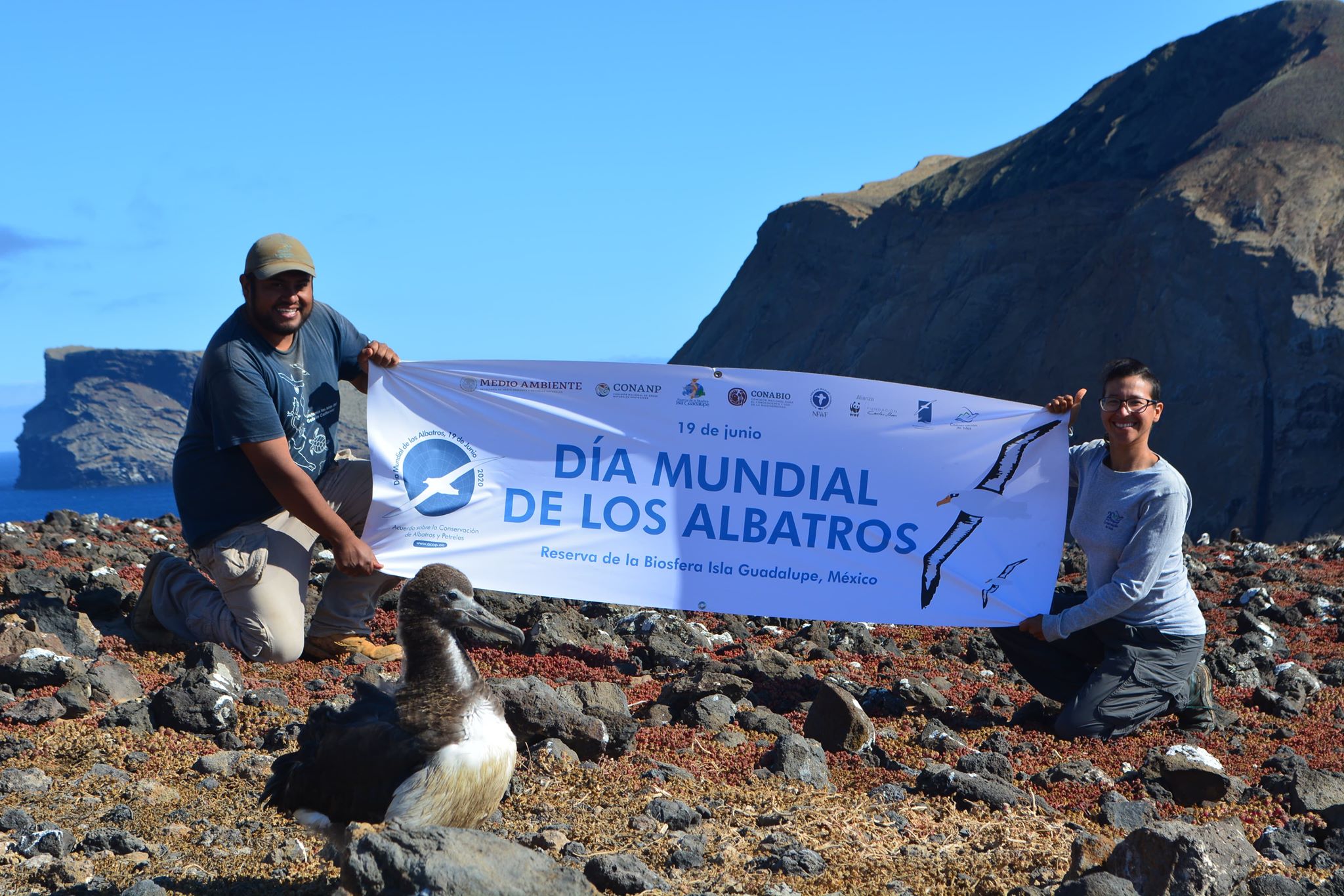 Emmanuel Mendoza Pérez and Ariana Duarte Canizales display GECI's World Albatross Day banner on Guadalupe, behind a Laysan Albatross chick close to fledging
The first runner up is the banner displayed on Mexico's Guadalupe Island where Laysan Albatrosses Phoebastria immutabilis. A late-arriving entry, it has nevertheless proved popular with Facebook followers, receiving 117 likes.  Well done to Emmanuel Mendoza Pérez and Ariana Duarte Canizales of the environmental NGO Grupo de Ecología y Conservación de Islas (GECI).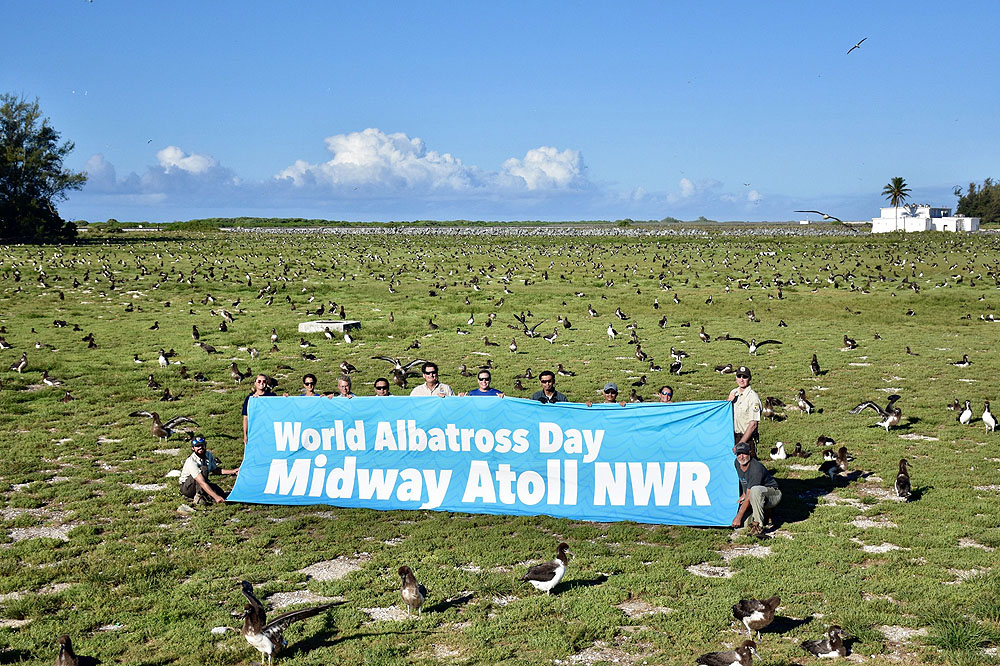 Midway Atoll residents hold a large World Albatross Day banner, photograph by Lauren Pederson
Third in the competition (with 70 likes) is the work of the US Fish & Wildlife Service on Sand Island, Midway Atoll National Wildlife Refuge, photographed on World Albatross Day itself on 19 June.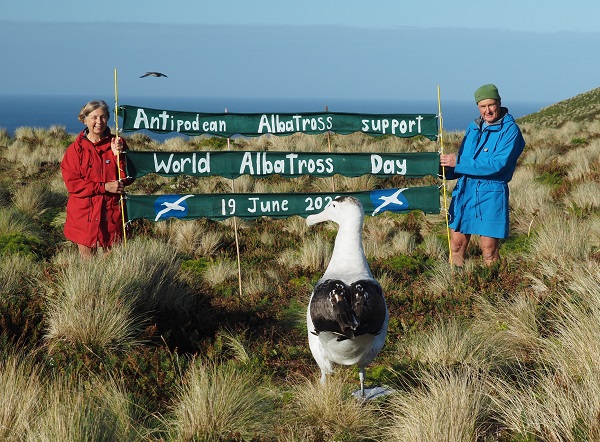 Kath Walker (left) and Graeme Elliott behind an adult non-breeding male Antipodean Albatross - who walked into the frame
And the ACAP's Information Officer's personal favourite?  It's the 'tri-ribbon' banner long-time albatross researchers Kath Walker and Graeme Elliott displayed on New Zealand's Antipodes Island, only to be 'photo-bombed' by a passing (and globally Endangered) Antipodean Albatross D. antipodensis.  Sadly, the fallout from COVID-19 forced Graeme and Kath to leave the island early but they still managed to fit birds with satellite trackers – and join the Banner Challenge.  For the record their banner came equal fifth among the 58 images
All entrants to the banner challenge will receive an electronic personalized certificate.  The winner and two runners up will in addition receive one of ACAP's WAD 2020 posters suitable for framing and a coffee-table book on South Africa's sub-Antarctic Marion and Prince Edward Islands, home to five species of breeding albatrosses.  Expect delays in mailings due to ACAP's Information Officer self isolating at home due to the COVID-19 Pandemic!
The results of two other competitions held by ACAP to mark World Albatross Day, the Great Albicake Bake Off and the Colouring-in Competition, will be announced later this month.
With grateful thanks to all who helped raise awareness of the threats facing albatrosses by making and displaying their banners and posters in the field.
John Cooper, ACAP Information Officer, 07 July 2020
*A dispute exists between the Governments of Argentina and the United Kingdom of Great Britain and Northern Ireland concerning sovereignty over the Falkland Islands (Islas Malvinas), South Georgia and the South Sandwich Islands (Islas Georgias del Sur y Islas Sandwich del Sur) and the surrounding maritime areas.