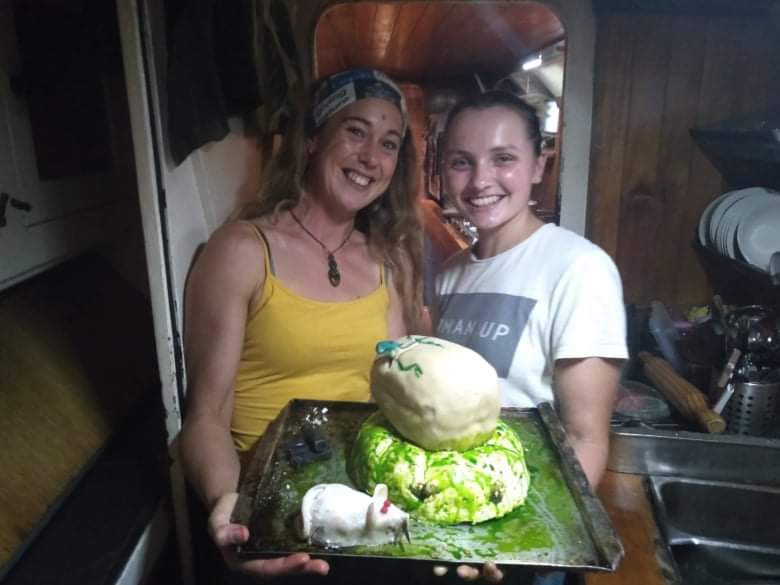 Helen Fairlamb (left) and Jess Tatham with their albicake in the Evohe galley
World Albatross Day, and its Bake Off competition, are both well past but there is one more 'albicake' to celebrate. Aviculturist Helen Fairlamb was meant to be on Gough Island at the time of 'WAD2020' back on 16 June – when she would have been part of a team attempting to eradicate the island's mice that month. But the COVID-19 pandemic has caused the postponement of the Gough Island Restoration Programme (GIRP) for a year at least. Helen was in Cape Town to travel to Gough as a passenger along with other team members on the New Zealand yacht R.S.V. Evohe in March to start catching and caring for two 'non-target' land birds (Gough Finch and Gough Moorhen) before the rest of the eradication team arrived. Previously she had cared for land birds in temporary captivity during the Lord Howe Island Rodent Eradication Project. Instead, she signed on the 25-metre yacht as a crew member "for the adventure" and spent no less than 111 days at sea, sailing from Cape Town all the way back to New Zealand. The Evohe first sailed to Gough to pick up GIRP team members already on the island since February, made a stop at Ascension Island and then went through the Panama Canal into the Pacific and back into the southern hemisphere, so crossing the Equator twice.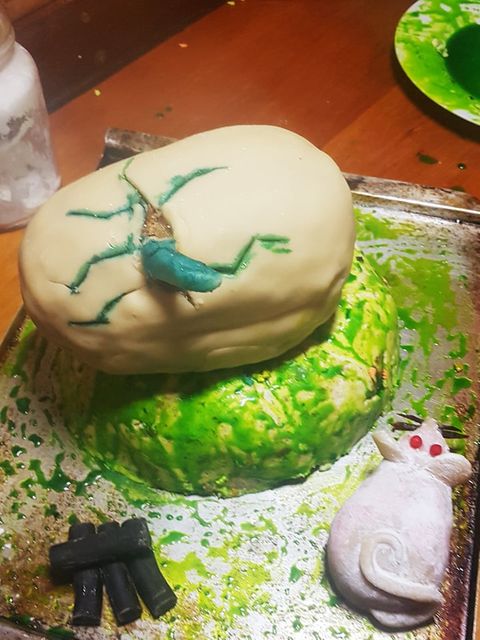 The Evohe albicake: nest, hatching egg, mouse and liquorice twigs
Helen has written to ACAP Latest News about baking an 'albicake' aboard the yacht at sea: "We spent World Albatross Day in the mid-Pacific Ocean, about two weeks south-west of the Galapagos Archipelago. It was a squally day and we managed to collect 70 litres of tropically warm rainwater to top up our freshwater. Whilst the cake wasn't too pretty, the context was that all baking took place aboard the Evohe in four-metre swells! The cake is meant to be a pipping Atlantic Yellow-nosed Albatross chick (banana loaf iced in marzipan) on a nest (coconut sponge) with an invasive House Mouse nearby (strawberry sponge). With the galley and all our equipment and ingredients constantly moving, it took crew member Jess Tatham and I all afternoon to make".
With no means aboard to submit a photo of their cake, Helen's and Jess' effort did not get to the Bake Off judges. A pity, as they well may have recommended a special award for baking a cake in a rough sea! But they both will receive an entry certificate to mark their effort to help save albatrosses by raising awareness of their plight.
As well as baking, Helen and Jess kept a look-out for seabirds on the long voyage: "we were lucky enough to see 11-12 species of albatrosses during our time on Evohe. Sea bird spots were the highlight of our trip!"
Helen is now looking for bird monitoring/research work in New Zealand but hopes finally to get to Gough if the eradication goes ahead next year as is intended. Then she might be able to bake a giant petrel cake in time for WAD2021!
Read more about the Evohe's long voyage here.
With thanks to Helen Fairlamb.
John Cooper, ACAP Information Officer, 11 September 2020