In May this year Ms Amy Fraenkel took over the reins as Acting Executive Secretary of the Convention on the Conservation of Migratory Species of Wild Animals (CMS), following the untimely passing of the previous Executive Secretary in January. It was discussions held at Conferences of the Parties to the Convention on Migratory Species in the 1990s that led the way for the signing of the Albatross and Petrel Agreement (ACAP) in June 2001. ACAP is one of seven "daughter" Agreements of the CMS Family.
Fitting then that Ms Fraenkel has written to ACAP Latest News in support of the inauguration of a World Albatross Day on 19 June next year, noting that albatrosses are "flagship species" offered protection under the CMS (where they are all listed on its Appendices). The Acting Executive Secretary's statement follows:
"Albatrosses are magnificent and unique birds, and are flagship species protected under the Convention on Migratory Species. World Albatross Day provides an excellent opportunity to raise awareness of these beautiful birds and the threats that they face – including being caught in fishing operations, plastic pollution, climate change and invasive predator species."
In response, ACAP's Executive Secretary, Christine Bogle and the Chair of its Advisory Committee, Nathan Walker have expressed their appreciation of the CMS Acting Executive Secretary's support towards the Agreement's efforts to inaugurate World Albatross Day next June.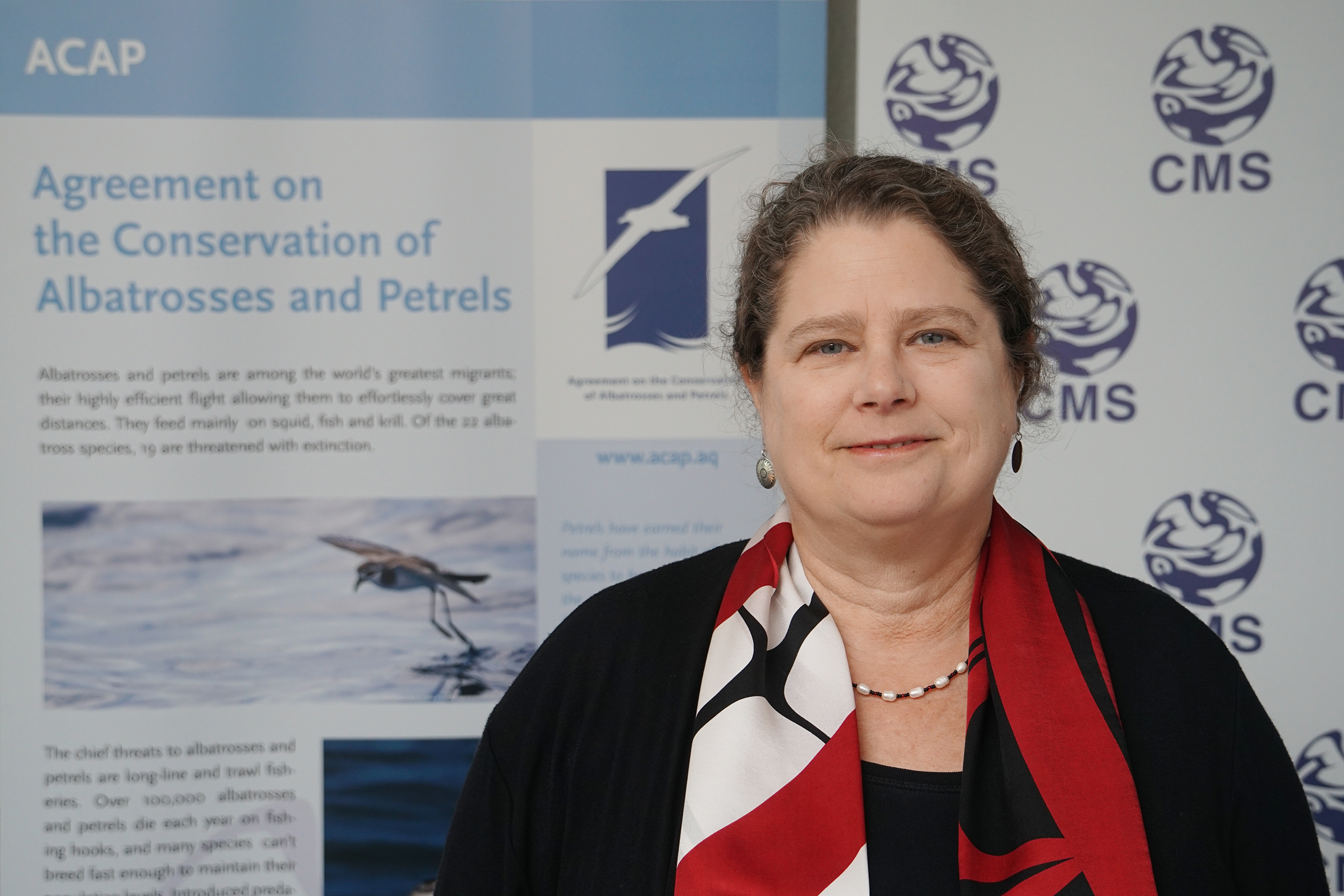 Ms Amy Fraenkel stands in front of an ACAP poster at the CMS Headquarters in Bonn, Germany
With thanks to Florian Keil and Barbara Schoenberg, Convention on Migratory Species.
Reference:
Cooper, J., Baker, G.B., Double, M.C., Gales, R., Papworth, W., Tasker, M.L. & Waugh, S.M. 2006. Forum - The Agreement on the Conservation of Albatrosses and Petrels: rationale, history, progress and the way forward. Marine Ornithology 34: 1-5.
John Cooper, ACAP Information Officer, 04 October 2019