The Alaska Sea Grant College Program will hold the 29th Lowell Wakefield Fisheries Symposium, Fisheries Bycatch: Global Issues and Creative Solutions over 13-16 May 2014 in the Hilton Anchorage Hotel, Anchorage, Alaska, USA.
'The goal of this symposium is to bring together fishery and social scientists, managers, fishermen, and other stakeholders from around the world to report on creative approaches to solving fishery bycatch issues. For purposes of this symposium, we define bycatch in broad terms to include retained incidental catch, fishery discards, and unobserved mortalities as a result of direct encounters with fishing gear. We seek contributions on new methods and technologies, advancements toward full accounting of fishing mortality into harvest control rules, approaches toward industry-derived solutions, incentive programs, new regulatory solutions, as well as studies on social and economic implications related to bycatch issues. We seek broad input on addressing bycatch issues concerning a range of fish, invertebrate, mammal, seabird, and other species. We especially encourage contributions on how to deal with data-poor species, protected and endangered species, and species with vulnerable life histories (e.g., long-lived species with low rates of reproduction and natural mortality)."
Symposium sessions will include:
Fisheries bycatch—what are the biological and ecological issues?
Economic and social considerations of bycatch
Accounting for bycatch of non-target fish species
Solutions for monitoring protected and endangered species
Gear developments and other technological solutions
Fishery regulatory approaches and solutions
Industry initiatives, solutions, and cooperative research.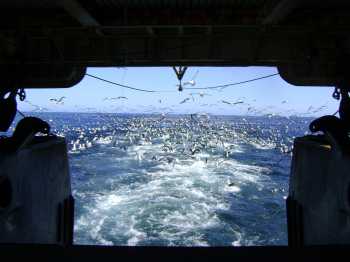 Albatrosses clump behind a trawler during hauling, photograph by Neil Anders
To contribute an oral or poster presentation, submit an abstract on one of the session topics no later than 27 January 2014 using the online submission form.
John Cooper, ACAP Information Officer, 03 January 2014