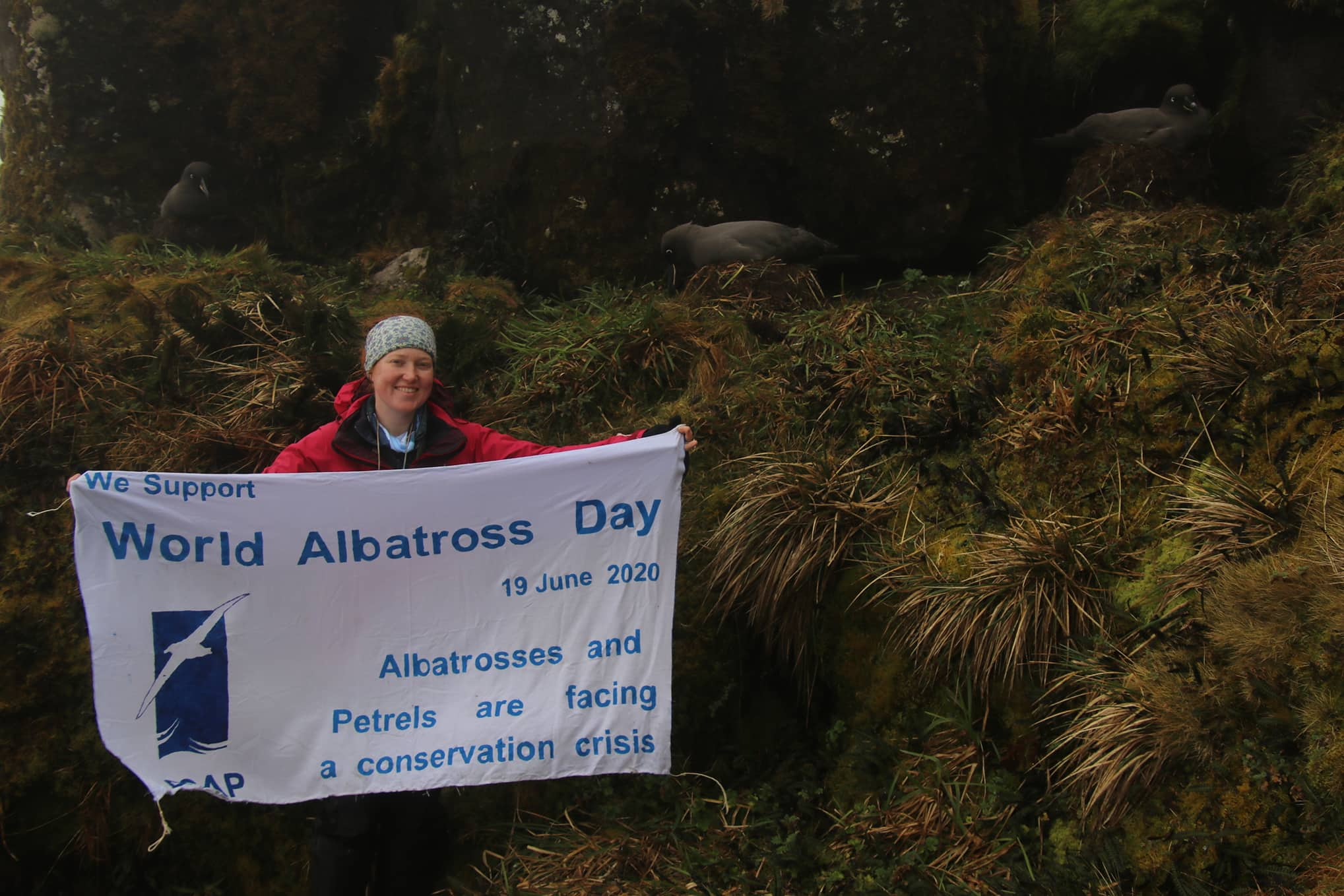 Michelle Risi in front of breeding Sooty Albatrosses with Gough Island's WAD2020 Banner
Activities of the World Albatross Day Intersessional Group established at last year's meeting of ACAP's Advisory Committee have to date been concentrated on increasing awareness of the day within ACAP Parties and selected countries via the Agreement's website and Facebook page and by correspondence with NGOs/NPOs and individuals involved with research on and/or the conservation of albatrosses.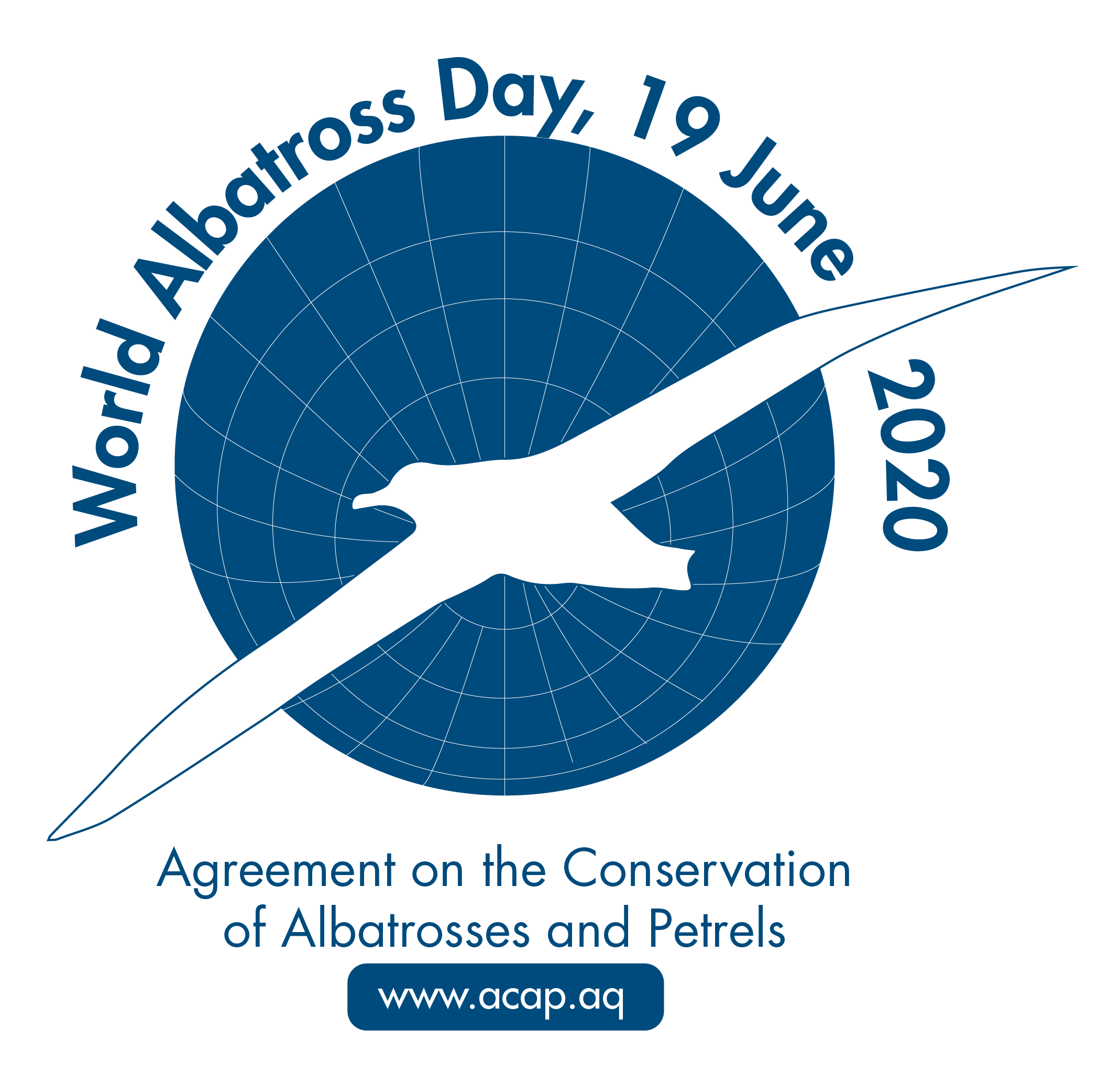 Short statements of support in the form of quotes have been received from 96 out of c. 150 individuals approached, covering a broad field of disciplines and including artists and authors of books on albatrosses.  They are being posted for roughly five days at a time to the ACAP website's homepage and are also grouped thematically and posted to ACAP Latest News.
Longer statements of support of WAD2020 received to date from 16 national and international organizations, including six BirdLife national partners in ACAP Party countries, have been posted to this website.  To increase awareness of WAD2020 further, these organizations are being requested to share ACAP's posts to their own social media outlets.
A 'WAD2020 Banner Challenge' has so far obtained photographs of home-made banners or equivalents in all three ACAP official languages from 10 breeding islands and one trawler at sea; more are promised.  These have all been featured on the website.
A collaboration with ABUN (Artists & Biologists Unite for Nature) this and next month is leading to high-quality photographs and artwork being made available for ACAP's use and will culminate in a poster and a short video with accompanying music made by ABUN for ACAP, along with one-page summaries of the biology and conservation of the 22 albatross species now being written by the Information Officer.  It is intended for the summaries to be available in French and Spanish, as well as in English.
A WAD2020 poster has been designed pro bono by renowned wildlife illustrator Owen Davey; also produced pro bono have been a WAD2020 logo and a cartoon series in four languages by Marc Parchow of Qual Albatroz.  The involvement of Michelle Risi with the first two products has been invaluable.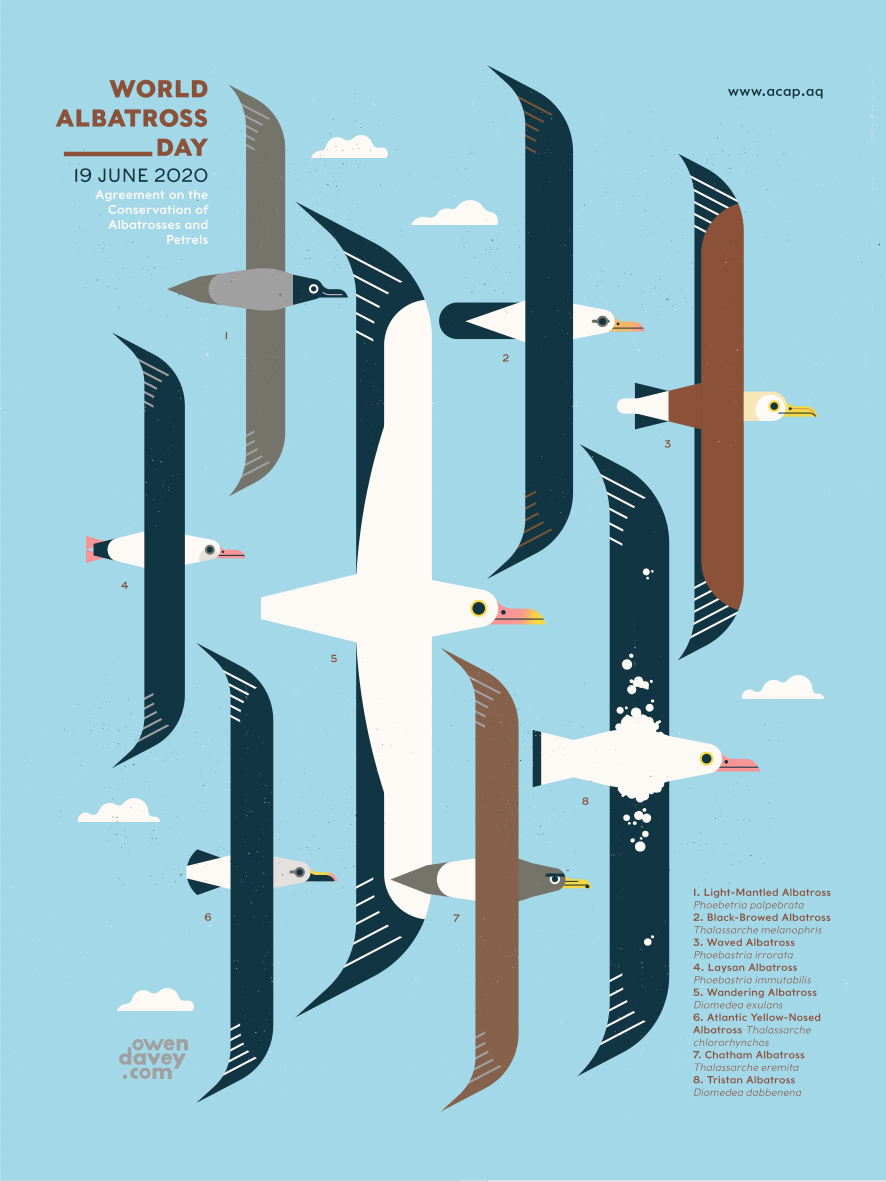 All the above products will be made freely available for activities and events at and around 19 June via a special World Albatross Day section on the ACAP website, currently being populated.  Offers of further support and ideas for WAD2020 will be appreciated!
John Cooper, Secretary, ACAP Word Albatross Day Intersessional Working Group, 29 January 2020