The Bishop and Clerk Islets lie approximately 33 km south of Australia's Macquarie Island. They consist of Bishop Islet, a rocky platform with some shallow patches of soil c. 3 ha in area with a highest point of c. 45 m, surrounded by 24 smaller islets, rocks and reefs, all of which are likely be wave-washed at times.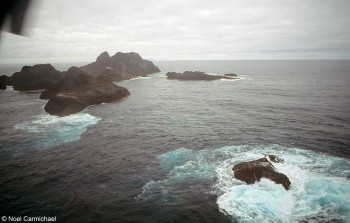 Bishop and Clerk Islets from the south...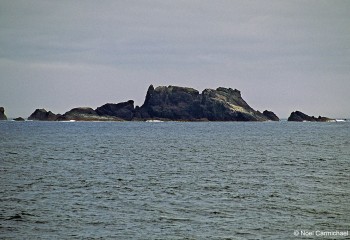 ...and from the east in 1993
Only three landings are known to have been made on the islets, all by ship-assisted helicopter, on 25 February 1965, 7 February 1976 and 23 December 1993. The first landing was on a wave-washed rock close (c. 50 m) to Bishop Islet, the following two on the islet itself. These visits ranged from less than an hour (in 1965) to three hours (in 1993 when seven personnel went ashore, some of whom are visible in a photograph below).
The only vascular plant recorded on Bishop Islet is the cushion plant Colobanthus muscoides "covering much of the central plateau", along with two species of lichens. Fifteen invertebrate species were collected during the 1993 visit.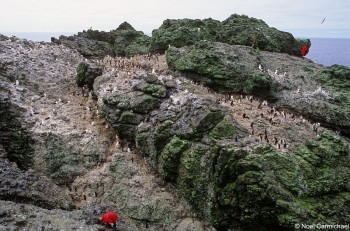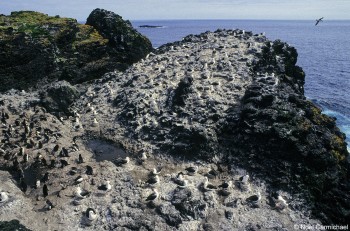 Two views of the Black-browed Albatross colony on Bishop Islet in 1993
On all three visits, ACAP-listed and Near Threatened Black-browed Albatrosses Thalassarche melanophris have been recorded ashore on Bishop Islet. At least 14 large chicks were identified on aerial photographs taken in 1967 along with at least 107 adults; 44 half-grown chicks and "many adults" were reported in 1976.
During the most recent visit in 1993 "[a] total of 141 nests [of Black-browed Albatrosses] was recorded. Of these, 78 contained a chick, 13 an egg, ten had egg-shell fragments and 40 were empty." An eleven-year-old bird banded as a fledgling on Macquarie Island was present, showing interchange between the two localities.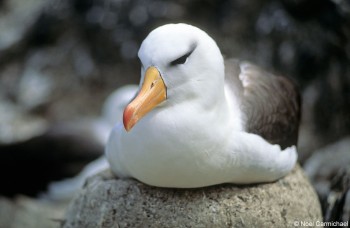 A Black-browed Albatross on its nest on Bishop Islet in December 1993
A single Salvin's Albatross T. cauta "of adult appearance" was present among the breeding Black-browed Albatrosses in 1993. It did not appear to be breeding.
Other procellariiform seabirds confirmed breeding on Bishop Islet during the 1993 visit were Fairy Prion Pachyptila turtur, Wilson's Storm Petrel Oceanites oceanicus and Common Pelecanoides urinatrix and South Georgian P. georgicus Diving Petrels.
The Bishop and Clerk Islets fall within the Macquarie Island Nature Reserve managed by the Tasmanian Parks and Wildlife Service. The island and its islets were declared a World Heritage Site in 1997. Bishop & Clerk Islets have been assigned the status of a Special Management Area (SMA) restricting future landings. The islets are surrounded by the Australian Commonwealth's Macquarie Island Marine Park declared in 1999.
With thanks to Rachael Alderman, Noel Carmichael and Margaret Koopman for information and photographs.
Selected Literature:
Brothers, N. & Ledingham, R. 2008. The avifauna of Bishop and Clerk Islets and its relationship to nearby Macquarie Island. Papers and Proceedings of the Royal Society of Tasmania 142: 117-121.
Davies, K.F., Greenslade, P. & Melbourne, B.A. 1997. The invertebrates of sub-Antarctic Bishop Island. Polar Biology.
Environment Australia 2001. Macquarie Island Marine Park Management Plan 2001-2008. Canberra: Department of Environment and Heritage.
Frost, Leslie 2006. Macquarie Island Nature Reserve and World Heritage Area Management Plan 2006. Hobart: Parks and Wildlife Service, Department of Tourism, Arts and the Environment. 176 pp. + 15 maps.
Lugg, D.J., Johnstone, G.W. & Griffin, B.J. 1978. The outlying islands of Macquarie Island. The Geographical Journal 144: 277-287.
MacKenzie, D. 1967. The birds and seals of the Bishop and Clerk Islets, Macquarie Island. Emu 67: 241-245.
John Cooper, ACAP Information Officer, 14 March 2014