The Kilauea Point National Wildlife Refuge (KPNWR) was established on the Hawaiian island of Kauai in 1985 to preserve its seabird breeding colonies. It was expanded in 1988 to include Crater Hill and Mokolea Point. The publically-accessible 82-ha refuge with its steep cliffs is home to the historic Daniel K. Inouye Kilauea Point Lighthouse which sits on the northernmost point of Kauai (click here). The recently restored lighthouse was built in 1913 as a navigational aid for commercial shipping between Asia and Hawaii. Half a million people have visited the refuge and its visitor centre and gift shop annually in past years, but recent budgetary constraints have restricted visits to five days a week.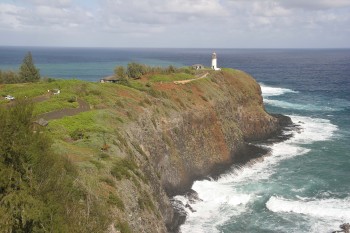 Kilauea Point and its historic lighthouse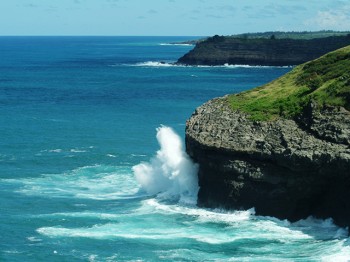 Looking east from the point along the rocky coastline, Photograph by Bob Dowd
Approximately 115 pairs of Near Threatened and ACAP-listed Laysan Albatrosses Phoebastria immutabilis breed within the wildlife refuge. Their breeding site is not visible from the public viewing areas, although birds may be seen flying offshore.
Red-footed Boobies Sula sula, Red-tailed Phaethon rubricauda and White-tailed P. lepturus Tropicbirds and Wedge-tailed Shearwaters Puffinus pacificus breed within the refuge, while Brown S. leucogaster Boobies and Great Frigatebirds Fregata minor are regular visitors (click here). Endemic and Endangered Newell's Shearwaters P. newelli also breed within the refuge in small numbers in a non-public area. The colony was initially created following introduction attempts utilizing cross-fostering of translocated chicks with Wedge-tails, and has expanded in recent years by the addition of a social-attraction project (click here).
"In 2013 there were eight confirmed breeding pairs of Newell's Shearwaters within the KPNWR and six ultimately fledged a chick. Auditory surveys carried out at the site by the Kauaʻi Endangered Seabird Recovery Project (KESRP) have also located several more potential breeding pairs and areas of ground-calling activity."
A fence around the perimeter of the refuge provides some protection to its breeding seabirds against the larger predators. Additionally, the Nihoku (Crater Hill) Ecosystem Restoration Project aims to protect and restore the native environment of Nihoku within the wildlife refuge "through integration of science, natural resources management, and environmental education". A 728-m predator-proof fence is planned to enclose 3.1 ha to prepare the Nihoku site for translocatedNewell's Shearwaters by keeping out feral cats, dogs and rats. The site would also provide a safe haven for this species if Small Indian Mongoose Herpestes auropunctatus became established on the island (click here and here).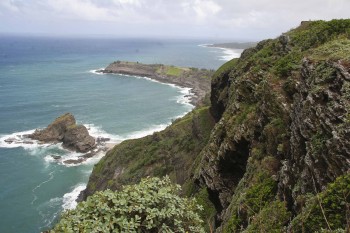 Steep cliffs at Kilauea Point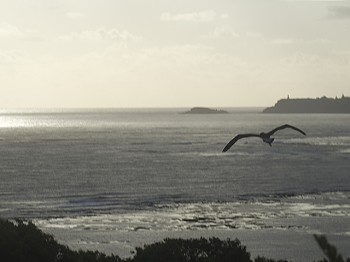 A fledging Laysan Albatross flies at sunrise with the lighthouse in the distance
Photograph by Bob Dowd
The island's population of Laysan Albatrosses or Mōlī has been growing since the late 1970s when the first albatrosses returned to Kauai after an absence of many centuries. With an island total of 271 pairs given for 2008 (click here), the remaining birds are scattered along a roughly 18-kilometre stretch of Kauai's north shore, from Princeville (c. 40 pairs) to Anahola. Sixty to eighty pairs attempt to breed on the south-west shore within the US Navy's Pacific Missile Range Facility Barking Sands (click here). However, at this last locality the Laysan Albatrosses are a collision hazard to aircraft and so their eggs are removed each year; some of those deemed fertile by candling have been given to foster parents elsewhere on the island, including within the Kilauea Point National Wildlife Refuge, as a conservation measure (click here).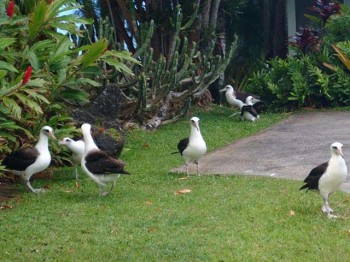 Laysan Albatrosses get together in Princeville on Kauai, photograph by Bob Dowd
With thanks to Bob Dowd and an anonymous donor for the photographs and Andre Rayne for information.
Selected Literature:
Anden Consulting 2013. Draft Environmental Assessment Nihoku Ecosystem Restoration Project Kīlauea Point National Wildlife Refuge Kaua'i, Hawai'i September 2013. Honolulu: Anden Consulting. 169 pp.
Byrd, G.V., Sincock, J.L., Telfer, T.C., Moriarty, D.I. & Brady, B.G. 1984. A cross-fostering experiment with Newell's race of Manx Shearwater. Journal of Wildlife Management 48: 163-168.
Arata, J.A., Sievert, P.R. & Naughton, M.B. 2009. Status Assessment of Laysan and Black-footed Albatrosses, North Pacific Ocean, 1923-2000. U.S. Geological Survey Scientific Investigations Report 2009-5131. Reston: U.S. Geological Survey.
Naughton, M.B., Romano, M.D. & Zimmerman, T.S. 2007. A Conservation Action Plan for Black-footed Albatross (Phoebastria nigripes) and Laysan Albatross (P. immutabilis). Version 1.0.
Pyle, R.L. & Pyle, P. 2009. The Birds of the Hawaiian Islands: Occurrence, History, Distribution, and Status. Honolulu: B.P. Bishop Museum, Honolulu.
Vanderwerf, E.A. 2012. Albatrosses. In: Hawaiian Bird Conservation Action Plan. Honolulu: Pacific Rim Conservation. 11 pp.
Young, L.C., VanderWerf, E.A., Mitchell, C., Yuen, E., Miller, C.J., Smith, D.G. & Swenson, C. 2012. The use of Predator Proof Fencing as a Management Tool in the Hawaiian Islands: a Case Study of Ka`ena Point Natural Area Reserve. Technical Report No. 180. Honolulu: The Hawai`i-Pacific Islands Cooperative Ecosystem Studies Unit & Pacific Cooperative Studies Unit, University of Hawai`i. 82 pp.
John Cooper, ACAP Information Officer, 16 February 2014