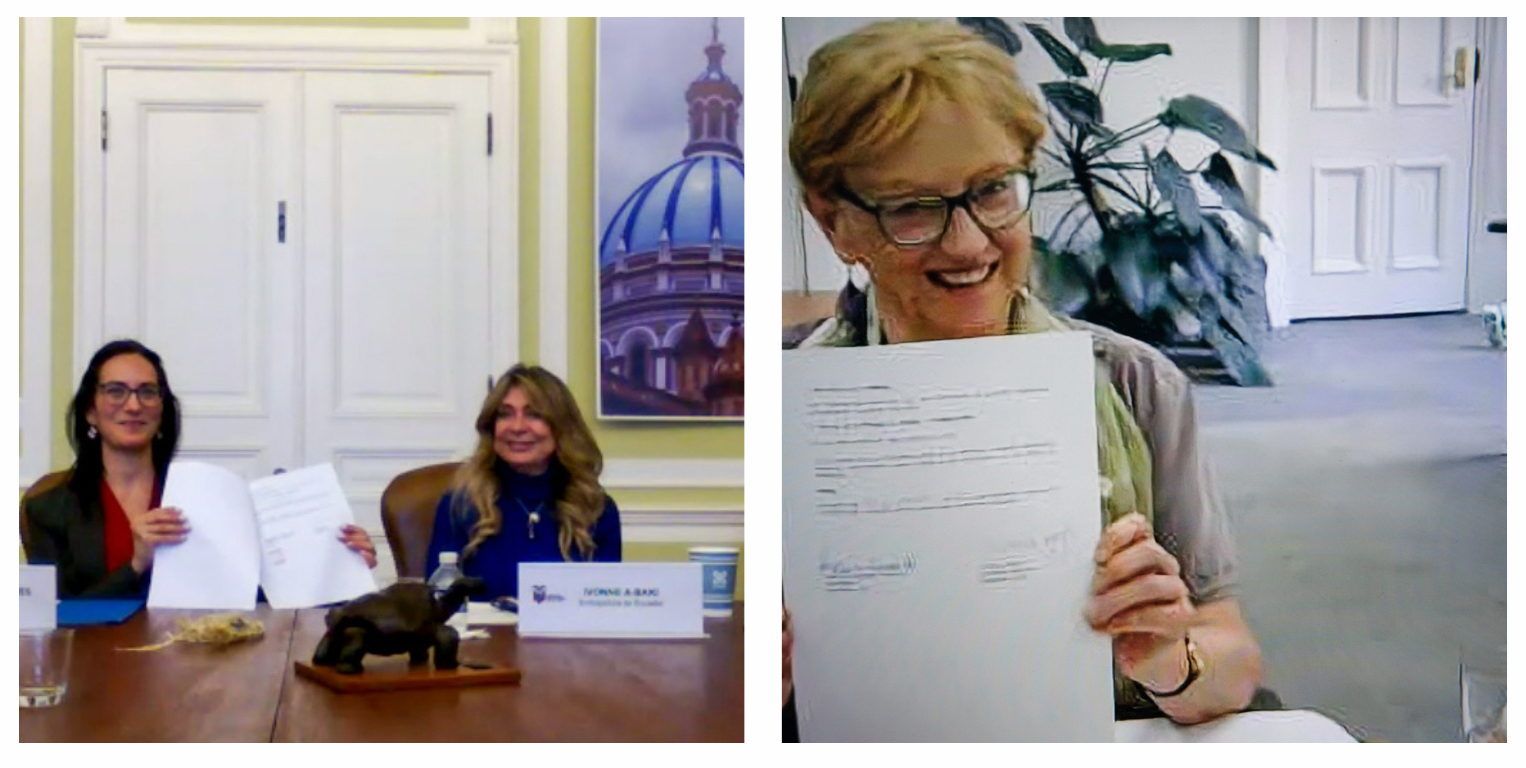 IAC Executive Secretary, Dr Verónica Cáceres Chamorro (left) and ACAP Executive Secretary, Dr Christine BogIe (right), hold up the signed MOU renewal. The Ambassador of Ecuador to the U.S.A., Ms Ivonne A Baki sits to the right of Dr Verónica Cáceres Chamorro
La Secretaria Ejecutiva de la CIT, Dra. Verónica Cáceres Chamorro (foto de la izquierda) y la Secretaria Ejecutiva del ACAP, Dra. Christine BogIe (foto de la derecha), presentan el Memorándum de renovación firmado. Junto a la Dra. Verónica Cáceres Chamorro está la Embajadora de Ecuador en EE.UU., Sra Ivonne A Baki
The Agreement on the Conservation of Albatrosses and Petrels (ACAP) and the Inter-American Convention for the Protection and Conservation of Sea Turtles (IAC) have renewed the Memorandum of Understanding (MOU) first signed in December 2019, reaffirming their commitment to cooperate in the conservation of albatrosses and petrels, and sea-turtles.
ACAP Executive Secretary, Dr Christine BogIe, and IAC Executive Secretary, Dr Verónica Cáceres Chamorro, signed the renewal at a hybrid ceremony hosted by the Ambassador of Ecuador, Ms Ivonne A Baki, at the Embassy of Ecuador in Washington D.C. Ecuador is the current Chair of the IAC Conference of the Parties. 
Speaking at the ceremony, Dr Bogle said, "ACAP is particularly pleased to renew this cooperation arrangement with a fellow intergovernmental conservation organisation, given our shared objectives. Albatrosses and petrels face similar threats to those of sea turtles, meaning there is considerable scope for cooperation and information sharing."
Accidental death resulting from interactions with fishing gear, especially during longline-fishing operations is a significant threat to albatrosses and petrels, and sea-turtles. In signing the MOU, the two organisations agreed to: consult, cooperate and collaborate with each other on areas of common interest that are directly or indirectly relevant to the conservation, including the protection and recovery of populations of albatrosses and petrels, and sea turtles. 
Remarking on the significance of the renewal in facilitating its conservation objectives, Dr Verónica Cáceres Chamorro said, "The MOU will strengthen scientific research in bycatch mitigation methods. We will learn from our experiences to improve data collection regarding interactions with fisheries, and the implementation of best practices. This will provide valuable support to decision makers in our member countries."
ACAP's Advisory Committee Chair, Dr Mike Double commented on the important contribution of IAC and ACAP experts in progressing the conservation objectives of the MOU when participating as observers at each other's meetings. He further noted scope to cooperate as observers in discussions at relevant meetings of Regional Fisheries Management Organisations (RFMOs), where bycatch related measures are discussed.       
Ecuador's Minister for the Environment, Mr Gustavo Manrique, who addressed the ceremony via a pre-recorded video, praised IAC and ACAP for their unwavering conservation work, stating, "Both initiatives have been an example of how to articulate consistent and efficient work to fight against one of the most pressing challenges the world faces today: the rapid loss of its biodiversity." 
The IAC Secretariat and dignitaries from IAC member countries based in Washington D.C. attended the ceremony in person, whilst ACAP representatives and officials from IAC member countries of Brazil, Chile, Guatemala, Peru, Ecuador, Dominican Republic, Costa Rica, Mexico, and Argentina joined the ceremony via Zoom. 
 En español:
El Acuerdo sobre la Conservación de Albatros y Petreles (ACAP) y la Convención Interamericana para la Protección y Conservación de las Tortugas Marinas (CIT) han renovado el Memorándum de Entendimiento (MOU) firmado por primera vez en diciembre de 2019, reafirmando así su compromiso de cooperar en la conservación de albatros y petreles, y tortugas marinas.
La Secretaria Ejecutiva del ACAP, la Dra. Christine BogIe, y la Secretaria Ejecutiva de la CIT, la Dra. Verónica Cáceres Chamorro, firmaron la renovación en una ceremonia híbrida organizada por la Embajadora de Ecuador, la Sra. Ivonne A Baki, en la Embajada de Ecuador en Washington D.C. Ecuador es el actual Presidente de la Conferencia de las Partes de la CIT. 
En su intervención en la ceremonia, la Dra. Bogle declaró: «ACAP está sumamente complacido con la renovación de este acuerdo de cooperación con otra organización intergubernamental de conservación, dados los objetivos que compartimos. Los albatros y petreles se enfrentan a amenazas similares a las de las tortugas marinas, lo que significa que hay un margen considerable para la cooperación y el intercambio de información.»
Los accidentes mortales como consecuencia de las interacciones con artes de pesca, especialmente durante las operaciones de pesca con palangre, son una amenaza significativa para los albatros y petreles, así como para las tortugas marinas. Con la firma del Memorándum de Entendimiento, las dos organizaciones han acordado: consultarse, cooperar y colaborar entre sí en áreas de interés común que sean relevantes tanto directa como indirectamente para la conservación, incluida la protección y recuperación de las poblaciones de albatros y petreles, y de tortugas marinas. 
La Dra. Verónica Cáceres Chamorro, destacando la importancia de la renovación del Memorándum para facilitar sus objetivos de conservación, declaró: «El Memorándum fortalecerá la investigación de medidas de mitigación. Aprenderemos de las experiencias comunes para mejorar la colecta de datos de captura incidental de ambas taxa, y la implementación de mejores prácticas en las pesquerías que las impactan.  Lo anterior brindará valiosos aportes a los tomadores de decisiones en nuestros países parte.»
El Presidente del Comité Asesor del ACAP, el Dr. Mike Double, comentó sobre la importante contribución que los expertos del IAC y del ACAP hacen al promover los objetivos de conservación del Memorándum cuando participan como observadores en las reuniones de la otra organización. Además, señaló la posibilidad de cooperar como observadores en las conversaciones de las reuniones pertinentes de las Organizaciones Regionales de Ordenación Pesquera (OROPs), en las que se debaten medidas relacionadas con las capturas secundarias.       
El Ministro de Medio Ambiente de Ecuador, D. Gustavo Manrique, quien se dirigió a los asistentes a la ceremonia a través de un video pregrabado, elogió a la CIT y al ACAP por su inquebrantable labor de conservación, afirmando que «ambas iniciativas han sido un ejemplo de cómo articular un trabajo coherente y eficaz para luchar contra uno de los retos más acuciantes a los que se enfrenta el mundo en la actualidad: la rápida pérdida de su biodiversidad.» 
La Secretaría de la CIT y los dignatarios de los países miembros de la CIT con sede en Washington D.C. asistieron a la ceremonia en persona, mientras que los representantes de ACAP y los funcionarios de los países miembros de la CIT de Brasil, Chile, Guatemala, Perú, Ecuador, República Dominicana, Costa Rica, México y Argentina se unieron a la ceremonia a través de Zoom.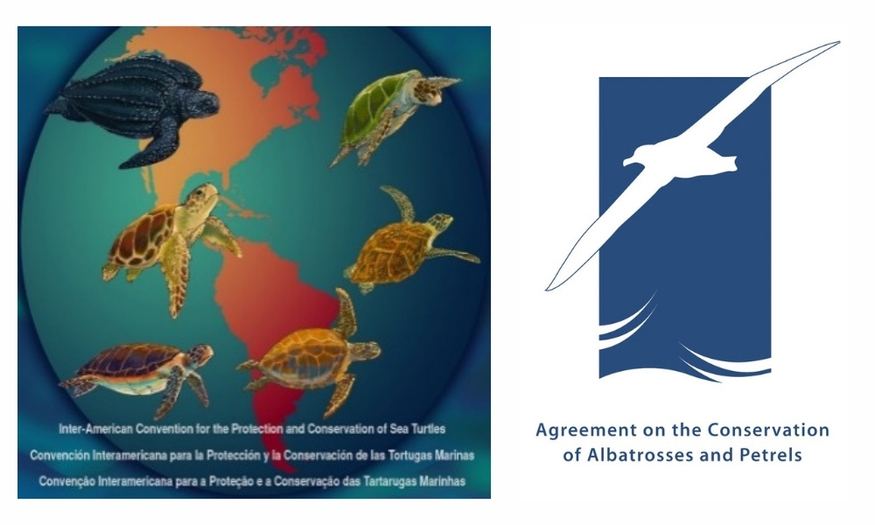 15 February 2023