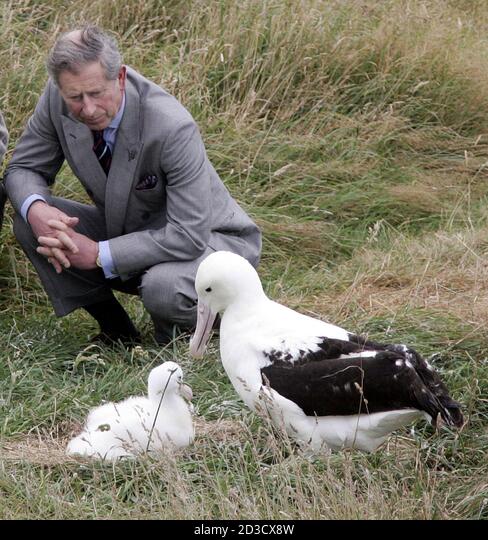 King Charles III, as Prince of Wales, admires a Northern Royal Albatross with its chick in New Zealand in 2005

INTRODUCTORY NOTE: "The ACAP Monthly Missive" is a new departure for the Agreement. It is intended that on the first Tuesday of every month an article will be posted that is more personal than those that have appeared in ACAP Latest News over more than decade. The new series will offer an opportunity to go behind and beyond factual events and current news, a offering opinions on matters related to the conservation of all the members of the tubenose group of birds, but most especially those albatrosses, petrels and shearwaters listed by the Agreement, as well as their habitats. Posts will be largely written by the Emeritus ACAP Information Officer, with guests from time to time invited to make their own contributions. Hopefully, the accounts will be interesting, perhaps intriguing, and might even at times stir up disagreement and controversy. Expect the unexpected!
********************************
I had only just turned five when King George VI died on 06 February 1952 and the Second Elizabethan Age commenced. With the passing of his eldest daughter, Queen Elizabeth II on 08 September this year at the age of 96, the era that took her name has ended after 70 years. With no memory of her accession, I can say I have lived my whole life until now as an Elizabethan. With the accession of King Charles III, the "Carolian Age" has commenced and it seems a fitting moment to write my first "ACAP Monthy Missive" for ACAP Latest News as Emeritus ACAP Information Officer, reflecting on the roles of past and current members of the British Royal Family in indirectly and directly supporting the conservation of those albatrosses and petrels listed by the Agreement.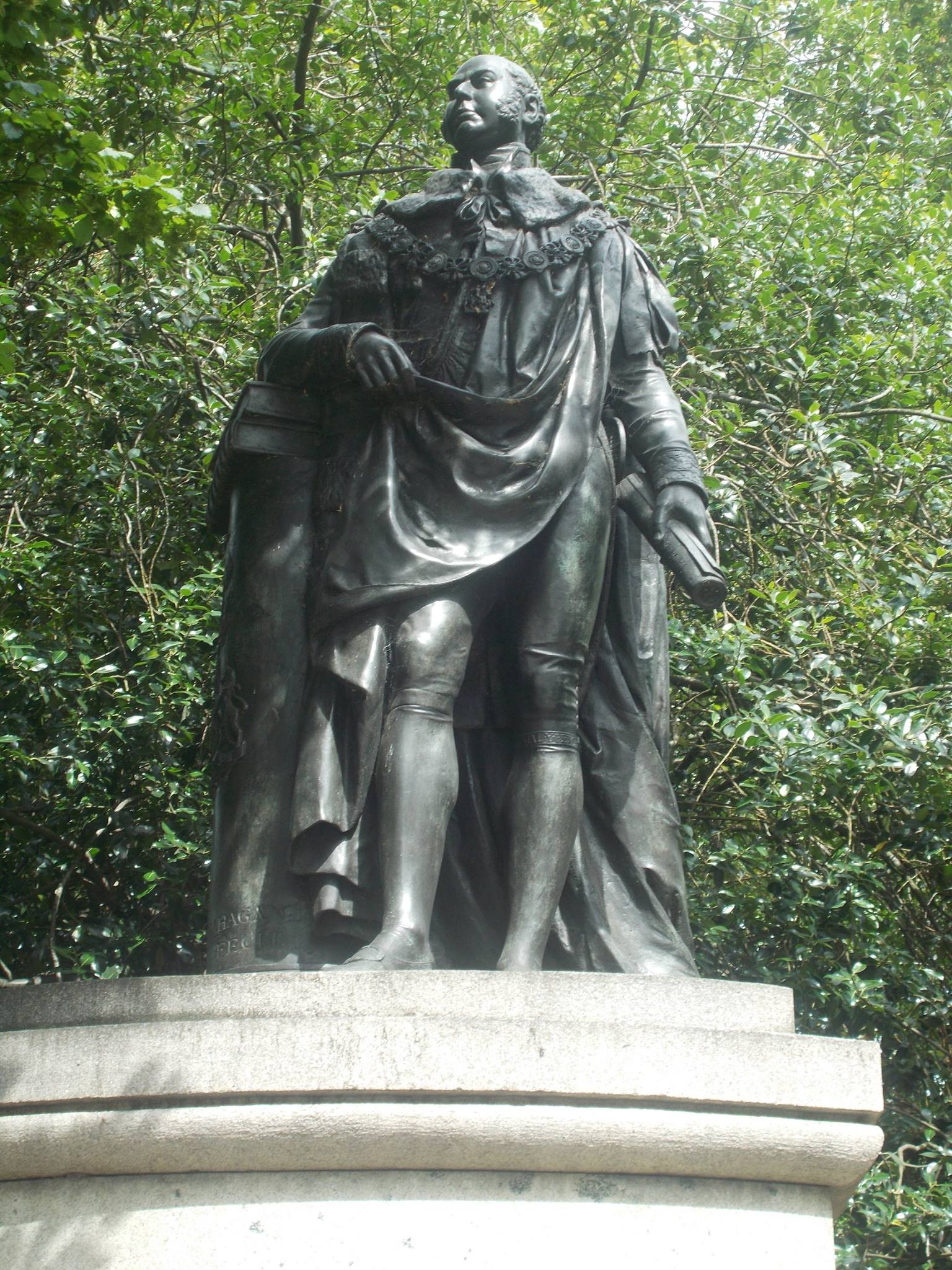 Prince Edward, Duke of Kent (1767-1820) - after whom South Africa's Prince Edward Islands are named. The statue is in Park Crescent, London and was sculpted by Sebastian Gahagan and installed in 1824, photograph by John Cooper
Perhaps I could start with Queen Victoria's father, Prince Edward, fourth son of George III (but who was never King), after whom (when he was very young) the explorer, Captain James Cook, named South Africa's sub-Antarctic Prince Edward Islands, home to approximately half of the world's population of Vulnerable Wandering Albatrosses Diomedea exulans (an island group I have been lucky enough to have visited no less than 31 times to conduct research on its albatrosses and other seabirds).
But for the first direct royal connection with ACAP-listed albatrosses and petrels we should probably have to miss several generations to King Charles' late father, Prince Phillip, Duke of Edinburgh, who photographed albatrosses at sea in the mid-1950s, making a landing on Gough Island, home of the Critically Endangered Tristan Albatross Diomedea dabbenena and subsequently publishing a book on his extended cruise. Surely, the then nine-year old Prince Charles would have heard his father's tales of the trip on the Royal Yacht Britannia through the Southern Ocean and been shown his photographs. Later, the Duke showed his conservation credentials by becoming the President of WWF (World Wide Fund for Nature) in 1981, a position he held until 1996, after which he became the NGO's President Emeritus until his death in 2021. Previously he had served as the first President of WWF-UK from its foundation in 1961 to 1982. His involvement with the international environmental NGO thus spanned six decades (click here).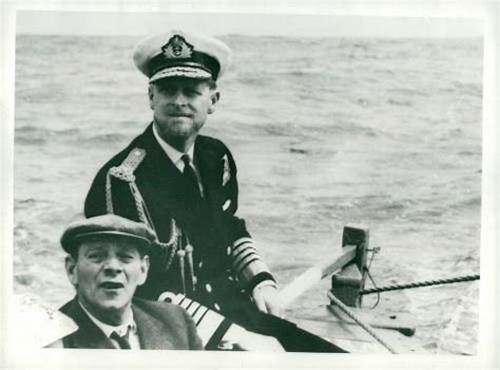 A bearded Prince Phillip, in Royal Naval uniform as an Admiral of the Fleet, steers while approaching the landing on Tristan da Cunha on 17 January 1957, a day after going ashore on Gough Island
In 1997, I had been invited by BirdLife International to inaugurate a Seabird Conservation Programme. The need for this new global effort was driven by the increasing awareness of the many seabirds, especially albatrosses, that were drowning on longline hooks set in the Southern Ocean and elsewhere. In April 2004 I attended an international conference at the University of Edinburgh entitled "Waterbirds around the World". With 456 delegates from 90 countries, it was a grand affair, make grander by the presence of Prince Phillip's eldest son, Charles, the then Prince of Wales, on its last day. He was seated "centre stage" in the front row when I gave the closing plenary lecture on the conservation of albatrosses and petrels of the Southern Ocean. Understandably nervous, I was taken aback when, despite all my careful checking beforehand with the projectionist, my first few illustrations were of ducks left over from the previous speaker whose talk was cut short to allow for the entrance of the Royal Party! But my presentation, once it actually started, seemed to go down well, in front of what I am sure has been my largest audience ever. Afterwards when some of us met the Prince over a cup of tea with the conference organizers he was complementary of my effort, commenting particularly on the illustrations I had garnered from colleagues, and expressing his continued concern and support for the world's threatened albatrosses.
The then Prince of Wales' own address to the conference that followed mine also concentrated on the conservation of albatrosses and their unsustainable mortality as fisheries bycatch, saying "I have a very special affection for these remarkable birds". His own experiences of watching albatrosses at sea in the Southern Ocean from a Royal Navy warship that he mentioned mirrored those of his father from the royal yacht years before.
The year 2004 was a busy one for expressing concern for the conservation of albatrosses and petrels. The Agreement held its First Session of the Meeting of Parties (MoP1) in Hobart, Australia in November, following only a few years of negotiations. In the session a letter from the Prince of Wales was read out in which he once more expressed his concern for the world's albatrosses and expressed his wishes for a successful outcome for the meeting.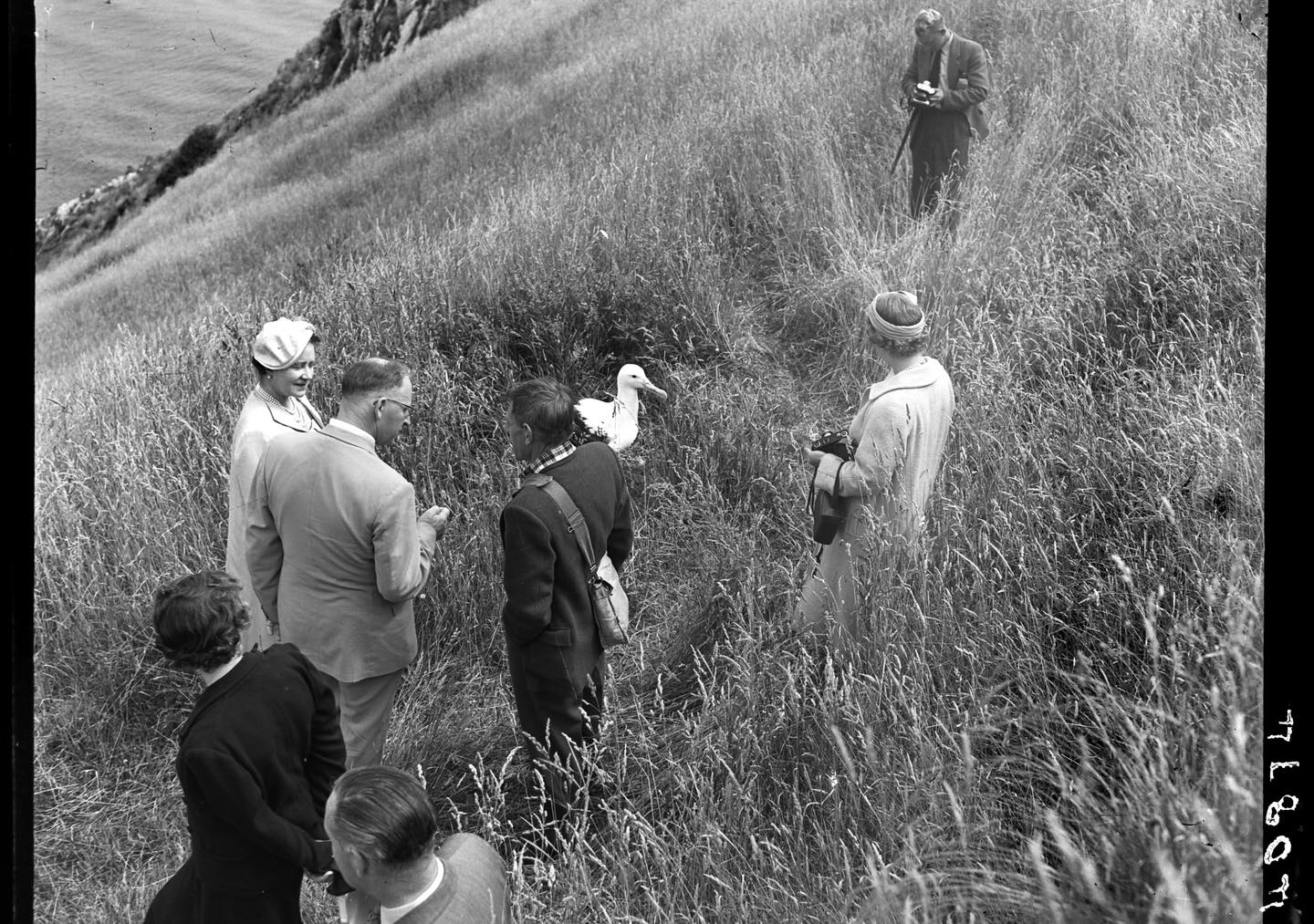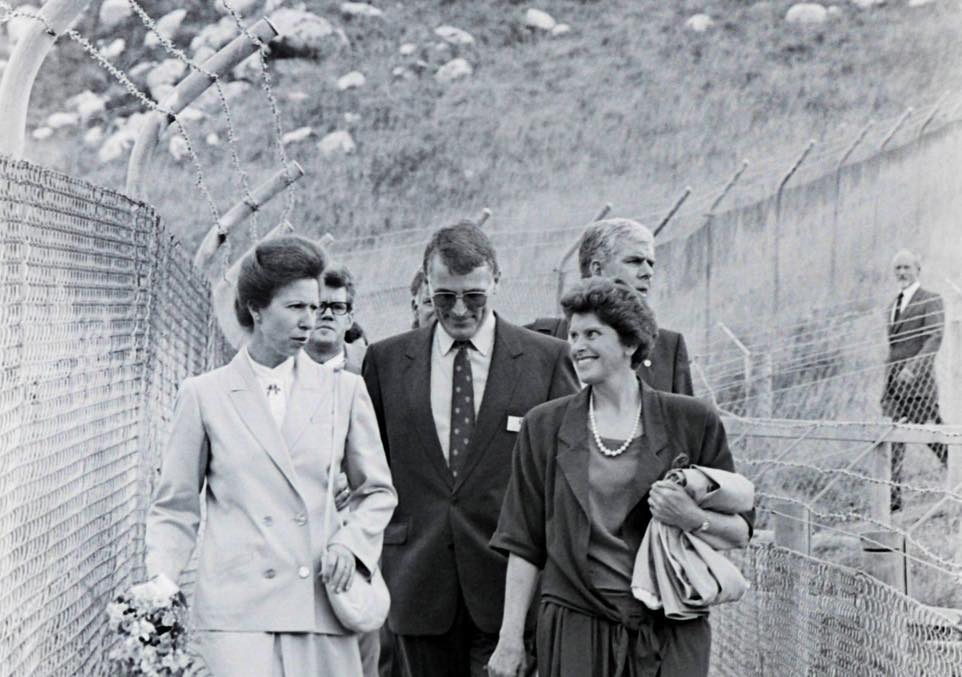 Royalty at Taiaroa Head - Elizabeth, the Queen Mother in 1958 (left) and Princess Anne in 1989 (right); photographs from the Royal Albatross Centre Facebook page
In March 2005 the then Prince Charles visited the mainland colony of Endangered Northern Royal Albatrosses D. sanfordi at Pukekura/Taiaroa Head on New Zealand's South Island. In a speech during his visit, he expressed his support for the conservation of albatrosses by saying "If they go it would be as if one's heart was torn out." The Royal Albatross Visitor Centre at Taiaroa Head had been opened 15 years previously by Charles' sister, Anne, Princess Royal in 1989; the Prince saying that because of this he had long been looking forward to his own visit (click here). However, the first royal visit to the Taiaroa Head albatrosses appears to have been made by King Charles' and the Princess Royal's grandmother, Queen Elizabeth, the Queen Mother in 1958. In April 2005 Charles III also gave his support to the UK's Royal Society for the Protection of Birds' Albatross Task Force, saying, "The albatross may be the ultimate test of whether or not, as a species ourselves, we are serious about conservation: capable of co-existing on this planet with other species" (click here).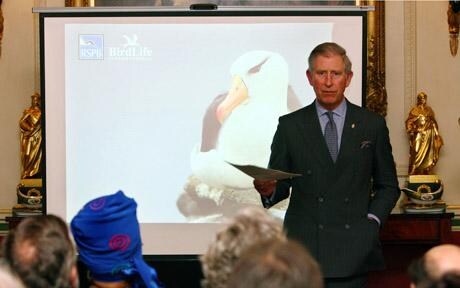 Charles III, as Prince of Wales, hosts a function in Clarence House in 2009
Down the years, Prince Charles has continued to offer support and express concern for the plight of ACAP-listed species. In April 2009 at a function hosting supporters of BirdLife International's Albatross Task Force at his then official residence, Clarence House in London, he told a specially invited audience about his memories of seeing the birds when he served in the Royal Navy, admitting to "a certain amount of meddling" by writing to heads of state around the world, asking them for their own support (click here). The next year he reiterated his support at the 1st World Seabird Conference "Linking the Global Oceans" held in Victoria, Canada in September. In his pre-recorded welcoming address. he said "As some of you may know, the plight of seabirds has long been close to my heart. They are, without doubt, some of the world's most charismatic and iconic species" (click here).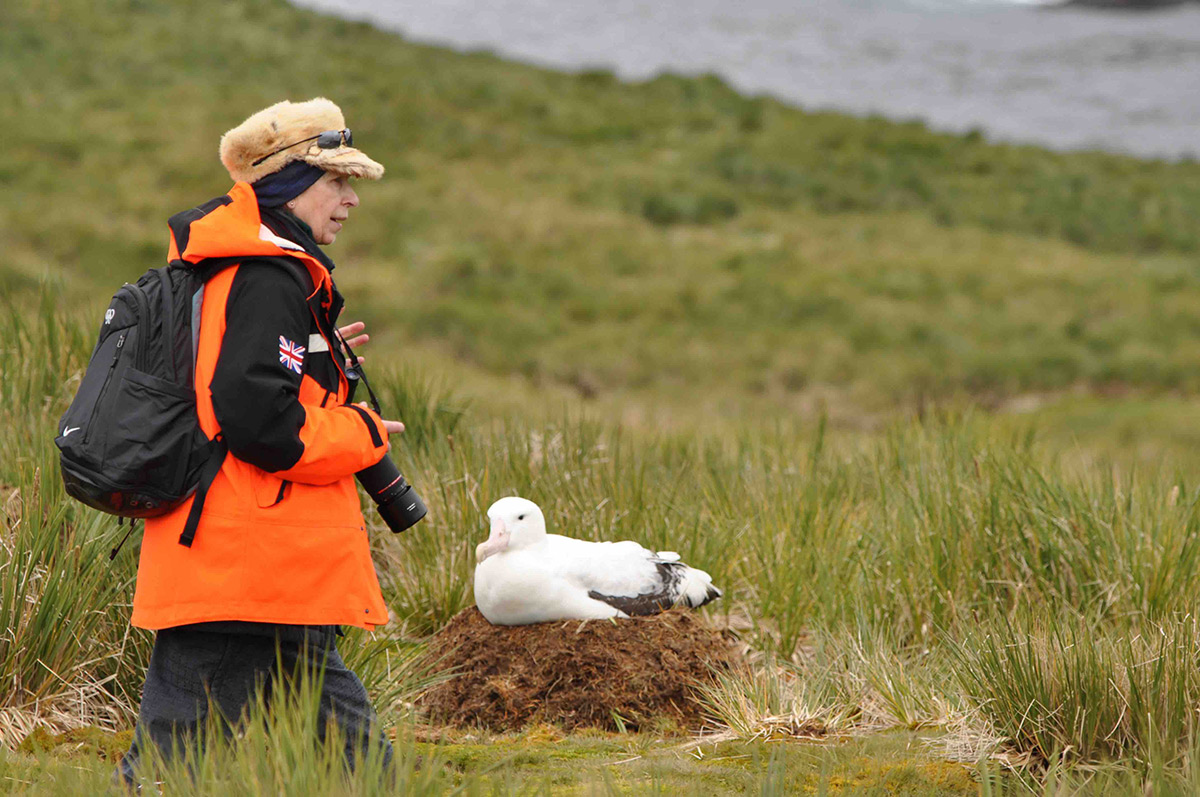 As for her father before her, the Princess Royal has photographed albatrosses in the Southern Ocean, this time a Wandering Albatross on its nest on Bird Island in January 2022
Anne, the Princess Royal, as Patron of the South Georgia Heritage Trust, has offered much support to that body in ensuring the successful eradication of the island's introduced rodents and its continued environmental protection. The Princess cemented her patronage with a visit to the South Atlantic island in 2009, visiting again in 2016. On her latest visit in January 2022, she also visited Bird Island with its large breeding populations of albatrosses and petrels.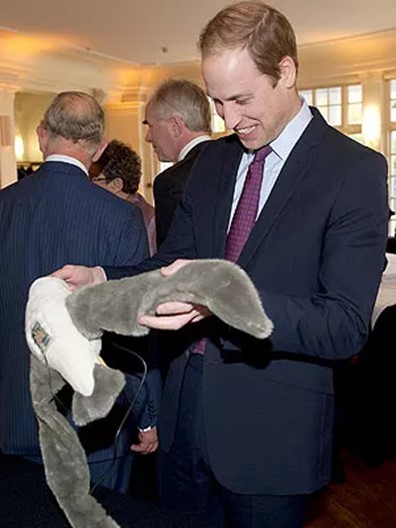 William, Prince of Wales (then Duke of Cambridge), admires a toy albatross bearing a sensor monitor at a meeting of United for Wildlife, which he founded in 2014, and of which he is President, at the Zoological Society of London in November 2013
It will now be for the King's two sons, William, Prince of Wales and Prince Harry, to continue offering royal support for albatross and petrel conservation. Both have been active in international conservation fields (click here), so the often-expressed support expressed by their father, Charles III, is set to continue.
References:
Cooper, J. 2006. Conservation of albatrosses and petrels of the Southern Ocean. In: Boere, G.C., Galbraith, C. & Stroud, D.A. (Eds). Waterbirds around the World. Edinburgh: The Stationary Office. pp. 113-119.
Cooper, J., Baker, G.B., Double, M.C., Gales, R., Papworth, W, Tasker, M.L. & Waugh, S.M. 2006. The Agreement on the Conservation of Albatrosses and Petrels: rationale, history, progress and the way forward. Marine Ornithology 34: 1-5.
His Royal Highness The Duke of Edinburgh. 1962. Birds from Britannia. London: Longmans, Green. 62 pp.
His Royal Highness The Prince of Wales 2006. Address to the Waterbirds around the World Conference, 7 April 2004. In: Boere, G.C., Galbraith, C. & Stroud, D.A. (Eds). Waterbirds around the World. Edinburgh: The Stationary Office. pp. 16-18.
John Cooper, Emeritus ACAP Information Officer, 04 October 2022