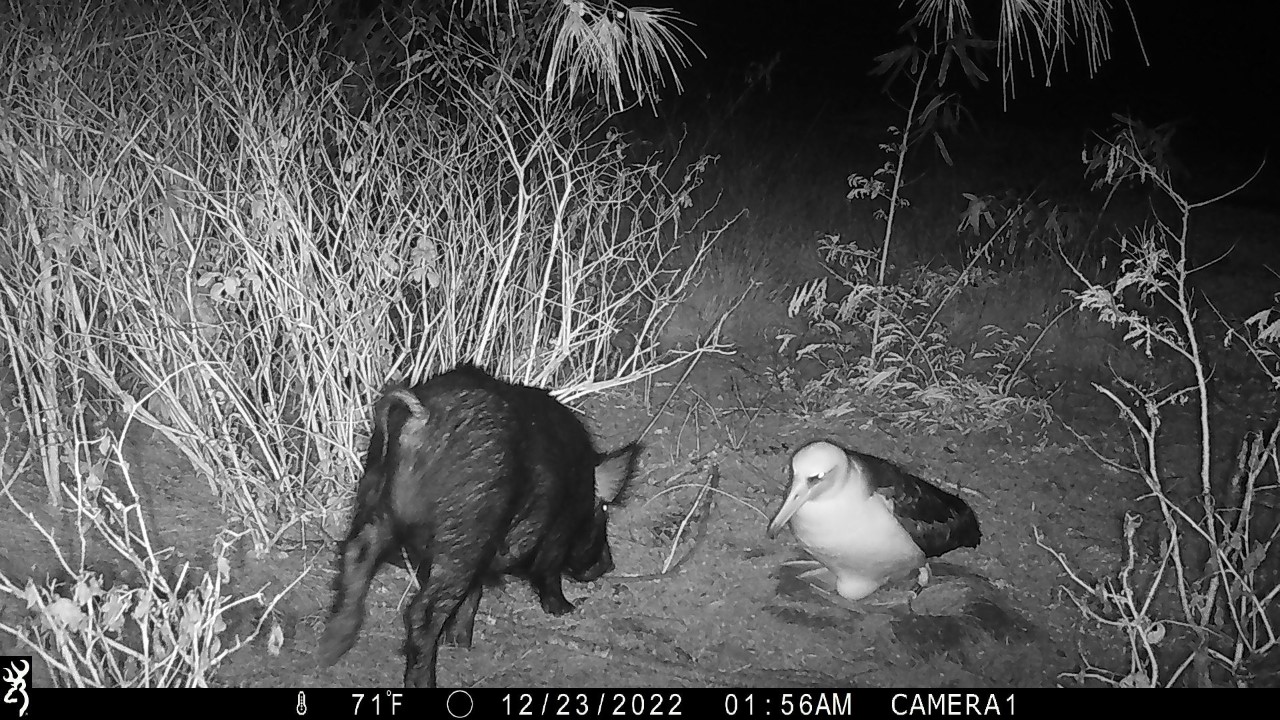 A feral pig approaches an incubating Albatross at night, trail camera photograph from the United States Fish and Wildife Service
The Kīlauea Point National Wildlife Refuge, based on the Hawaiian Island of Kauai, has reported on its Facebook page that this season no less than 64 breeding attempts by Laysan Albatrosses Phoebastria immutabilis have failed due to attacks by feral pigs Sus scrofa domesticus.
"We are heartbroken to share that 64 mōlī [Laysan Albatross] eggs were crushed or eaten by pigs on Nihoku beginning on 22 December. Trail cameras documented the pigs, and we were alerted of the events by our partners the next day. In collaboration with Pacific Rim Conservation, we mobilized quickly to conduct pig removal, but the damage was already done. Only three eggs remain on Nihoku, all of which are enclosed in the current 7-acre predator-proof fence. We have been working on expanding the fenced-in area because we know these specialized fences are highly effective in protecting ground-nesting seabirds from predators, including pigs."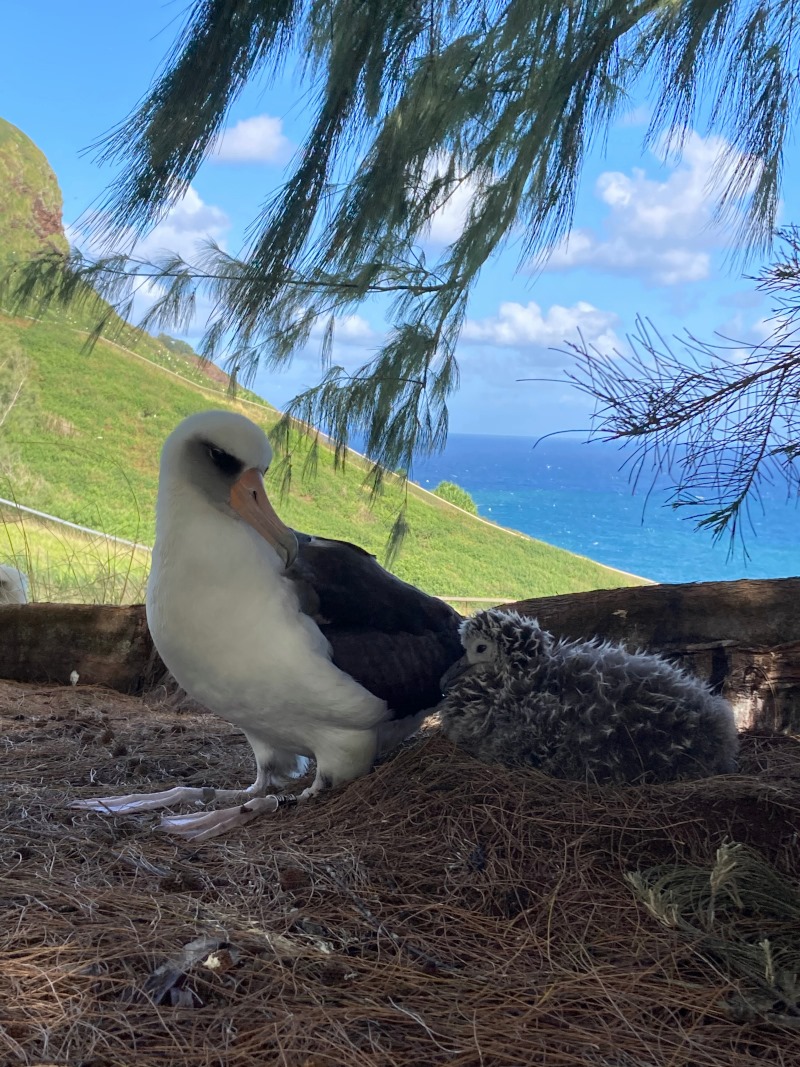 A Laysan Albatross and its chick in the refuge during the 2020/21 season. The original Nihoku fence is visible behind, photograph by Jacqueline Olivera
"It is devastating to lose so many eggs just months before the scheduled completion of the new 168-acre [68-ha] perimeter predator-proof fence. However, it is also assuring to know that next year's Nihoku colony of nesting mōlī will have over 2 miles [3.4 km] of fence protecting them from future attacks."
In a follow-up the national refuge writes "Nihokū is the place name for the land between Kīlauea Point and Kāhili, sometimes referred to as Crater Hill. Located within Nihokū is a 7-acre parcel of land completely enclosed within a predator-proof perimeter fence. All the eggs in this parcel were protected. Currently a much larger perimeter fence enclosing all Nihokū is being constructed. All our predated eggs were located inside the uncompleted fence but outside of the old 7-acre protected area."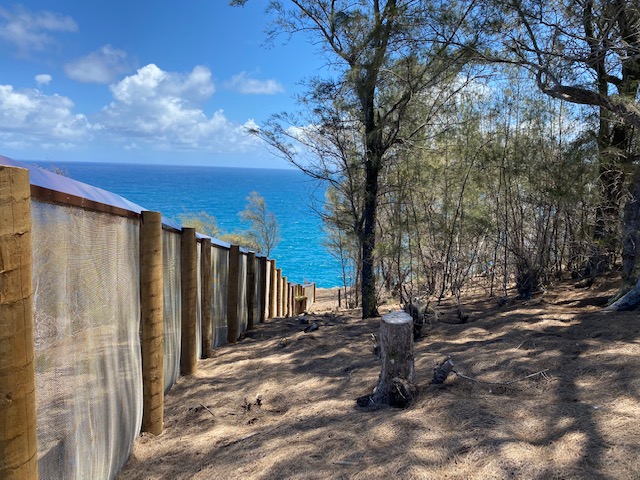 The new fence going up, photograph from the Pacific Rim Conservation
As well as attacks by pigs, feral cats Felis catus have killed Laysan Albatross chicks within the refuge in the past (click here). Domestic dogs Canis familiaris running loose on Kauai have also killed albatrosses from time to time (click here). The new fence will keep out cats and dogs (and rodents and mongoose), as well as pigs. Read more about the incomplete predator-proof fence here.
John Cooper, Emeritus Information Officer, Agreement on the Conservation of Albatrosses and Petrels, 24 January 2023