Oli Yates, BirdLife International's Albatross Task Force Programme Manager writes to ACAP Latest News with news of the task force:
"It has been a busy year for the Albatross Task Force (ATF), and our teams have made good progress in achieving their objectives towards reducing the bycatch of vulnerable seabirds in some of the world's most deadly fisheries. The annual progress report just released gives a full update country by country, but I would like to highlight a few of the major successes of the year.
I'm happy to say that 8/10 of our high-priority fisheries now have regulations to protect seabirds, following an announcement from Argentina that seabird regulations are to be introduced by May 2018 that will require trawlers to use bird-scaring lines. The benefit for seabirds in Argentina will be huge, as the main trawl fleet is responsible for the death of 13 500 Black-browed Albatrosses Thalassarche melanophris a year, an impact we expect to reduce by over 85% based on experimental results.
Across the Atlantic in Namibia, since regulations came into force there, 100% of trawl and demersal longline vessels have now been provisioned with bird-scaring lines, constructed through our collaboration with a local women's group [Meme Itumbapo]. By next year we hope to show that Namibia has achieved significant bycatch reductions as we have previously documented in South Africa. This will be a major win, as our estimates for the two Namibian fleets suggest in excess of 25 000 seabirds were previously killed annually.
Our work in small-scale fisheries has also leapt forward over the last 12 months; in Chile we have shown that modifications to purse-seine net design has the potential to reduce shearwater bycatch massively, and in Peru trials of net lights have virtually eliminated bycatch of not only seabirds, but also turtles and marine mammals. This is all hugely exciting as no mitigation measures previously existed for these types of fisheries.
All of these successes have only been possible due to the collaborative efforts between our in-country partners, the Royal Society for the Preservation of Birds and BirdLife International, plus generous funding from RSPB membership, external sponsors and many kind individual donations. We are extremely thankful for the continued support we receive, without which we would not be able to keep up the fight to save the albatross."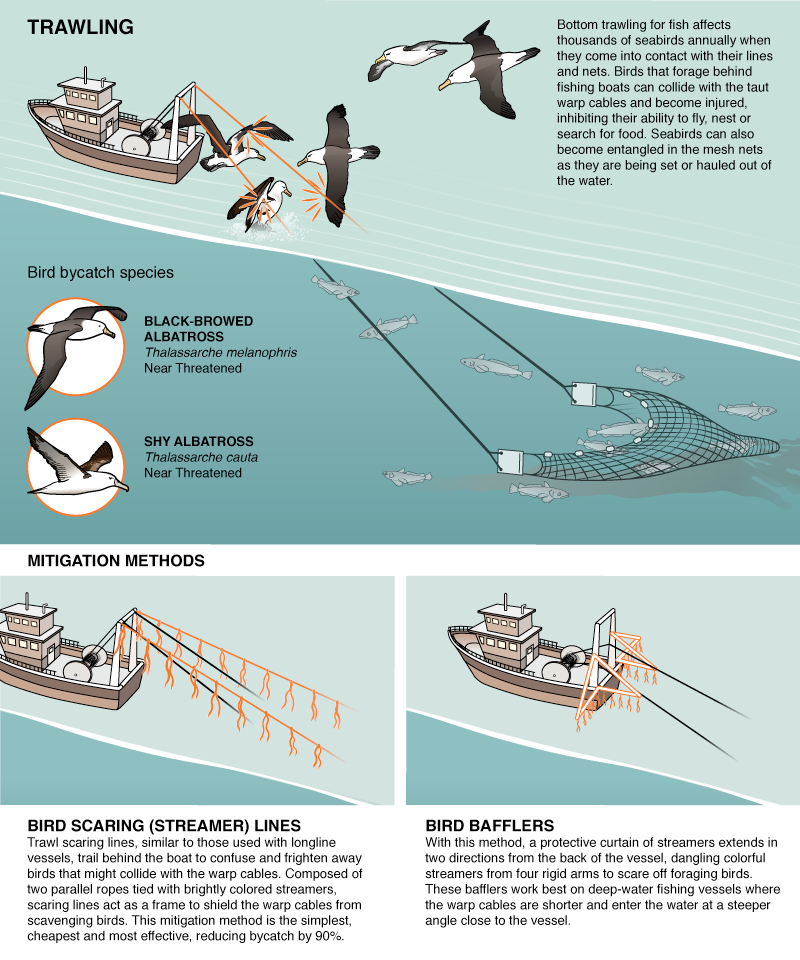 Read more here.
With thanks to Olie Yates.
John Cooper, ACAP Information Officer, 30 June 2017