Globally Vulnerable and New Zealand endemic Chatham Albatross Thalassarche eremita chicks have been translocated by the Chatham Islands Taiko Trust from the Pyramid, the species' sole breeding site, to Point Gap on the main Chatham Island over the last four years in an effort to establish a new breeding colony. The colour-banded chicks are hand fed on fish and squid in the presence of adult decoys and a sound system until they fledge (see earlier reports in ACAP Latest News).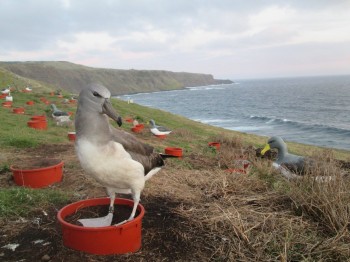 The last translocated Chatham Albatross chick to fledge in 2016 stands on its artificial nest at Point Gap with decoys in the background
In the first year all 50 fledged translocated chicks fledged: a 100% success rate. In the second year 55 out of 60 fledged, with 45 out of 50 fledging in the third year. This year 58 of 62 fledged, with the last bird leaving over 21/22 April. Thus out of 222 chicks translocated in four years 208 fledged, a 93.7% success rate – which is likely to be as good or better than that achieved by naturally-reared chicks. The fatalities were all autopsied with a combination of heat and stress determined as the cause of death.
A fifth and final year of transfers from the Pyramid is planned. After that the decoys and sound system will be left in place at the translocation site to help attract returning birds. In addition, trips will be undertaken to the Pyramid to look for translocated pre-breeders that might have returned there instead of to Point Gap. To date, no birds have been seen returning to the translocation site but they may be expected within a year or two, although one has been identified off South America by its colour bands (click here).
With thanks to Dave Boyle.
John Cooper, ACAP Information Officer, 01 May 2017