The Fifth Session of the Meeting of the Parties (MoP5) to the Agreement on the Conservation of Albatrosses and Petrels (ACAP) will be held at the Iberostar Grand Hotel Mencey in Santa Cruz de Tenerife, Tenerife, Canary Islands, Spain from 4 – 8 May 2015.
Key dates for MoP5
5 Dec 2014: Submission of proposed amendments to the Agreement.
2 Jan 2015: The Advisory Committee's report on progress with implementation of the Agreement circulated to Parties.
The Advisory Committee's report on its activities circulated to Parties
3 Feb 2015: Submission date for meeting documents requiring translation.
Submission date for applications from observers representing international organisations.
4 Mar 2015: Parties' comments on proposals to amend the Agreement or its Annexes submitted to Secretariat.
Meeting working documents distributed in the three official languages.
Submission date for information papers.
5 May 2015: Final date for official credentials to be submitted by Parties' Representatives to the Secretariat.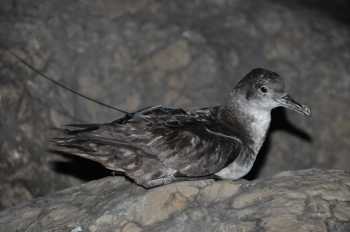 A satellite-tagged Balearic Shearwater: ACAP-listed and endemic to Spain's Balearic Islands
Photograph by Henri Weimerskirch
Observer Applications
Written applications for observer status from international scientific, environmental, cultural or technical bodies should be submitted to the Secretariat at least 90 days prior to the MoP5 (3 February 2015). Requests for observer status from any other scientific, environmental, cultural or technical bodies should be submitted to the Secretariat at least 60 days prior to the meeting (4 March 2015).
Registration
Delegates are requested to complete the registration form available on the ACAP website and to send it to the ACAP Secretariat as soon as possible, to assist the Secretariat in making preparations for the meeting.
Provisional Agenda
In accordance with the requirements of MoP Rule of Procedure 14(3), Parties are requested to forward any additional agenda items to the Secretariat prior to the opening of the first session of MoP5, for inclusion in a supplementary provisional agenda.
Accommodation
A block booking of 45 rooms has been made with the Grand Hotel Mencey from 3 - 9 May, 2015. These rooms will be held until 3 March 2015. After this date any reservation made will be subject to availability at the hotel and the best available room rate at the time the reservation is made. Delegates wishing to make a reservation should complete the attached registration form and return it to violeta.perez@iberostar.com. Please do not make your reservations directly through the hotel website.
Warren Papworth, ACAP Executive Secretary, 21 November 2014