The Scientific Council of the Convention on Migratory Species (CMS) will hear a report from its By-catch Working Group this week in Bonn, Germany at its 18th Meeting.
Inter alia, the council will review an assessment report (UNEP/CMS/ScC18/Inf.10.15.1) of bycatch in gill net fisheries and consider the outcomes of a technical workshop held in Christchurch, New Zealand last year to identify new operational or technical measures for reducing the risk to seabirds from gill and trawl nets (click here).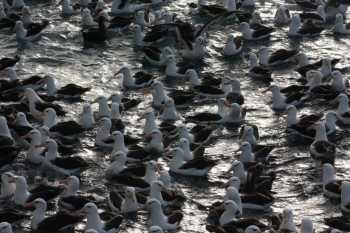 Black-browed Albatrosses gather behind a fishing trawler, photograph by Graham Parker
Management of marine debris and a draft resolution on the subject will also be discussed (click here) as will a review on the impact of invasive alien species on species protected under the Convention on Migratory Species. In the latter document the successful Macquarie Island Pest Eradication Project (MIPEP) is treated as a case study. The review also refers to the ACAP Conservation Guidelines document for the eradication of introduced mammals from breeding sites of ACAP-listed seabirds (click here).
See earlier ACAP Latest News reports on CMS-related activities here.
With thanks to Barry Baker, CMS Councillor for By-Catch for information.
John Cooper, ACAP Information Officer, 02 July 2014