The New Zealand Ministry for Primary Industries (MPI) is seeking experienced fisheries or environmental scientists to join the science team within its fisheries management directorate.
Fisheries management functions, including fisheries science, are located within the Fisheries Management Directorate of MPI. Science is an important part of fisheries management and the science team contributes by providing scientific advice on the status of fish stocks and on assessing and mitigating environmental effects of fishing.
The stock assessment position entails co-ordinating the research and stock assessment science working group processes for selected species groups. The aquatic environment position focuses on the effects of fishing on the aquatic environment or marine biodiversity. Specialist knowledge and experience in some aspect of protected species biology (especially seabirds or pinnipeds), benthic habitats or interactions between fisheries and other parts of the environment is desired.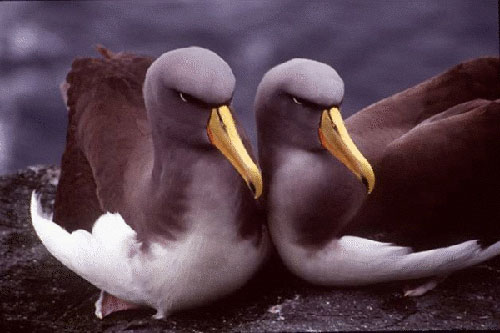 Chatham Albatrosses: endemic to New Zealand
Photograph by Graham Robertson
Other key responsibilities include involvement in developing appropriate fisheries research programmes; writing and evaluating fisheries tenders for projects; providing expert peer review of reports; managing research projects through to completion; and representing New Zealand in domestic and international science meetings of relevance.
Appropriate tertiary qualifications (preferably PhD) and experience are required, together with excellent analytical, written and communication skills.
Click here for more information.
With thanks to Neville Smith, Fisheries Management Directorate, Resource Management and Programmes, Ministry for Primary Industries, Wellington, New Zealand for information.
John Cooper, ACAP Information Officer, 11 January 2014