At the Sixth Meeting of the Conference of the Parties to the Convention on the Conservation of Migratory Species of Wild Animals (CMS), held in South Africa in November 1999, the attending Parties adopted a first resolution (6.2) on bycatch (defined as the incidental capture of a non-target species in fisheries). The resolution made specific mention of albatrosses and petrels.
Since then the CMS has adopted four further resolutions on bycatch. These have now been consolidated into a single resolution to replace all the existing ones. It will be considered at the 12th Meeting of the Conference of Parties, to be held in Manila, Philippines in October 2017 (UNEP/CMS/COP12/Doc.24.4.4).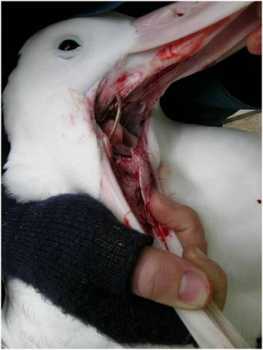 A bycaught Wandering Albatross gets a longline hook removed, photograph by the British Antarctic Survey
In preparation for the upcoming CoP in Manila the combined resolution is up for discussion at the Second Meeting of the Sessional Committee of the Scientific Council (ScC-SC2) of the CMS being held in Bonn, Germany this week. The main objective of the meeting is to provide advice on scientific and technical matters to the CoP.
The draft bycatch text takes note of "the work already completed or underway" by ACAP on bycatch issues. ACAP's Executive Secretary, Marco Favero is attending the meeting in Bonn.
A new resolution on managing marine debris will also be discussed.
John Cooper, ACAP Information Officer, 12 July 2017