BirdLife International and the Royal Society for the Protection of Birds (RSPB) have published a booklet that "presents some of the remarkable efforts fisheries have made on a global scale to tackle seabird bycatch" (click here).
"These stories demonstrate that collaboration between fishers, scientists and decision makers can lead to practical solutions that will ultimately turn the tide for many of these seabird species. This booklet is a resource for the fishing industry to inform them of the measures they can take to avoid seabird deaths, and to inspire them to take action to improve the sustainability of global fisheries."
The 21-page booklet covers successes in Namibia and South Africa deploying bird-scaring lines on longliners and trawlers, as well as news from Argentina, Chile, Japan, Korea, New Zealand, Peru and the United Kingdom.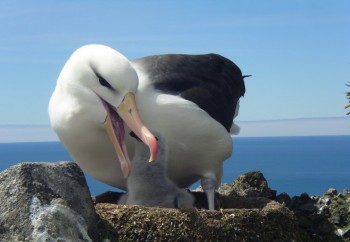 Black-browed Albatrosses: at risk in South American and southern African waters
With thanks to Stephanie Winnard, Albatross Task Force.
Click here to download the booklet.
John Cooper, ACAP Information Officer, 05 July 2017