Regular readers of ACAP Latest News will remember the case of the killing of Laysan Albatrosses Phoebastria immutabilis in the Kaena Point Natural Area Reserve on the Hawaiian island of Oahu during the night of 27/28 December 2105. A year later a suspect was arrested and charged with the crime (click here).
"Up to 15 albatrosses were slaughtered at Kaena Point. In some cases their feet were cut off so that identification tags could be removed. Eggs were smashed, and bird monitoring equipment worth [US] $3,000 was stolen. One bird was shot in the head with a .177 caliber air rifle pellet".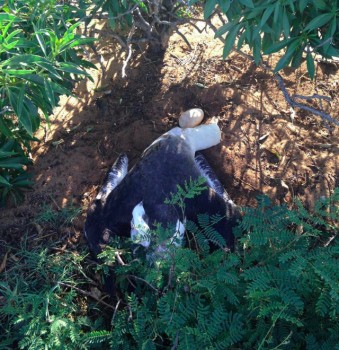 A slaughtered Laysan Albatross lies next to its egg at Kaena Point, photograph from Pacific Rim Conservation
It is now reported that one of the three people (the other two were minors at the time of the offence) charged with slaughtering the albatrosses has agreed to a plea deal in a Hawaiian court. Christian Gutierrez, a university student, was initially charged with 19 criminal counts and originally pleaded not guilty. Fourteen animal cruelty charges were then dropped and Gutierrez has pleaded no contest to "five counts including: theft, cruelty to animals, criminal property damage, prohibited activities with respect to indigenous wildlife and introduced wild birds, and a prohibited act in a natural area reserve". Gutierrez could face up to a year in jail plus thousands of dollars in fines, although he is seeking a deferred acceptance of his plea in the hopes of avoiding imprisonment.
The other two persons charged are to be tried confidentially through a Family Court. It was stated that the plea was arranged to obtain Gutierrez's cooperation in providing testimony against the other defendants. Gutierrez is scheduled to be sentenced on 1 June.
"The maximum sentence for animal cruelty is a year in prison. Breiner [the defence attorney] is asking the judge to defer acceptance of the plea, which would allow Gutierrez to avoid a conviction if he stays out of trouble for a specified amount of time." (click here).
Read reactions to the plea bargain here.
John Cooper, ACAP Information Officer, 22 March 2017