Paulo Lago. Project Manager of the LIFE Arcipela Garnija Project "Securing the Maltese islands for the Yelkouan Shearwater Puffinus yelkouan" writes to ACAP Latest News with a job offer with BirdLife Malta.
BirdLife Malta is looking for a full-time Project Warden to join its international team in the LIFE Arcipelagu Garnija Project to carry out a range of seabird monitoring and wardening duties at Yelkouan Shearwater Puffinus yelkouan breeding sites in the Maltese islands.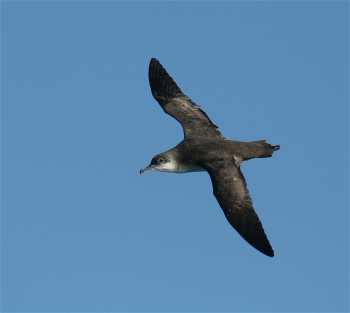 Yelkouan Shearwater, photograph by Alex Ollie
The Vulnerable Yelkouan Shearwater is a potential candidate for ACAP listing.
"BirdLife Malta's LIFE Arċipelagu Garnija project aims at securing the Maltese Islands for the Yelkouan Shearwater, of where approximately 10% of the species' global population can be found. Protection of this local population is important on the global scale, especially with the drastic declines Yelkouan Shearwaters have been facing over the last decades."
Applications consisting of a cover letter and a CV may be sent to This email address is being protected from spambots. You need JavaScript enabled to view it..
Deadline for applications is 7 December 2016.
Click here for more information.
With thanks to Paulo Lago for information.
John Cooper, ACAP Information Officer, 15 November 2016