A commercial fishing boat skipper who caused the death of 39 threatened albatrosses refused to use a bird-scaring line, a court has been told.
The vessel's master was fishing for Southern Bluefin Tuna Thunnus maccoyii off the West Coast of New Zealand in April this year and failed to use a bird-scaring line during two fishing trips, a mandatory requirement for the fishery, resulting in the capture of 41 albatrosses, 39 of which died. A Ministry for Primary Industries (MPI) observer on board noticed that 10 longlines with up to 1400 hooks were set without a bird-scaring line, despite one being aboard and the captain being informed he was required to deploy it.

The albatrosses killed were 24 Buller's Thalassarche bulleri, 14 White-capped T. steadi and one Wandering Diomedea exulans. Single southern Royal D. epomophora and White-capped Albatrosses were released alive. According to information to hand the Buller's Albatrosses would have been of the southern nominate race that were feeding chicks at the time, which will not have survived to fledging with only one parent remaining to feed them.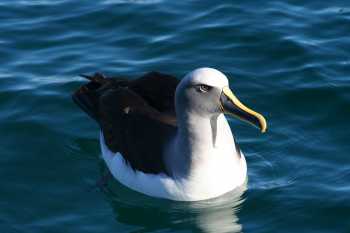 Buller's Albatross, photograph by Chris Golding
The court was told the captain knew he had to use a bird-scaring line under the Fisheries (Commercial Fishing) Regulations and had admitted to not using one. The captain pleaded guilty but stated that "he did not use streamer lines because he was concerned for the safety of his crew and they cost him time and money when the streamer lines damaged the fishing vessel".
Sentencing is set for 14 November. The maximum fine for the offence is NZ$ 100 000 and forfeiture of the fishing vessel.
The MPI is now considering the mandatory use of weighted lines for pelagic longliners.
Read more:
http://www.stuff.co.nz/national/crime/84933279/fisherman-pleads-guilty-to-38-albatross-deaths
http://www.newshub.co.nz/nznews/west-coast-fisherman-admits-causing-deaths-of-38-albatross-2016100412
http://www.stuff.co.nz/national/82116704/Commercial-fisherman-prosecuted-over-38-albatross-deaths-on-West-Coast
http://www.nzherald.co.nz/nz/news/article.cfm?c_id=1&objectid=11722328
https://www.tvnz.co.nz/one-news/new-zealand/fisherman-pleads-guilty-killing-39-albatrosses
John Cooper, ACAP Information Officer, 06 October 2016