Five Regional Fishery Management Organizations (RFMOs)* exist to monitor, offer advice and set regulations in an effort to ensure the sustainability of commercially-caught tuna and tuna-like species on the High Seas. These five tRFMOs have been the focus of conservationists in the last few decades in an attempt to reduce the bycatch of threatened albatrosses and petrels drowned on pelagic longlines. ACAP has been working closely with the tRFMOs, attending meetings of their committees and working groups. In order to formalize relations ACAP has signed agreements (usually known as Memoranda of Understanding) with four of the five tRFMOs (click here).
ACAP has now completed these arrangements with the signing last month of "Guidelines for Cooperation" with the International Commission for the Conservation of Atlantic Tunas (ICCAT) "with a view to supporting efforts to minimise the incidental by-catch of albatrosses and petrels listed in Annex 1 of ACAP within ICCAT's Convention area".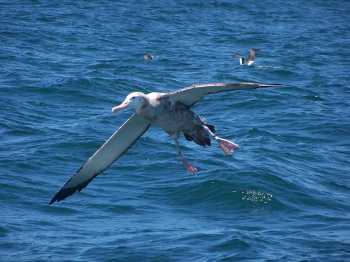 The Tristan Albatross occurs within ICCAT waters, photograph by Martin Abreu
The three-page document sets out areas of cooperation between ACAP and ICCAT as set out below.
"ICCAT and the ACAP Secretariat may consult, cooperate and collaborate with each other on areas of common interest that are directly or indirectly relevant to the conservation, including the protection and management, of populations of albatrosses and petrels, including:
a) development of systems for collecting and analysing data, and exchanging information concerning the bycatch of albatrosses and petrels in ICCAT fisheries;
b) exchange of information, subject to the confidentiality requirements of the respective organisations, regarding management approaches relevant to the conservation of albatrosses and petrels;
c) implementation of education and awareness programmes for fishers who operate in areas where albatrosses and petrels may be encountered;
d) design, testing and implementation of albatross and petrel bycatch mitigation measures relevant to ICCAT fisheries;
e) development of training programmes on conservation techniques and measures to mitigate threats affecting albatrosses and petrels; and
f) exchange of expertise, techniques and knowledge relevant to the conservation of albatrosses and petrels in ICCAT fisheries and
g) reciprocal participation with observer status at the relevant meetings of ACAP and ICCAT."
The guidelines will be in place for six years, from when they will be reviewed and either renewed or amended.
John Cooper, ACAP Information Officer, 27 April 2016
*Commission for the Conservation of Southern Bluefin Tuna (CCSBT)
International Commission for the Conservation of Atlantic Tunas (ICCAT)
Inter-American Tropical Tuna Commission (IATTC)
Indian Ocean Tuna Commission (IOTC)
Western and Central Pacific Fisheries Commission (WCPFC)