Land-based protection for the Endangered Newell's Shearwater Puffinus newelli is being extended out to sea aboard the Norwegian Cruise Line's 80 439-gt Pride of America, a large cruise ship that sails Hawaii's waters each week (click here).
"The boat's bright lights were attracting the birds at night," says Robert Torres, the ship's environmental officer, "so we had to figure out a solution." Torres partnered with the Kauai's Save our Shearwaters program and all the ship's staff was trained in capturing and protecting the birds. Two cages are kept on board and, when a bird is found stranded on deck, the ship's crew grab the cage and a towel and rescue it."
"Shearwater rescues are far less frequent than in the past. The birds navigate by moonlight and the ship's lights can look like the moon to young birds flying for the first time. With the counsel of the Kauai program, Torres oversaw the replacement of all the ship's exterior light bulbs with lower wattage ones that point down, not up and out. Between September and December – the months when fledgling birds typically first take flight – the ship's passengers are informed and encouraged to close their cabin drapes and turn off lights when not needed. The ship has even darkened its NCL logo to protect native birds."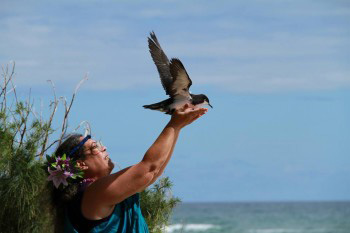 A rescued Newell's Shearwater gets released, photograph by Elizabeth Ames
The Hawaiian-endemic Newell's Shearwater is affected by light pollution ashore, especially of fledglings at the end of the breeding season as has been reported in ACAP Latest News on several occasions (click here).
Selected Literature on Ship-based Light Pollution:
Black, A. 2005. Light induced seabird mortality on vessels operating in the Southern Ocean: incidents and mitigation measures. Antarctic Science 17: 67-68.
Merkel, F.R. & Johansen, K.L. 2011. Light-induced bird strikes on vessels in Southwest Greenland. Marine Pollution Bulletin 62: 2330-2336.
Ryan, P.G 1991. The impact of the commercial lobster fishery on seabirds at the Tristan da Cunha islands, South Atlantic Ocean. Biological Conservation 57: 339-350.
John Cooper, ACAP Information Officer, 03 October 2015