The 22nd Annual Meeting incorporating the Extended Commission of the Commission for the Conservation of Southern Bluefin Tuna (CCSBT) will be held in Yeosu, South Korea over 12-15 October 2015.
The provisional agenda for the Extended Commission [EC] meeting states that "at the ERSWG's [CCSBT Working Group on Ecologically Related Species] March 2015 meeting, the Agreement on the Conservation of Albatrosses and Petrels (ACAP) presented a paper which proposed a memorandum of understanding (MoU) between the CCSBT and ACAP Secretariats. The ERSWG commented on the considerable benefits already obtained through close collaboration with ACAP and the high importance of ACAP's contributions to the ERSWG. The ERSWG therefore endorsed and strongly supported the proposed MoU. The EC will consider whether to sign an MoU to facilitate cooperation between the CCSBT and ACAP."
Click here for an earlier ACAP Latest News report on developing an MoU between ACAP and CCSBT.
ACAP will be represented at the meeting by its Executive Secretary Warren Papworth.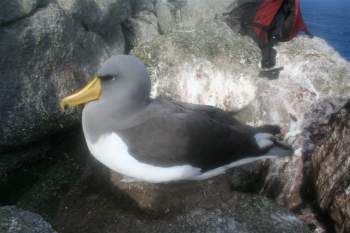 Chatham Albatross, photograph by Matt Charteris
John Cooper, ACAP Information Officer, 30 September 2015