The Indian Ocean Tuna Commission (IOTC) will hold a Second Technical Workshop for the Implementation of Measures to Reduce Seabird Bycatch in IOTC Longline Fisheries in Busan, Republic of Korea over 29-30 November this year. The workshop will be supported by the Republic of Korea, Japan and BirdLife International.
According to information received by the ACAP Secretariat the workshop will have three primary objectives
"1) To provide training and demonstrations of practical options for longline fishing vessels to become compliant with IOTC Resolution 12/06 On Reducing the Incidental Bycatch of Seabirds in Longline Fisheries, which will come into force on 1 July 2014. Specifically the workshop will present the three seabird bycatch mitigation measures (bird scaring lines, line weighting options and night setting) to fishery managers and key personnel from IOTC CPCs [Cooperating non-Contracting Parties]. The intention is that the participants will be provided with the necessary tools (including Fact Sheets, technical specifications, etc.) to assist national fleets to implement the two-out-of-three mitigation measures appropriately.
2) To discuss safety and other practical concerns that may be raised in relation to implementation of the seabird bycatch mitigation measure requirements.
3) The workshop will also highlight the data collection and reporting obligations relevant to longline fishing in the Southern Ocean, to improve the IOTC's capacity to understand and manage fishing impacts on seabirds."
"The target audience/participants for the two-day workshop include officials involved in technical aspects of longline fisheries management - such as those responsible for issuing national fishing permits (and writing the conditions of the permits); inspection/compliance/observer agencies (who would need to know what to look for in logbooks, during onboard inspections or as observers); and Industry representatives – influential fishing captains/masters and industry representatives who could translate the outcomes of the workshop through leading by example."
According to the workshop's agenda received by ACAP the following presentations will be included among those to be given:
IOTC Resolution 12/06 and role of tuna longliners in seabird conservation (David Wilson, IOTC Secretariat and Cleo Small, BirdLife International);
Options for seabird bycatch mitigation: night setting, tori line and line weights (Ross Wanless, BirdLife International); and
Theory and practice for Tori/Bird Scaring Streamer Lines (Ed Melvin, University of Washington).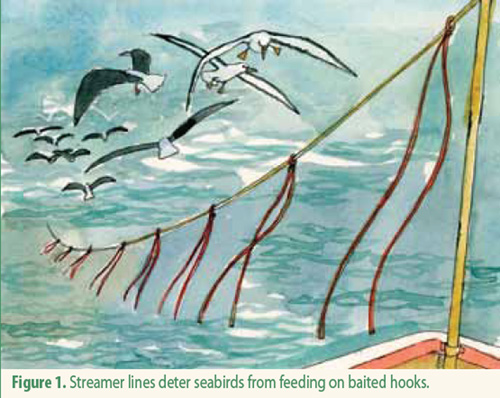 In addition, practical demonstrations will be given on the Yamazaki Double Weight System by Ed Melvin and on Safe Leads and Lumo Leads by Ross Wanless. The workshop is planned to end with a visit aboard a longline vessel for a practical demonstration of bird-scaring (Tori) lines.
The Albatross and Petrel Agreement will be represented at the workshop by the Convenor of its Seabird Bycatch Working Group, Dr Anton Wolfaardt. Following the workshop Anton will attend the 16th Session of the IOTC's Scientific Committee.
Click here to read of plans for the first IOTC technical workshop on seabird bycatch mitigation measures, that was to be held in Mauritius in May this year, but did not take place.
John Cooper, ACAP Information Officer, 06 November 2013