This is a lovely true story about a Laysan Albatross who survives all the troubles of sea-life and lives to be at least 60 years old, which means she is the oldest living bird we know of.  She gets a name, Wisdom.  But then a tsunami washes over Midway Island and the scientists don't know if she has survived or not.  110 000 chicks and 2000 adults dead. Where was her chick? Where was Wisdom?
You can find out what happens by reading Wisdom: the Midway Albatross.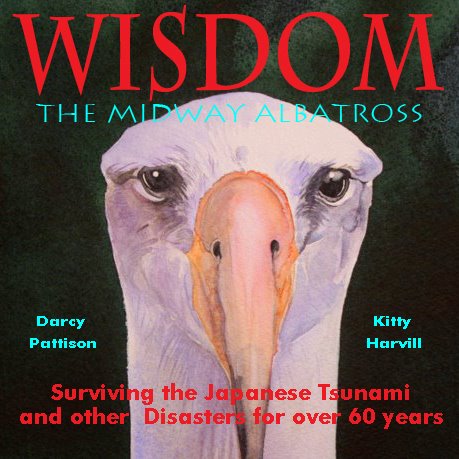 I think that this book is probably best for children from ages 6 to 9, although my nana, who is almost 79, loved it too!  My favourite part was when Chandler Robbins discovered that Wisdom was at least 51 years old and gave her her name, Wisdom.
The book is beautifully written, and the illustrations are amazing!  Together they really give you a feel for what was happening and help you to understand how special Wisdom really is.
Pattison, Darcy & Harvill, Kitty 2012.  Wisdom: the Midway Albatross: Surviving the Japanese Tsunami and other Disasters for over 60 Years.  Little Rock: Mims House.  Soft cover, 32 pp.  ISBN 9780979862182.  http://albatross.darcypattison.com/.
Molly Ryan, Muizenberg, South Africa, 20 February 2012
Editorial Note:  Wisdom's fortunes can be followed on Facebook (she has over 320 Friends) and also via Twitter.  Molly Ryan is nine years' old.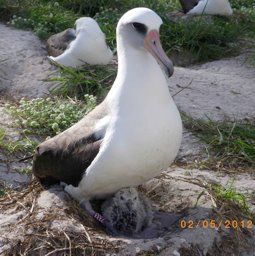 Here is Wisdom with her latest chick, named Wonder, that hatched out this month
Photograph by John Klavitter, with thanks