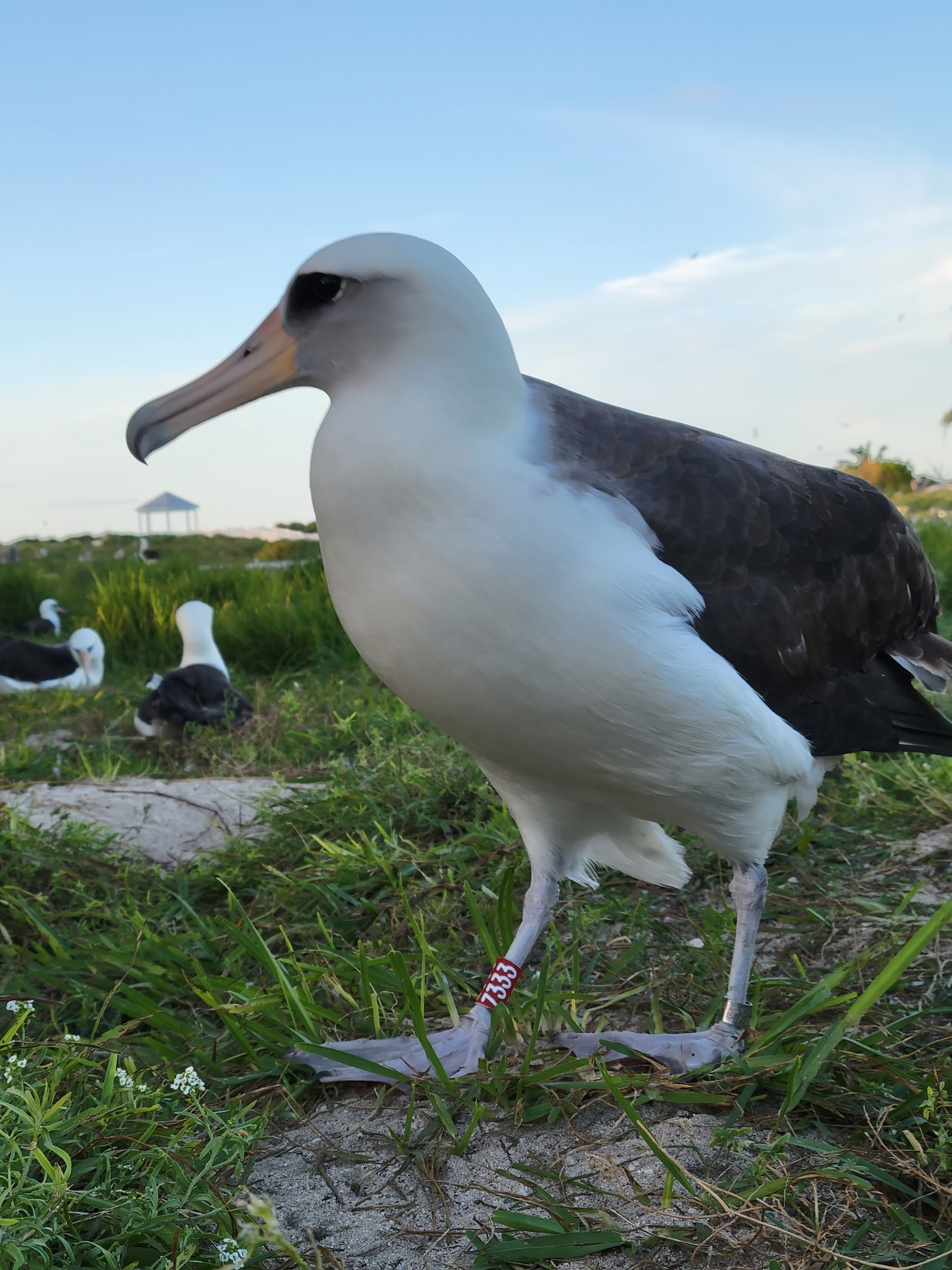 Wisdom, easily identified by her red colour band Z333, Midway Atoll, 24 November 2022. Photograph by Keegan Rankin, U.S. Fish and Wildlife Service
Wisdom, a female Laysan Albatross Phoebastria immutabilis, the world's oldest known wild bird, was sighted back on Midway Atoll in the northern Pacific Ocean on 24 November 2022. She is considered to be at least 71 years old. First banded by the late Chandler Robbins in 1956 as a breeding adult and thus at least five years of age, she could be much older. According to Jonathan Plissner, supervisory wildlife biologist at the Midway Atoll National Wildlife Refuge, it has been estimated that Wisdom has produced 50-60 eggs and as many as 30 chicks that fledged successfully over her lifetime.
Her mate, Akeakamai, has yet to be seen this breeding season. Wisdom has not been seen since her first sighting last month and as most Laysan Albatrosses have already laid their eggs on Midway it seems she will not be breeding for another year (click here). The Facebook page of the Pacific Islands: U.S. Fish and Wildlife Service states that Wisdom's interactions with other birds in the vicinity and the absence of Akeakamai suggest that Wisdom might be widowed, noting the male of the pair usually arrives on the atoll before their female mate. In the previous season Wisdom returned to her nest site for only two days in November and was not then seen interacting with neighbouring birds.
Click here to access the many posts about Wisdom in ACAP Latest News over the last decade.
John Cooper, ACAP News Correspondent, 13 December 2022