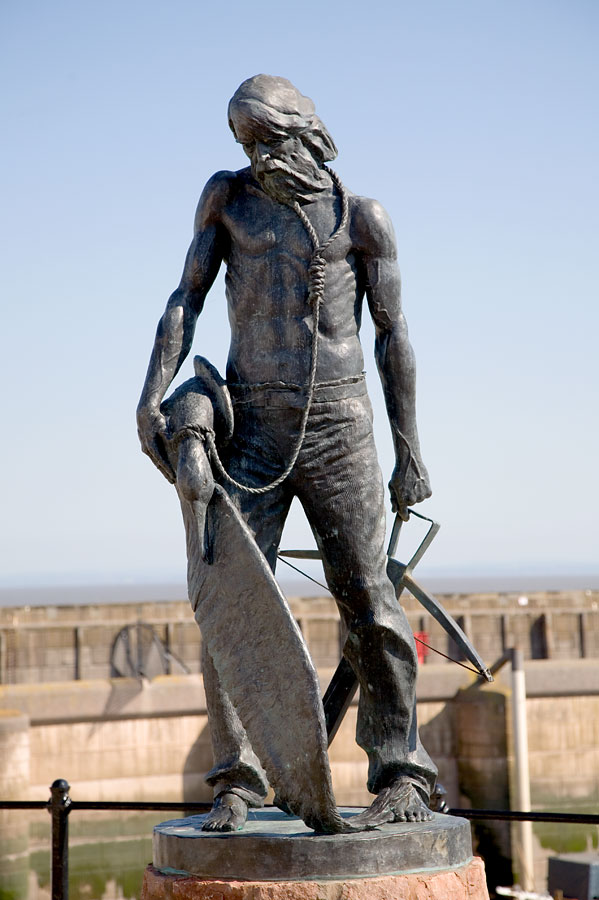 The Ancient Mariner statue, Watchet, Somerset, UK by sculptor Alan Herriot (click here)

At times, we may describe our inescapable problems, unrelievable burdens, or unsurpassable barriers as an Albatross around the neck. This idiom can refer equally to existing events or potential situations, and apply to subjects like individuals, groups, entities and infrastructure, to name but a few of its uses. It comes from an old lyrical ballad by the English poet, Samuel Taylor Coleridge, The Rime of the Ancyent Marinere:
Had I from old and young;
Instead of the Cross the Albatross
About my head was hung.
This lyrical ballad concerns the chance meeting of the Ancient Mariner with an unnamed wedding guest, whom he waylays and recites a tale about the dreadful consequences after the Ancient Mariner kills an albatross that was following his sailing ship.
The idea for this lyrical ballad is said, in part, to have arisen during a walk in the Quantock Hills in Somerset where Coleridge's friend and poet, William Wordsworth, talked about a book he had been reading. Wordsworth was referring to A Voyage Round the World by Way of the Great South Sea, by Captain George Shelvocke, in which there is an account of the killing of an albatross by one of his crew.
It is interesting in the light of World Albatross Day this year to see the relevant extract from Capt. Shelvocke's account and the transformation of this into part of Coleridge's lyrical ballad.
A Voyage Round the World by Way of the Great South Sea
by Capt. George Shelvocke Commander of the Speedwell, Recovery, &c. in this Expedition (1726)
Thursday, October 1.[1] At 7 in the evening, as they were furling the main-sail, one William Camell cry'd out, that his hands and fingers were so benumb'd that he could not hold himself, but before those that were next to him could come to his assistance, he fell down and was drown'd.
The cold is certainly much more insupportable in these, than in the same Latitudes to the Northward; for, although we were pretty much advanced in the summer season, and had the days very long, yet we had continual squals of sleet, snow and rain, and the heavens were perpetually hid from us by the gloomy dismal clouds.
In short, one would think it impossible that any living thing could subsist in so frigid a climate; and, indeed, we all observed, that we had not had the sight of one fish of any kind, since we were come to the Southward of the streights of le Mair, [2] nor one sea-bird, except for a disconsolate black Albitross who accompanied us for several days, hovering about us as if he had lost himself, till Hatley, (my second Captain) observing, in one of his melancholy fits, that this bird was always hovering near us, imagin'd, from his colour, that it might be some ill omen.
That which, I suppose, induced him the more to encourage his superstition, was the continued series of contrary tempestuous winds, which had oppress'd us ever since we had got into this sea. But be that as it would, he, after some fruitless attempts, at length, shot the Albitross, not doubting (perhaps) that we should have a fair wind after it.
I must own, that this navigation is truly melancholy, and was the more so to us, who were by ourselves without a companion, which would have somewhat diverted our thoughts from the reflection of being in such a remote part of the world, as it were, separated from the rest of mankind to struggle with the dangers of a stormy climate, far distant from any port to have recourse to, in case of the loss of masts, or any other accident; or any other ship.
These considerations were enough to deject our spirits, when we were sensible of the hourly danger we were in of losing our masts, by the incessant continuance of such stormy weather as we underwent; but the hops of enjoying a long repose in the Pacific Sea on the coast of Peru, lightned our cares, and gave us some small relief.
Source: Shelvocke, G. 1726. A Voyage Round the World by Way of the Great South Sea. London: J. Senex. pp. 72-74.
The Rime of the Ancyent Marinere,
in seven parts
by Samuel Taylor Coleridge (1798)
Listen Stranger! Mist and Snow,
And it grew wond'rous cauld:
And Ice mast-high came floating by
As green as Emerauld.
And thro' the drifts the snowy clifts
Did send a dismal sheen;
Ne shapes of men ne beasts we ken—
The Ice was all between.
The Ice was here, the Ice was there,
The Ice was all around:
It crack'd and growl'd, and roar'd and howl'd—
Like noises of a swound.
At length did cross an albatross,
Through the Fog it came:
And an it were a Christian Soul,
We hail'd it in God's name.
The Marineres gave it biscuit-worms,
And round and round it flew:
The Ice did split with a Thunder-fit
The Helmsman steer'd us thro'.
And a good south wind sprung up behind,
The Albatross did follow;
And every day for food or play
Came to the Marinere's hollo!
In mist or cloud on mast or shroud
It perch'd for vespers nine,
Whiles all the night thro' fog-smoke white
Glimmer'd the white moon-shine.
"God save the, ancient Marinere!
"From the fiends that plague thee thus—
"Why look'st thou so?"—with my cross bow
I shot the Albatross.
The Sun came up upon the right,
Out of the Sea came he;
And broad as a weft upon the left
Went down into the Sea.
And the good south wind still blew behind,
But no sweet Bird did follow
Ne any day for food or play
Came to the Marinere's hollo.
And I had done an hellish thing
And it would work 'em woe;
For all averr'd, I had killed the Bird
That made the Breeze to blow.
Source: Wordsworth W. & Coleridge, S.T. 1798. Lyrical Ballads. London: J. & A. Arch. pp. 8-12, lines 49-98.
[1] In the year 1719.
[2] Le Maire Strait lies between Isla de los Estados and the eastern extremity of Tierra del Fuego.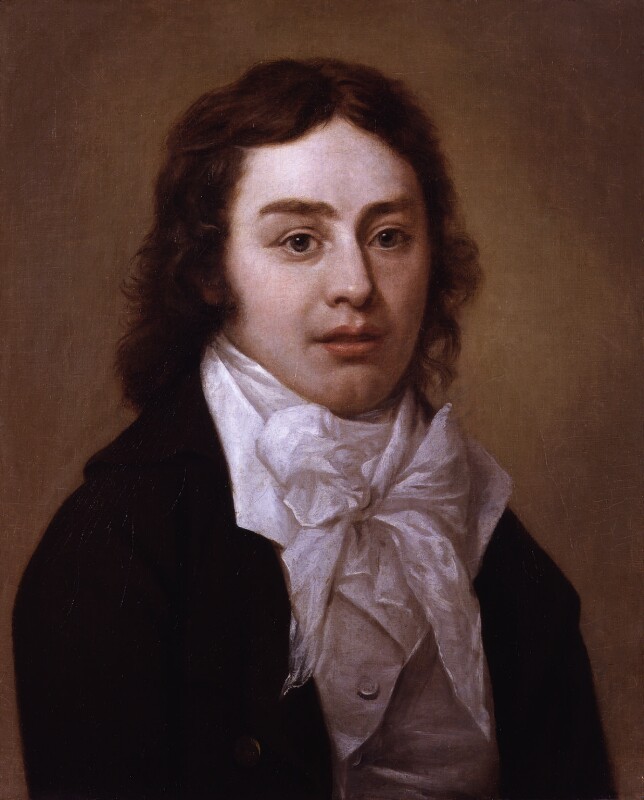 Samuel Taylor Coleridge (21 October 1772 – 25 July 1834) in his 20s in the UK National Portrait Gallery, dated 1795 by the Dutch artist Peter Vandyke (click here)

Marine ornithologists have long speculated over what species was Shelvocke's "disconsolate black Albitross", and thus by inference what was Coleridge's bird. Suggestions include a juvenile Wandering Albatross Diomedea exulans, a sooty albatross Phoebetria sp., or a giant petrel Macronectes sp. (see references below). While all are plausible, the truth will remain elusive.
Click here for earlier ACAP Latest News postings on Samuel Taylor Coleridge and his poem.
With thanks to Janine Dunlop, Niven Librarian, FitzPatrick Institute, University of Cape Town.
Selected Literature
Barwell, G. [2007] 2014. Coleridge's albatross and the impulse to seabird conservation. Kunapipi 29: 22-61.
Barwell, G. 2014. Albatross. London: Reaktion Books. 208 pp. [REVIEW]
Bourne, W.R.P. 1982. The Ancient Mariner's Albatross. Sea Swallow 31: 56-57.
Brown, R.G.B. 1981. Was Coleridge's albatross a giant petrel? Ibis 123: 551.