The Tenth Meeting of ACAP's Advisory Committee (AC10) will be held from Monday 11 September to Friday 15 September 2017, in the CQ Comfort and Quality Hotels, Wellington, New Zealand (click here).
Meetings of the Advisory Committee's Seabird Bycatch Working Group and the Population and Conservation Status Working Group will precede AC10 at the same venue (SBWG8 from Monday 4 to Wednesday 6 September, and PaCSWG4 from Thursday 7 to Friday 8 September). A Heads of Delegation meeting will be convened on Sunday, 10 September 2017 in the late afternoon/ evening.
A workshop on the conservation of gadfly petrels in the genus Pterodroma and other small burrowing petrel species will be held on Saturday 9 September 2017 in the same venue.
The Second Circular for the 2017 meetings, in all three official ACAP languages, is now available on this web site, along with an attached draft agenda for the Advisory Committee (click here for the English text).
A draft agenda for AC10 is attached to the Second Circular. It is requested that Parties to the Agreement advise the Secretariat by 13 June of any new items they would like to have added to the agenda. Templates for meeting documents (including SBWG8, PaCSWG4 and AC10) are available here.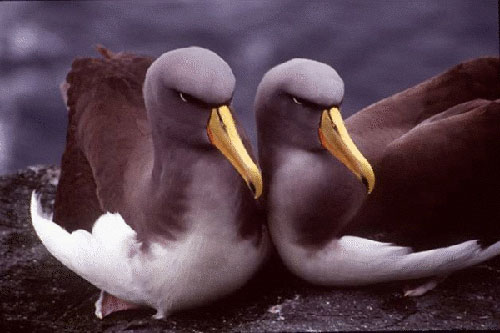 Chatham Albatrosses: endemic to New Zealand, photograph by Graham Robertson
It would be appreciated if these templates could be used when submitting documents to the Secretariat. In order to contain translation costs and facilitate the reading of documents in non-native languages, it would be appreciated if the length of meeting documents could be kept to a minimum. Please consider submitting supporting information as an Information Paper, rather than in the Working Document itself. Click here for deadlines for submission of meeting documents.
Parties, Non-Party Range States and Observers are reminded that details of their representatives must be provided to the Secretariat prior to the meeting (e-mail secretariat@acap.aq). In order to facilitate the work of the Secretariat, delegates are requested to complete the registration form on the ACAP website by 25 August. A block booking has been made at the CQ Comfort and Quality Hotels for delegates (see the Second Circular for rates and information on how to book.
John Cooper, ACAP Information Officer, 09 May 2017