The Ninth Meeting of ACAP's Advisory Committee started yesterday in the Hotel Club La Serena, La Serena, Chile. The meeting was opened with welcoming speeches from Carlos Montenegro Silva, María Angela Barbieri and Javier Chavez of Chile.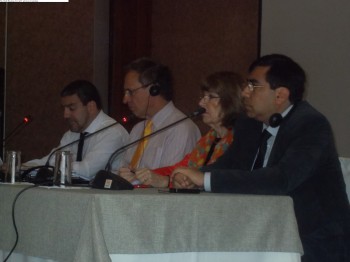 From left: Carlos Montenegro Silva (Chile), Mark Tasker (Advisory Committee Acting Chair), María Angela Barbieri (Chile) and and Javier Chavez (Chile) at the opening ceremony
Mark Tasker (UK) acted as Chair, with Marco Favero attending his first Advisory Committee as the recently appointed Executive Secretary. The first day proceeded smoothly and by closing the Chair announced with satisfaction that the meeting had moved farther along the week-long agenda than had been expected.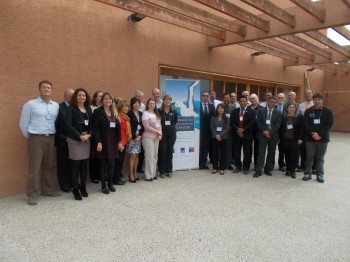 Halfway through the day the opportunity was taken for a group photograph. In the evening the meeting's Chilean hosts threw a welcome reception and gave delegates and observers a gift of a bottle of Chilean Cabernet Sauvignon to take home with them.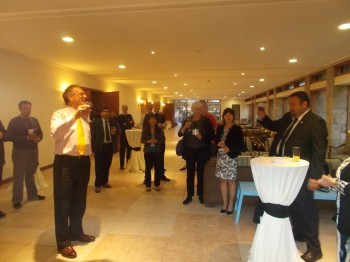 Mark Tasker (UK) and Jorge Azocar (Chile) toast each other at the welcome reception
AC9's deliberations will continue today and on Wednesday. On Thursday the attendees will be taken inland on an excursion and Friday will be devoted to adopting the meeting's report.
Click here to access the meeting's agenda and the several Documents and Information Papers being tabled at AC9. Note that some of these are password protected.
John Cooper, ACAP Information Officer, 10 May 2016