Due to staff movements, two positions have become available within the Seabird Conservation Programme of BirdLife South Africa (BLSA) as Leader and as Instructor for the Albatross Task Force in Cape Town. The ATF is part of the global Save the Albatross Campaign.
The appointed Leader will be involved with rodent eradication programmes planned for Marion and Gough Islands, possible expansion of ATF work into Angola, leading BirdLife International policy and advocacy at the South East Atlantic Fisheries Organisation, implementation of pilot electronic monitoring programmes for seabird bycatch in South Africa and Brazil, and other aspects of BLSA's Common Oceans project.
The Instructor will be expected to undertake frequent trips (up to two weeks) onboard fishing vessels collecting data on seabird-fisheries interactions.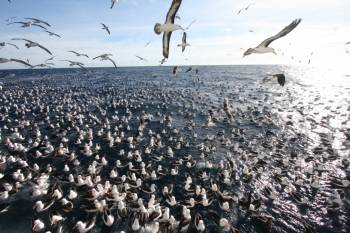 Black-browed Albatrosses gather behind a trawler in the South Atlantic, photograph by Graham Parker
A two-page CV and motivational letter should be submitted by 30 March to bronwyn.maree@birdlife.org.za. Read more here.
BirdLife South Africa is a partner of BirdLife International, the world's largest network of conservation organisations.
John Cooper, ACAP Information Officer, 14 March 2016