Wisdom, a female Laysan Albatross Phoebastria immutabilis who is at least 65 years old has hatched her latest egg on 1 February on the USA's Midway Atoll National Wildlife Refuge (well actually her partner had been incubating since 20 January when the egg hatched on 1 February, Wisdom was then at sea).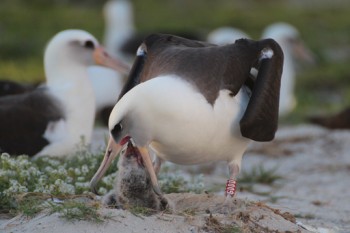 Wisdom's mate feeds the hatchling on 2 February 2916, photograph by Kiah Walker, USF&WS
Wisdom returned from a long foraging trip to take over rearing duties on the 7th and the banded male departed the same day. "We expect him to be back within a week or less because newly hatched albatross chicks require a consistent supply of fresh seafood." This season's chick has been named Kūkini (Hawaiian for messenger). Following an on-line poll the following names are on the short list for Wisdom's mate:
Ahonui (Hawaiian name meaning single act of patience and perseverance; English parallel word: Patience)
Endurance
Akeakamai (Hawaiian word meaning yearning for or lover of wisdom)
Popsicle
Wisdom has successfully raised at least eight chicks since 2006, and perhaps as many as 40 in her lifetime. Read more here and watch a video clip of the hatching here.
The Midway Atoll National Wildlife Refuge falls within the Papahānaumokuākea Marine National Monument which was inscribed as a UNESCO World Heritage Site in 2010.
John Cooper, ACAP Information Officer, 10 February 2016