The Scientific Committee on Antarctic Research (SCAR) is an inter-disciplinary committee of the International Council for Science (ICSU). SCAR is "charged with initiating, developing and coordinating high-quality international scientific research in the Antarctic region, and on the role of the Antarctic region in the Earth system". Next year SCAR will be holding the next in its regular series of biennial SCAR Open Science Conferences in Kuala Lumpur, Malaysia over 22-26 August. The conference forms part of the 34th Meeting of SCAR, to be held over 20-31 August at the same venue (click here).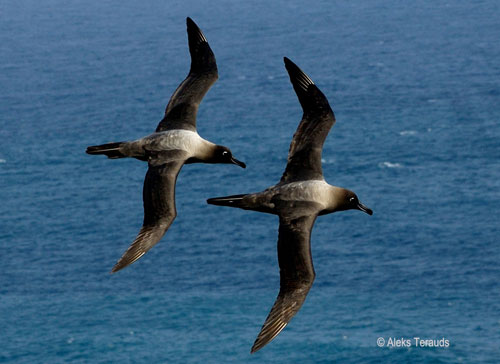 Southern Ocean seabird par excellence: the Light-mantled Sooty Albatross, photograph by Aleks Terauds
As well as four plenary lectures, the conference will hold five "mini-symposia", two of which will have an environmental theme:
MS 2. Connecting the biological and the physical: environmental drivers of biodiversity in Antarctica; and
MS 3. Linking Antarctic Science with Environmental Protection: celebrating the 25th anniversary of the Madrid Protocol.
In addition, the conference currently plans a total of 41 sessions on a wide range of subjects, with several having an environmental theme. Session descriptions will be available in "the coming months" on the conferemce website after conveners have been selected. Abstracts may be submitted from 1 October with details on registration still to come on the conference website.
SCAR's region of interest includes the Southern Ocean and its sub-Antarctic islands, home to the majority of ACAP-listed albatrosses and petrels.
The previous SCAR Open Science Conference was held in New Zealand in 2014.
John Cooper, ACAP Information Officer, 07 September 2015